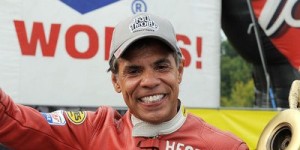 Former NHRA Full Throttle Pro Stock Motorcycle champion Hector Arana Sr. is hungry for a victory.
The rider of the powerful Lucas Oil Buell V-Twin is looking for his first victory in two years, and he's gunning for the trophy in this weekend's NHRA SuperNationals at Old Bridge Township Raceway Park.
"I'm hungry for one of those pewter Wallys," Arana said, referring to the special 60th anniversary trophies up fro grabs this year. "I haven't been in the winner's circle for a while. I'm going to see what I can do to get mine."
Arana sits fifth in the Pro Stock bike points standings but knows he can run better than he has shown for part of the season.
He qualified No. 1 in the season-opener at Gainesville, Fla., and reached the semifinals. After admitting he was more focused on getting his son Hector Arana Jr.'s bike running well in Florida, Arana then lost to his son in the first round in Houston. Then after qualifying sixth in Atlanta,
Arana lost in the second round after a mysterious gear problem.
The 2009 series champion said he's worked to figure out those gremlins and is prepared for Englishtown.
"Hopefully, my bike will be where it needs to be to perform," Arana said.
One thing Arana isn't worried about is the weather. It should be in the 80s this weekend, and that could mean a hot, slick track.
"I used to worry about all that," Arana said. "I like the cool weather, a hot barometer, just about sea level – just so we can run fast. But in reality, it's going to be the same for everyone. So why would I worry about that?
"All we have to focus on is to make sure we don't miss our tune-up. We play it safe for the first run, so we can get data, and from there, we know which direction we go in so we can run our best ET."