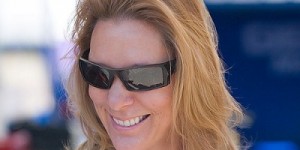 GEICO Suzuki Pro Stock Motorcycle rider Karen Stoffer knows it's hard to get to the top – and it's even harder to stay there.
So she won't worry about either one of those concepts. Instead, the leader of the Full Throttle championship points standings will simply approach this weekend's NHRA SuperNationals at Old Bridge Township Raceway Park like she has every other race this season.
"I'm just going to stick to what I've been saying all year: Our focus is on consistency and consistently being fast," Stoffer said. "My thought process for our GEICO team is if you stick to that game plan and do it every time, then good things should happen from there. If we do all that, we can stay in the top position.
"The focus is not necessarily to stay No. 1 but to stay focused on what we were doing to get there in the first place."
Stoffer leads the points standings by 15 markers over three-time world champion Andrew Hines. She's qualified second twice and fourth once in three races, reaching the finals twice and the semifinals once. Stoffer carries an 8-3 round record into Englishtown as she guns for her first victory on tour since the Atlanta race in 2007.
But she's not exactly worried about that. Of course she wants to win, but she knows running consistently well will produce victories. She's more concerned about the journey and not the destination.
"After so many years of not having won now, I just put it by the wayside," Stoffer said. "We do have examples of a champion being crowned without winning a race. Eddie Krawiec was able to do it. That's obviously not what we want to do, but I've not made that one of my criteria any more. It would be the icing on the cake, but I'd rather have the cake right now."
And "the cake" at this point is having a motorcycle that goes straight, fast and consistent.
"That's sticking to our game plan and being consistent," Stoffer said. "If you do that, then good things will come out of it."