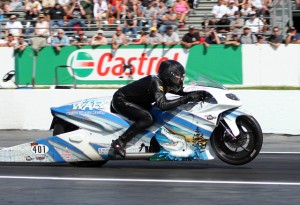 As veteran Suzuki tuner Mark Peiser tweaked Pro Stock Motorcycle racer Jerry Savoie's White Alligator Racing TL1000 between Friday's qualifying rounds, he said "We left some on the table, there's more in it."
"Enough to catch Eddie Krawiec?" someone asked. New Jersey hometown hero Krawiec sat number 1 with an .85 after the first session.
"Oh no!" Peiser said without hesitation. "There's not THAT much in it."
And yet there was. Maybe it was the cloud that moved over just as Savoie pulled in into the waterbox, maybe it was Peiser's tuning, Savoie's flawless execution, or surely a combination of all the above. But the 52 year-old NHRA Full Throttle rookie finished round 2 on top of the qualifying order for the SuperNationals at Old Bridge Township Raceway Park in Englishtown, New Jersey with a 6.836—the second quickest Suzuki Pro Stock pass ever.
qualifying round 1
left lane  Jerry Savoie  6.957 at 190.92 mph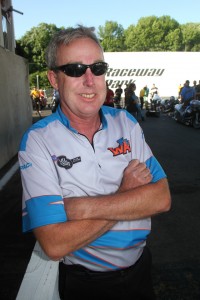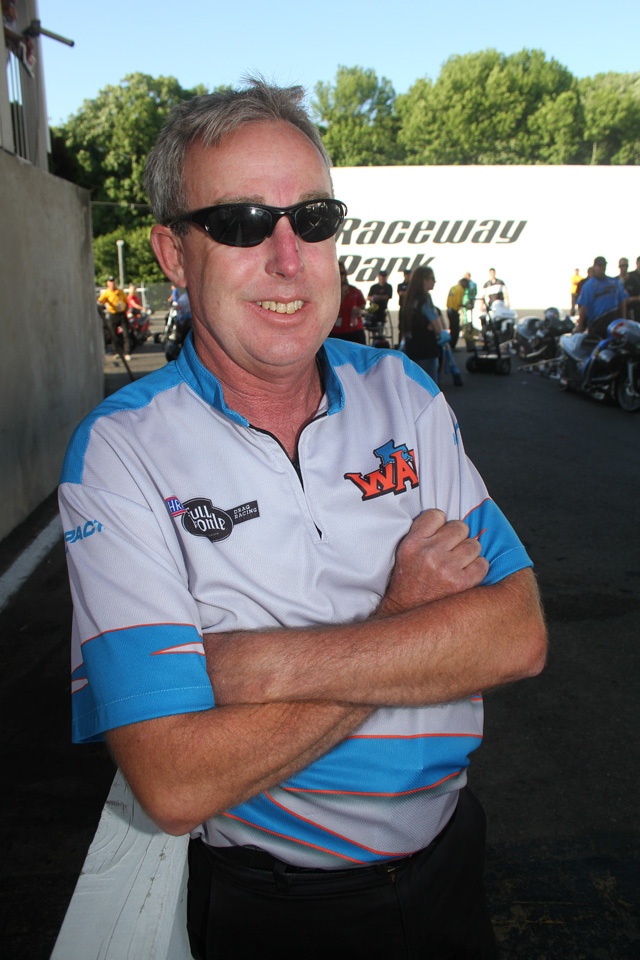 qualifying round 2
right lane Jerry Savoie  6.836 at 192.74 mph
Savoie sat fifth after Q1, with vacuum pressure on the Suzuki not what it should have been. "That cost horsepower," Peiser said, figuring the problem was a bad battery, but he changed gaskets as well.
"I definitely got back on the seat too soon," said Savoie, shouldering his share of the blame for what was still a good Q1 pass right off the trailer. "When you haven't ridden in a few weeks it's tough to get back in the groove."
Savoie had no such negative comments about his Q2 riding. "I knew it was on a good pass," said Savoie, who by day is an alligator farmer in Cut Off, Louisiana. "Usually it throws me back in the seat in third gear, but this time I just moved back in the seat and hit my shift points when the light came on."
"I knew we could run the number, but for us to run the best back half of the field means they (Krawiec's team) didn't get all they could out of it," said Peiser, who turned his attention to changing a chunking tire before Saturday's sessions.
No doubt Krawiec and the rest of the field will be aiming to grab the White Alligator Racing Suzuki by the tail section when qualifying resumes on Saturday, but you can also bet that Peiser will somehow find "more in it" to keep Savoie number 1 for Sunday's eliminations.
Watch the NHRA SuperNationals on ESPN2
6/04/2011 qualifying 5:30 PM – 7:00 PM ET
6/05/2011 eliminations 4:30 PM – 7:00 PM ET