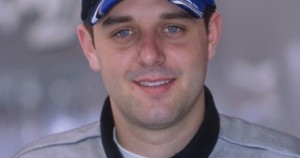 A day of testing minus a nagging electrical problem brought a smile back to GT Tonglet's face as he prepared for the NHRA SuperNationals, Friday through Sunday, at Old Bridge Township Raceway Park.
"We learned a lot, and now it looks like everything is going in the right direction," said GT, driver of the new Nitro Fish Tonglet Racing Pro Stock Motorcycle and older brother of current champion LE. "I am a lot more confident now. We know the bike is going to be good and fast once we get everything working like it should.
"We rewired the bike and changed the ignition box and the electrical trouble went away. We did have a little tire spin off the starting line that hurt our 60-foot time, but that's something we can work on in qualifying."
He hasn't started a NHRA event since 2006, but he did make two attempts earlier this season. His quarter-mile laps were slowed by the faulty ignition box and he wasn't able to make the top 16 at Houston or Atlanta.
"We want to get our new bike in the show on Sunday," GT said. "We should be okay."