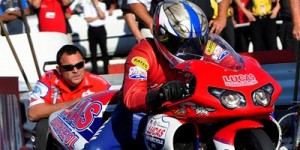 Chalk this one up to experience for Lucas Oil Buell rider Hector Arana Jr.
Arana was the No. 1 qualifier in Pro Stock Motorcycle for the O'Reilly Auto Parts NHRA Route 66 Nationals at Route 66 Raceway and knocked out GT Tonglet in the first round. His run of 6.977 seconds at 191.67 mph was the low elapsed time of the round and gave him lane choice in his second-round matchup with veteran Jim Underdahl.
But Arana Jr. slowed suddenly not long after taking the green light against Underdhal, in what appeared to be a mechanical failure. But that wasn't the case, however, as Arana admitted it was his call to abort the run.
"Instinct, I guess," Arana said. "I was drifting a little bit, and my hand just pulled the clutch in. There was no thought process to it at all. I pulled the clutch, and I thought, 'Why did I just do that?'
"I guess it all comes with getting more runs underneath my belt. We can chalk this one up to my limited experience."
After going over the run, Arana said he probably could have pulled his Lucas Oil Buell back in the groove.
"I definitely could have brought it back," Arana said. "I don't know. I just reacted. It was just a subconscious act."
The rookie rider still had a solid weekend, earning his second consecutive No. 1 qualifier and winning a round. He looks forward to getting back on his Lucas Oil Buell, July 22-24, for the Mopar Mile-High NHRA Nationals at Bandimere Speedway in Denver.
"It was a pretty good weekend," Arana said. "We were fast all weekend until now. One race at a time. Hopefully in Colorado we can do well again."