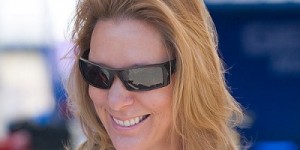 GEICO Suzuki rider Karen Stoffer suffered another disappointing result Sunday at Route 66 Raceway when she failed to make it to the starting line for her second-round Pro Stock Motorcycle matchup with Matt Smith.
This time, Stoffer blew her engine during the burnout she executed in preparation for racing Smith. At the last race in Norwalk, Ohio, Stoffer had a mysterious internal engine problem that prevented her from starting in the first round.
"The parts that were in it from what happened at Norwalk were new," Stofffer said. "You never know what goes first. It's kind of like the chicken or the egg with these things until you start taking it apart and go all the way down in the engine.
"It's just sad and heartbreaking for the team. Two races in a row now. After we had one of the faster bikes for the season, two races in a row we can't go down the race track. The team's pretty heartbroken about it."
Stoffer has had a stellar season in 2011, qualifying fourth or higher in all six races, reaching two finals, and winning at least two rounds in four events. She also led the points for four races.
The Minden, Nev.-based rider looked to have bounced back from the Norwalk disappointment by making four solid passes in qualifying and then beating Justin Finley in the first round with a run of 7.075 seconds at 186.20 mph. Then came the engine failure.
"We have a different motor in it for Denver anyway, so we'll put that motor in and work on this other one," Stoffer said. "We'll just try to get back on our game again. It's just one of those things.
"We've had both sides of the spectrum. We've had our lowest lows over the last couple of years, and we've had some pretty good highs this year. We haven't had the ultimate high yet, but we're trying to be a consistent team, to be consistently fast."
Engines in a Pro Stock Motorcycle are built to run right to the edge, and sometimes, parts break.
"That's one of the risks you take," Stoffer said. "It's a risky sport. You risk your life, and you take risks with the engines. It's not just the driver. The motors are built to perform, and they're really tight.
"You just going into the next race knowing that you're going to go out and do what you normally do. Whatever happens, happens."
Stoffer and the GEICO team return to racing action July 22-24 at the Mopar Mile-High NHRA Nationals at Bandimere Speedway in Denver.
"The team's not down," Stoffer said. "It's a frustrating thing, but we're certainly not down. We know we've got the bike."