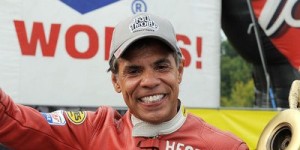 Lucas Oil Buell rider Hector Arana Sr. had an eventful first round Sunday at the O'Reilly Auto Parts NHRA Route 66 Nationals at Route 66 Raceway.
Arana had an excellent reaction time of .023 seconds against Jim Underdahl, but that's when things started going awry for Arana's Pro Stock Motorcycle.
"I felt good, and I noticed that I left first," Arana said. "I'm up front, so the first thing I think is, 'Did I red-light?' I glanced at the Tree and saw it was green, so I'm happy. I say to myself, I've got it.' I finished saying those words in my head, and the motor quit on me, 'Pop!'"
Arana figured he was then done, but the engine fired up again.
"But then it kicked back on, and when that happened, I could see him right there next to me," Arana said. "When it came on, it started pulling again, and I said, 'OK, I've still got it.' But it didn't go far. It started cutting off, coming back and then it sounded like it missing or hitting the rev limiter. Nothing I could do."
The 2009 world champion, who qualified No. 8 on the grid, struggled throughout the weekend with a recalcitrant bike, rebuilding the transmission five times while trying to find a mysterious issue that was keeping the bike from top performance.
"It's disappointing because we worked hard this weekend," Arana said. "We struggled with a lot of little things. I knew something was going on in the electrical system. I couldn't find it. I even put in a brand new crank sensor, trying the process of elimination. I'm going to look more into it."
Because of where the problem occurred Sunday, Arana figures he has narrowed down the issue and should be able to pinpoint it