Andrew Hines raced to his first victory of the season Sunday at the NHRA Four-Wide Nationals presented by Lowes Foods.
Hines continued his mastery of the Four-Wide Nationals in Pro Stock Motorcycle and held off top qualifier Eddie Krawiec, Chip Ellis and Matt Smith to take the victory, his third in a row at this event and his sixth zMAX Dragway victory. Hines clocked a 6.844 at 194.42 on his Screamin' Eagle Vance & Hines Harley-Davidson, while Krawiec finished in 6.849 at 194.44 on his Harley-Davidson to take runner-up honors. It was points leader Krawiec's fourth consecutive runner-up finish at this event.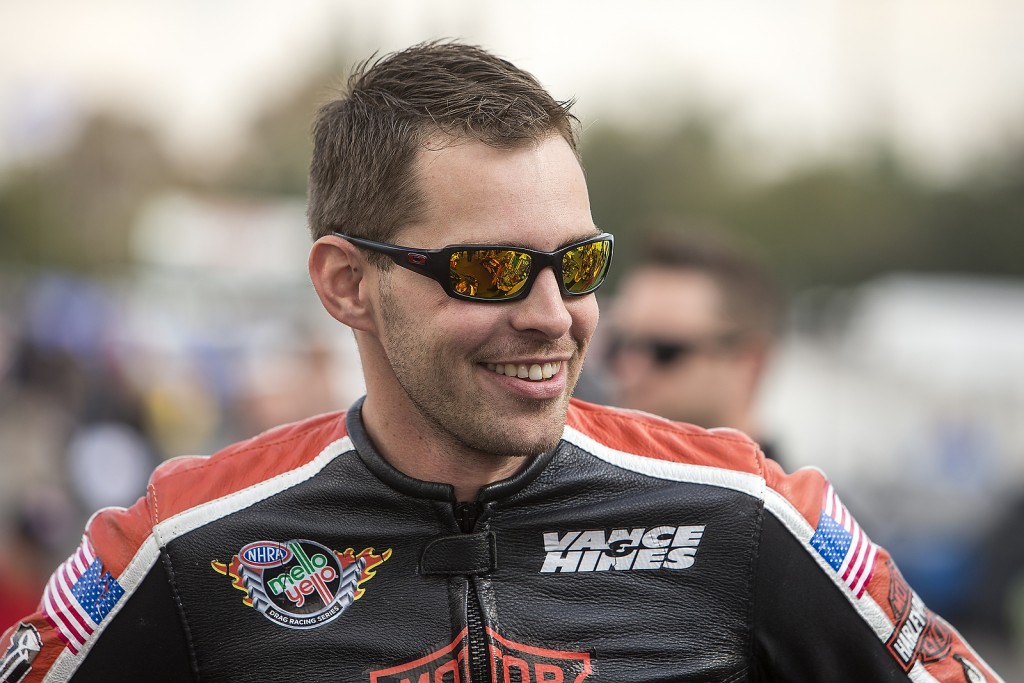 "It's great to come in here at the Four-Wide and get another win so we have our team going in the right direction," Hines said. "I'm happy to get a win this early in the season. When you get that off your back you can sit back, relax and focus on racing the rest of the season."
Hines became the third driver in NHRA history, joining Greg Anderson and Hight, and first in the bike class to finish second in both of the first two quads and then win the race. In the opener Hines finished second to Jerry Savoie, but in front of Brian Pretzel and Jim Underdahl. In round two, Hines trailed Krawiec, but finished in front of Savoie and Michael Ray.
"This race track just agrees with me, I feel very comfortable here," Hines said. "It is almost a calming effect it has on me with everything that is going on up there because it makes me focus that much more."
With his 43rd career victory, he is closing in on the 44 official victories that the late Dave Schultz won during his career.
"Thanks to Dave and all that he did for the sport, he was one of the pioneers of it all," Hines said. "Thanks to him we have a great field right now and all of Pro Stock Motorcycle is very stout. We have bump spots that are setting records. It's awesome to be involved in the class right now."
The NHRA Mello Yello Drag Racing Series continues April 29-May 1 with the NHRA SpringNationals at Royal Purple Raceway near Houston.