The first race of the season for Victory Motorcycles racer Matt Smith went about as well as it could for the two-time Pro Stock Motorcycle champion.
Smith, who unexpectedly failed to qualify for the race in Gainesville, Fla., qualified No. 2 in Charlotte and won two quads before clutch issues limited him in the final round of the seventh annual NHRA Four-Wide Nationals presented by Lowes Foods on Sunday at zMax Dragway.
"This Victory Gunner had a great weekend," Smith said.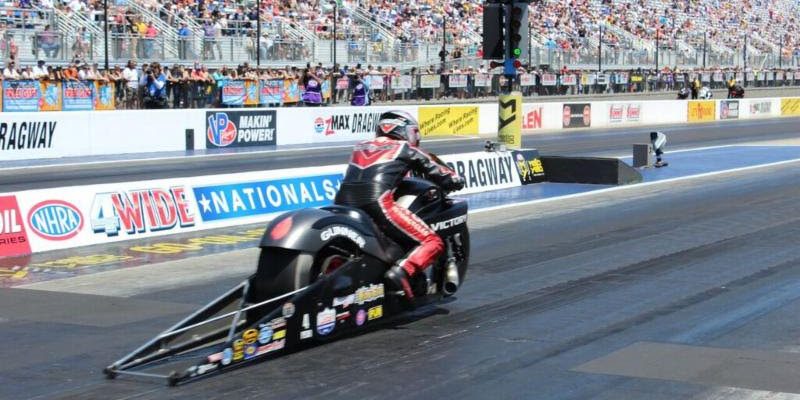 Off-season work generated some more horsepower out of his Victory Gunner, but Smith had electrical problems in Gainesville and was unable to make the race, so Charlotte was his official kickoff to the 2016 NHRA Mello Yello Drag Racing Series season, and it was a quick one.
"We didn't make a good pass on Friday, and we came back Saturday and were the quickest bike both rounds with 6.83s," Smith said. "We came into Sunday in the No. 2 spot and thought we had a good shot at winning this thing, and we did."
Smith won his quad in the first round with a stellar .008-second reaction time and a pass of 6.844 seconds at 195.03 mph.
In the semifinals, Smith left first with a .020 light and beat Chip Ellis to the finish line — Angelle Sampey and Hector Arana Sr. both red-lighted — with a run of 6.850 seconds at 195.00.
"We won first round and we won second round," Smith said. "That put is in the finals. It's just unfortunate that something broke in the clutch."
In the Four-Wide final round, Smith's chance at winning went away almost immediately.
"I let the clutch go, and the bike didn't move," Smith said. "It shows up in my reaction time, which was really late. But when the bike doesn't do anything, it's going to be late. We watched the video in slow motion: We dropped the clutch when I saw the yellow, and the bike just sat there. The tire didn't even turn.
"We don't know what broke. We'll get back home, put another clutch in it, and be ready to go to Atlanta and see if we can win there."
Smith surged into the top 10 in the Pro Stock Motorcycle points standings with what is officially a semifinal finish. He's eighth and less than a round out of the top five.