The Victory Motorcycles team of Matt and Angie Smith faced the gamut of emotions after qualifying on Saturday at the seventh annual NHRA Four-Wide Nationals presented by Lowes Foods.
Matt Smith had the quickest Pro Stock Motorcycle on the property Saturday, qualifying in the lofty No. 2 spot with his Gunner, but wife/teammate Angie Smith failed to qualify, losing a quick run in the final qualifying session after a staging issue.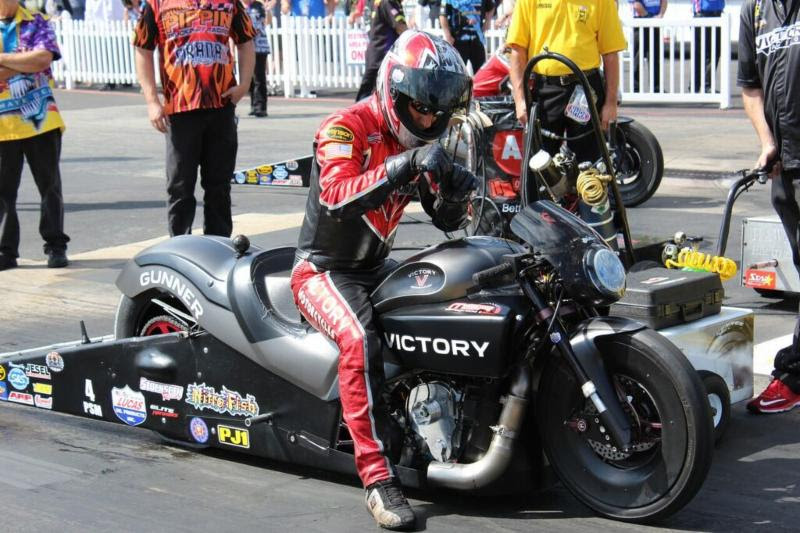 Matt Smith, the two-time Pro Stock Motorcycle champion and first winner of the Four-Wide race, bounced back from a disappointing Gainesville race with three quick passes in Charlotte. His best run was 6.832 seconds at 195.76 mph in Saturday's first session, but he also made a pass of 6.836 seconds at 194.49 mph in the final session.
"We were the quickest bike both sessions today," Matt said. "An .83 on both of them, and we ended up No. 2, and our Victory Gunner is running really good. I'm happy we got through all the mishaps we had at Gainesville. We knew we had good power.
"Hopefully we can turn this into a 'W' for Victory. I'd love to at least get to the finals tomorrow and see what kind of shot we have."
Matt Smith kicks off eliminations against No. 7 Chip Ellis, No. 10 Scotty Pollacheck, and No. 15 Steve Johnson. The first two to reach the finish line advance to the semifinals.
"My confidence is sky high," Matt said. "We went to Gainesville after the power we found over the winter, and I thought, 'We can win Gainesville.' Then I got slapped in the face with a DNQ. I came here and was like, 'All right, I just want to qualify, and then we can focus on winning.' We've accomplished that, so now we need to try and win this thing."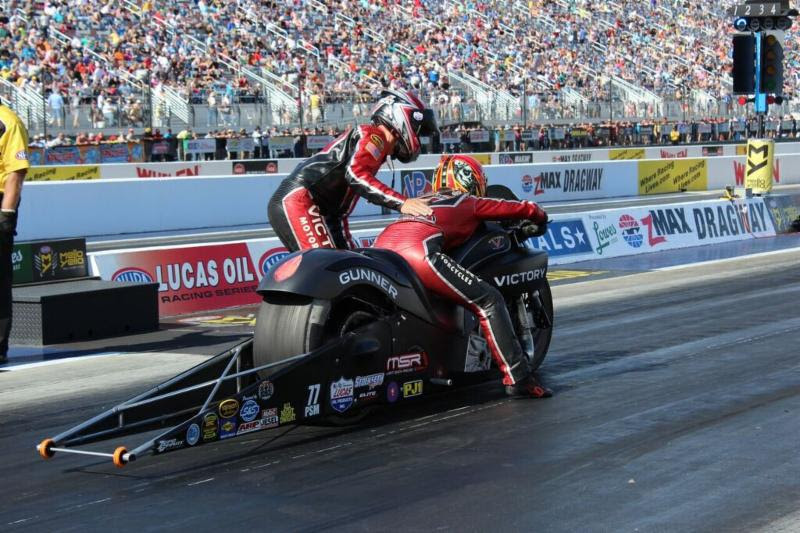 Angie Smith's run in the final qualifying session — Q3 after the second session was rained out Friday night — likely would have been quick enough to get in the field, but her time was not officially recorded.
"It was just a freak deal," Angie Smith said. "I pre-staged, and when I staged the bike, I guess I staged it too shallow. The vibration from the bike backed it out of the beams, and I didn't get a time. When you look at the computer, it probably would've been a .90, so I would've gotten in.
"It really bums you out, but you never give up. We'll regroup from it. I guess I should've given it another inch or two, and it would've been fine. We stage this bikes as shallow as possible to get the best e.t., so it's like a double-edge sword. Fortunately or unfortunately, this is the first time in my racing career I've gotten burned. It happens."
Pro Stock Motorcycle eliminations begin around 1 p.m., Sunday. FOX Sports 1 will air qualifying action from 10 p.m. to midnight, Saturday, and elimination racing from 4:30 to 7:30 p.m., Sunday. All times are listed in Eastern time zone.