A change in mindset has worked wonders for reigning Pro Stock Motorcycle world champion Andrew Hines the past couple of seasons and he has no plans to alter that approach now, even with what will be on the line at this weekend's 51st annual Auto Club NHRA Finals at Auto Club Raceway at Pomona.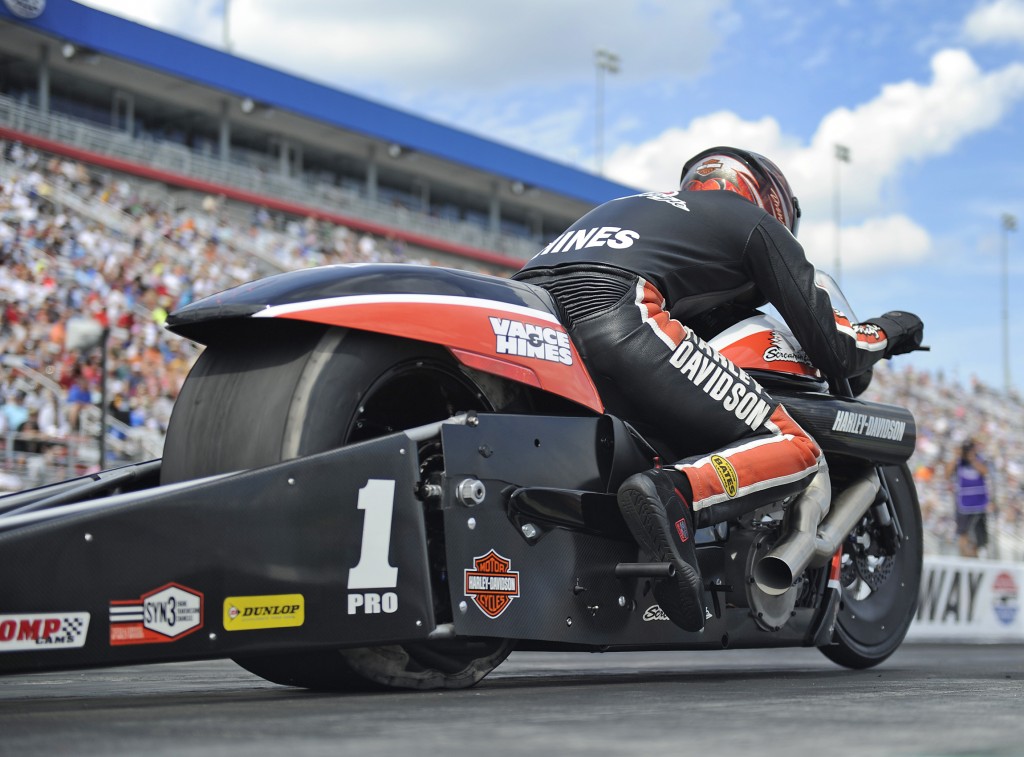 After defeating Jerry Savoie in the final round at the most recent race in Las Vegas, Hines will take a 46-point advantage over Savoie into the final event of the 2015 NHRA Mello Yello Drag Racing Series season. Hines' lead is also 83 points over teammate Eddie Krawiec in his quest for a fifth world championship on his Screamin' Eagle Vance & Hines Harley-Davidson.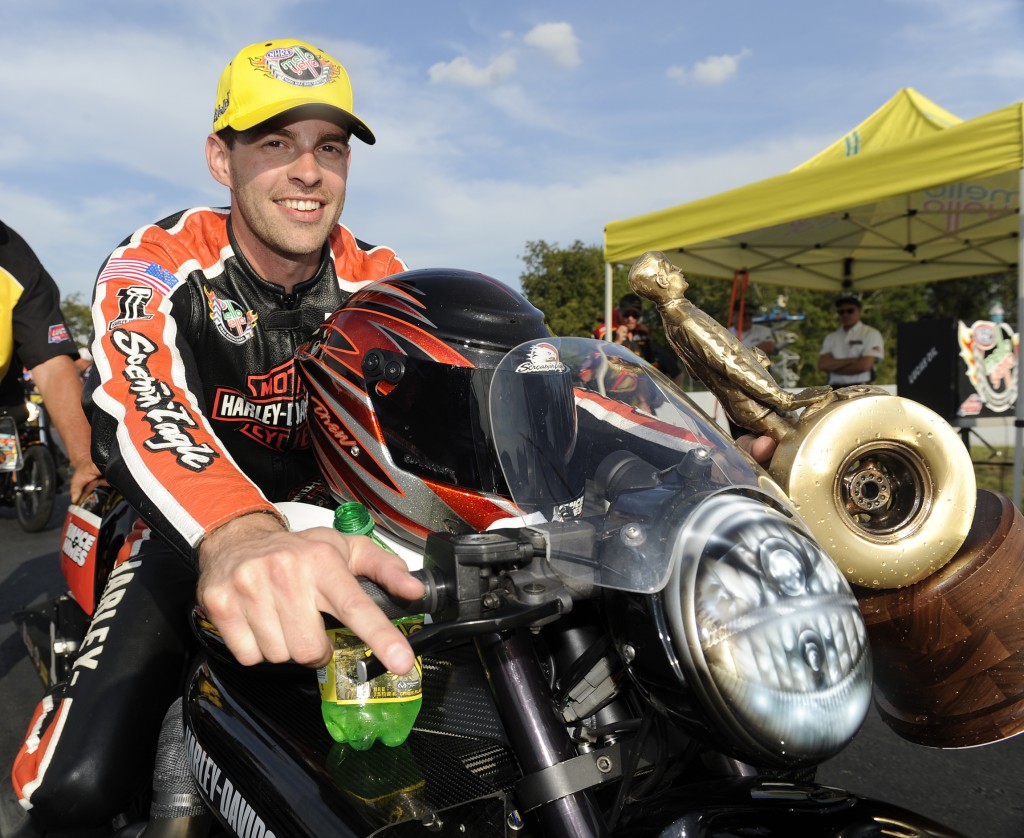 But even with the spotlight and pressures that will come in Pomona, Hines' mindset will stay focused on making consistent runs and nothing else, something he fully adopted a year ago with great results.
"I'm trying to not put any pressure on myself," said the 32-year-old Hines, who would be the youngest competitor in NHRA history to claim five world titles. "I feel like I have a good Harley and I just need to go out and try to do my job. The team is doing a good job and I'm just trying to be consistent. If I get a fifth (championship) that would be fantastic, but I'm trying to treat it like any other race. It's something I've tried to do over the last couple years and it's worked really well."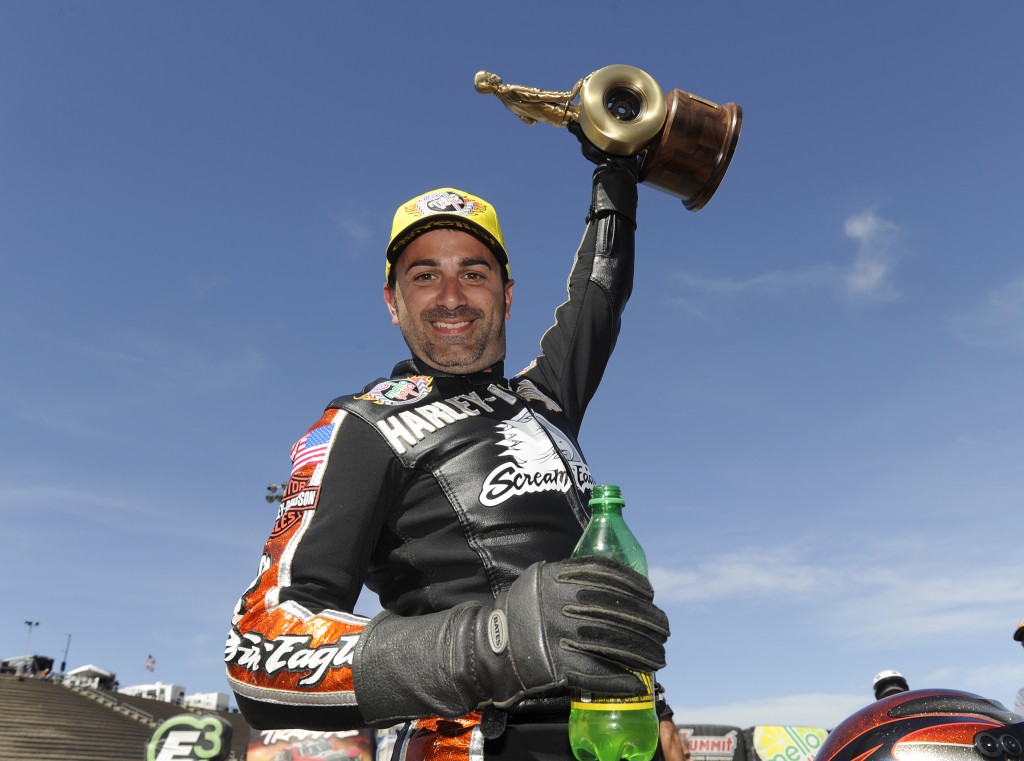 Morgan Lucas (Top Fuel), Matt Hagan (Funny Car), Erica Enders (Pro Stock) and Hector Arana Jr. (Pro Stock Motorcycle) were last year's winners of the tradition-rich Southern California event that will once again be televised on ESPN2. The lucrative event is the final of six playoff races in the Mello Yello Countdown to the Championship and the race for the Pro Stock Motorcycle championship will be one of the main storylines.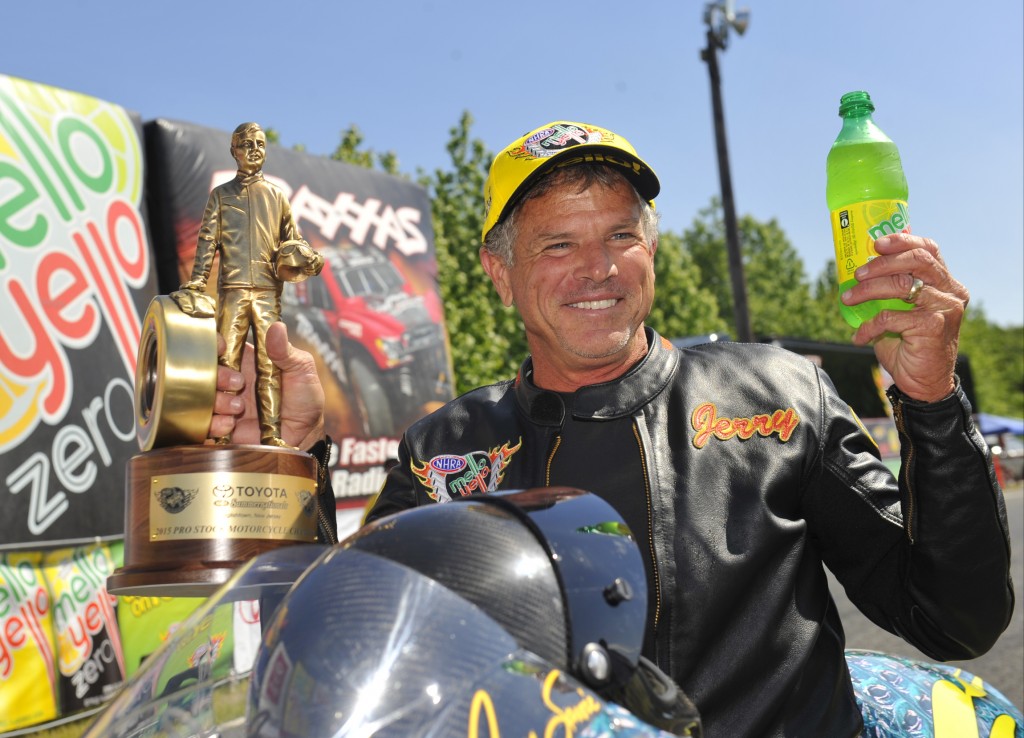 Hines' final-round win over Savoie in Vegas could go down as one of the major turning points in the championship story, but Savoie still has the potential to claim his first world championship with a memorable performance in Pomona. The Louisiana alligator farmer has made an impressive late-season run, winning in Dallas, to give himself a shot at the season finale.
As for finishing strong, Savoie has big plans for Pomona and they include much more than possibly winning the race and slipping past Hines in the points standings.
"There's absolutely a chance to go 200 (miles per hour)," said Savoie, who is aiming to be the first rider in the class to reach the milestone speed. "We went almost 199 in Dallas and the conditions in Pomona are going to be better. We definitely think we have a chance. We've got a good program going on right now and if we find it, (the motorcycle) will go 200.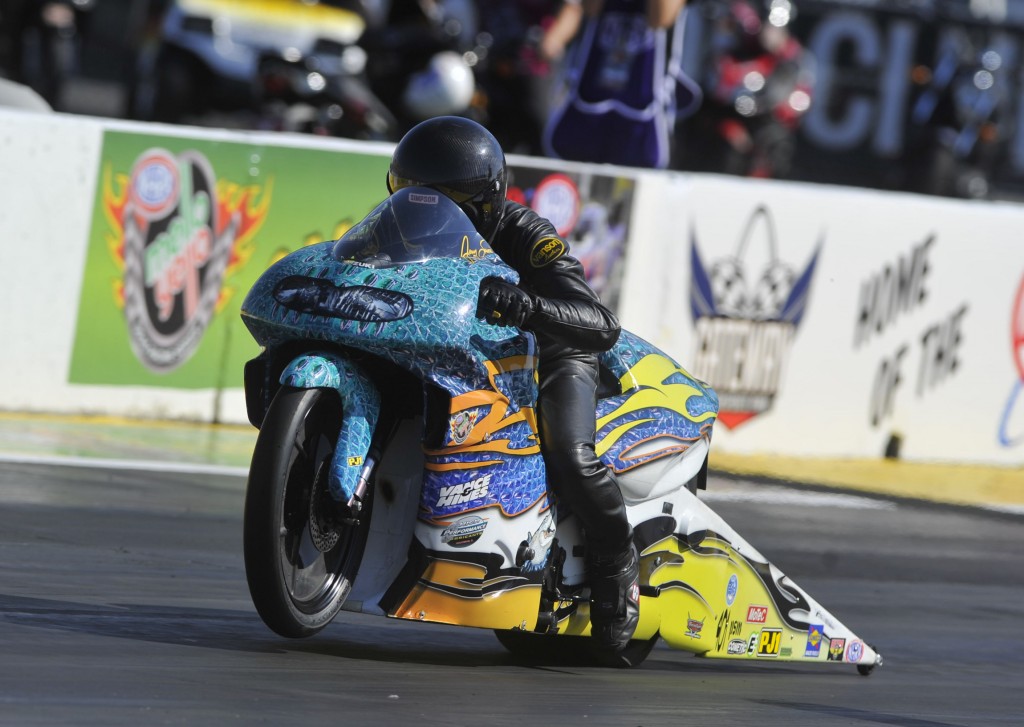 "We've got a couple of goals in Pomona and we want to run 200 if it's there. But we also want to go out there and try to win the race and see what happens."
Savoie's White Alligator Racing Suzuki has struggled off the starting line at different times throughout the year and that bit Savoie in the final round in Las Vegas. He believes those problems are corrected heading into Pomona, but he also knows that tracking down Hines – as well as holding off Krawiec – will be difficult.
"Those guys are as solid as a rock," said Savoie, whose breakout season in 2015 has included three victories. "They're seven-time world champions between them and you don't win that many on luck. Those guys are good, and they're in the position they are for a reason. I have a lot of respect for them and I call Andrew 'Iceman' because you can't rattle him."
With an incredible performance Krawiec can claim a fourth world championship in the class, but he will also need some good fortune along the way. If Hines has his way that won't happen, even though a lot can happen in one weekend at a fast track.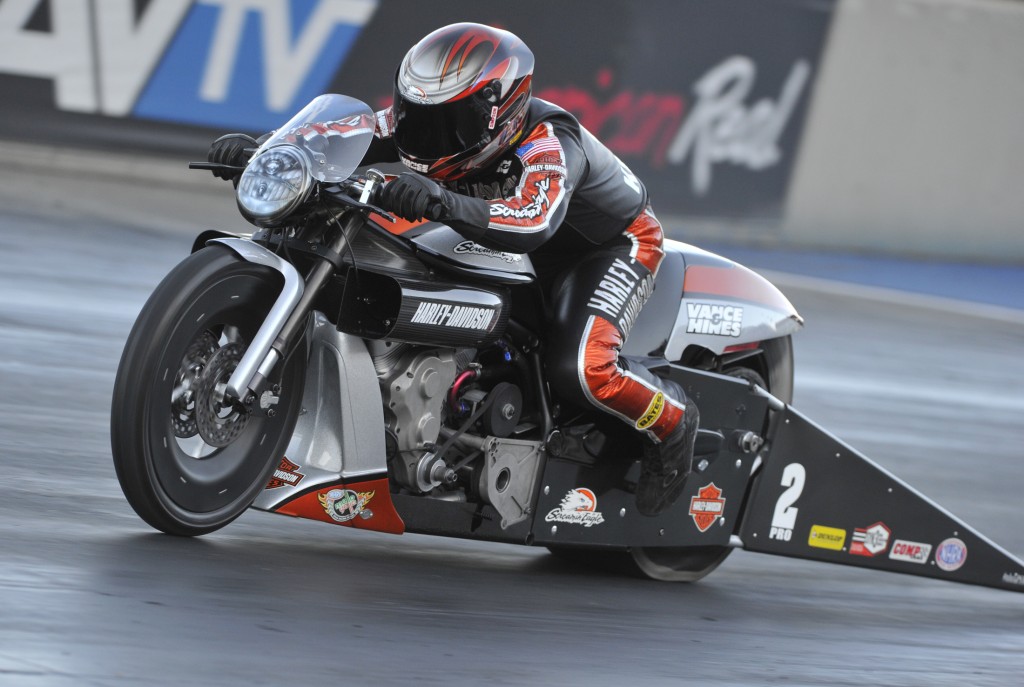 The three championship contenders also have to deal with the likes of Hector Arana Jr., who won in St. Louis, Matt Smith, Hector Arana, two-time season winner Karen Stoffer, Jim Underdahl, Chip Ellis and Scotty Pollacheck. It could make for a stressful weekend, but Hines, who has 42 career wins, will do his best to stay focused on the gameplan with a fifth world championship within reach.
"It's going to be tough and we're going to try to make the bike go as fast as we can," said Hines, who has posted three of his four 2015 wins in the Mello Yello Countdown to the Championship. "We're happy to be in this position and it could have been a totally different story had Vegas gone differently. We feel good and Pomona should play right into our tune-up."
In Top Fuel, Antron Brown clinched his second world championship crown two weeks ago in Las Vegas, but Brown, who has a remarkable seven wins in 2015, will look to close out his outstanding season in style. Standing in his way are the likes of eight-time world champion Tony Schumacher, Richie Crampton, three-time world champion Larry Dixon, Las Vegas winner Doug Kalitta, J.R. Todd, Steve Torrence, Dave Connolly, Brittany Force and Shawn Langdon.
In the search for his first Funny Car world championship, Del Worsham maintained his lead in Vegas, and holds a 38-point advantage over Jack Beckman heading into Pomona. Other Funny Car stalwarts include third place Tommy Johnson Jr., who sits 97 points out of first after his win in Vegas, Ron Capps, who is 140 points out of first, reigning world champion Matt Hagan, 16-time world champion John Force, teammate Alexis DeJoria, Cruz Pedregon, Robert Hight and Tim Wilkerson.
Erica Enders wrapped up her second straight world championship in Pro Stock with her ninth win of the season in Vegas, and will look to put the finishing touches on her dominant season by winning the Auto Club Finals for the second straight year. Looking to end the year with a win is a star-studded lineup, including Greg Anderson, Chris McGaha, Drew Skillman, Allen Johnson, Larry Morgan, Jason Line, Vincent Nobile, Jonathan Gray and Shane Gray.
Drivers in the NHRA Lucas Oil Drag Racing Series also will be racing hard in their quest to become winners of the thrilling event as well as national champions during the weekend.
Before the Christmas Tree hits green and the fireworks explode over the track to signify the end of another thrilling season at the Auto Club NHRA Finals, fans will have the opportunity to meet multiple stars of the Mello Yello Series at the NHRA Fanfest at Lordsburg Taphouse in downtown La Verne, Nov. 12., from 6:45-8 p.m. Beckman, John Force, Courtney Force, Brittany Force and Hight will be signing autographs and mingling with fans while Hight's AAA Chevy Camaro SS Funny Car and Schumacher's U.S. Army Top Fuel dragster will be on display. Ticket giveaways and food and drink specials will be offered and everyone who attends will also receive a free Mello Yello t-shirt.
Race fans will also have the chance to meet living legend and four-time NHRA Funny Car champion Don "The Snake" Prudhomme in the Snake Skybox with the purchase of a Skybox Pass. Skybox Passes include the once-in-a-lifetime opportunity to watch nitro qualifying and eliminations with Prudhomme in an air conditioned suite, as well as an autograph session and a photo opportunity. Don "The Snake" Prudhomme goodie bags will be handed out and each ticket includes free catered meals daily with non-alcoholic beverages. Limited space is available in the Snake Skybox. Passes can be purchased by calling the NHRA Ticket Office at 800-884-NHRA.
The NHRA's Hot Rod Junction will also make its return to the Auto Club NHRA Finals, offering nostalgic entertainment for race fans. The Hot Rod Junction will feature photo opportunities with past and present NHRA celebrities, a remarkable display of historic race cars and hot rods, and daily Cacklefest shows that will rattle the senses. Cacklefests will take fans back to the early days of drag racing with amazing sights and sounds. First-time Cacklefest spectators call it a sensory overload when dozens of nitro-burning historic, front-engine dragsters and other classic race cars are fired up simultaneously, creating a roar of engines and flame-throwing headers. All spectators attending the Auto Club NHRA Finals will have free access to the Hot Rod Junction.
A variety of drivers will also participate in the Night of Champions at the Wally Parks NHRA Motorsports Museum in Pomona, Calif., Friday night after racing has concluded. Drivers will be on hand to answer questions from fans and share some of their most cherished memories from the track. Beckman will moderate the Night of Champions.
As always, fans will have the opportunity to interact with their favorite drivers as they're granted an exclusive pit pass to the most powerful and sensory-filled motorsports attraction on the planet. This unique opportunity in motorsports gives fans direct access to the teams, allowing them to see firsthand the highly-skilled mechanics service their hot rods between rounds, and get autographs from their favorite NHRA drivers.
Mello Yello Drag Racing Series qualifying begins Friday, Nov. 13, with sessions at 11:45 a.m. and 3 p.m. The final two qualifying sessions will take place Saturday, Nov. 14, at noon and 3 p.m. Final eliminations are scheduled for 11 a.m. on Sunday, Nov. 15.
To purchase tickets, call (800) 884-NHRA (6472), or visit www.NHRA.com/tickets.  For more information about the NHRA visit www.NHRA.com.
Pro Stock Motorcycle:  1.  Andrew Hines, 2,534; 2.  Jerry Savoie, 2,488; 3.  Eddie Krawiec, 2,451; 4.  Hector Arana Jr, 2,363; 5.  Chip Ellis, 2,337; 6.  Matt Smith, 2,329; 7.  Karen Stoffer, 2,314; 8.  Hector Arana, 2,291; 9.  Jim Underdahl, 2,189; 10.  Scotty Pollacheck, 2,160.