Point leader Andrew Hines rose to the occasion at the 12th annual NTK NHRA Carolina Nationals at zMAX Dragway, the third of six races in the 2019 NHRA Mello Yello Countdown to the Championship playoffs. It is also the 21st of 24 events during the 2019 NHRA Mello Yello Drag Racing Series season.
Hines picked up his eighth Pro Stock Motorcycle win of the season in his Harley-Davidson when his pass of 6.805 at 199.37 defeated Karen Stoffer in the final round. He secured wins against Michael Ray, Scott Pollacheck and Hector Arana Jr. before facing Karen Stoffer in the finals for the second consecutive time this season. Stoffer took the victory when they met in St. Louis in September.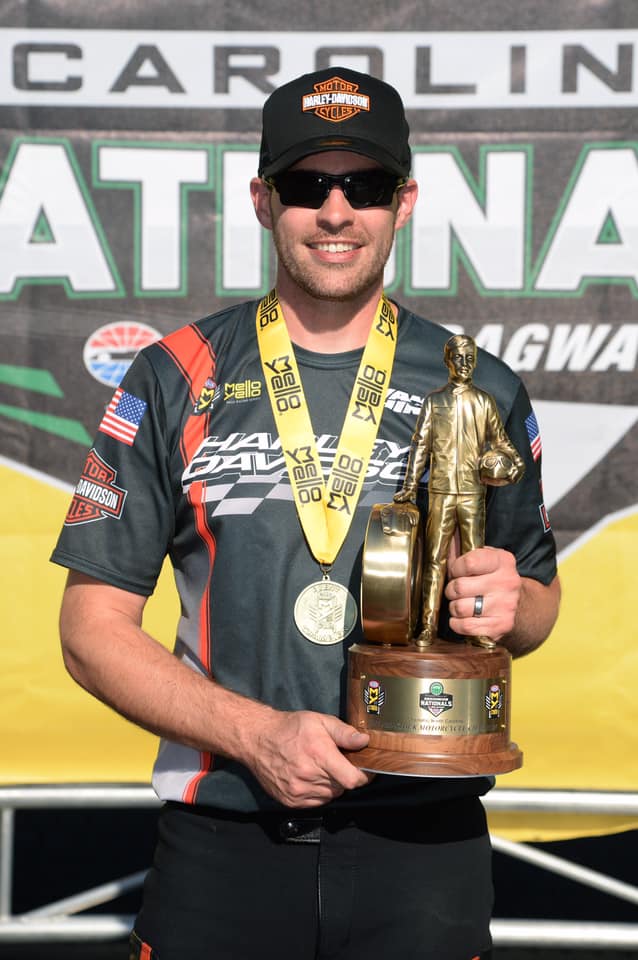 Stoffer raced to her third final round of the season after defeating Kelly Clontz, Eddie Krawiec and No. 1 qualifier Steve Johnson.
"It was a tough day," said Hines. "We were sitting around during the rain delay yesterday talking about this Pro Stock Motorcycle class and how stacked it is right now. If you look at the top ten in qualifying, any one of those people could be number one at any given time. You just never know when that's going to happen, so these races right now are hard fought and hard earned."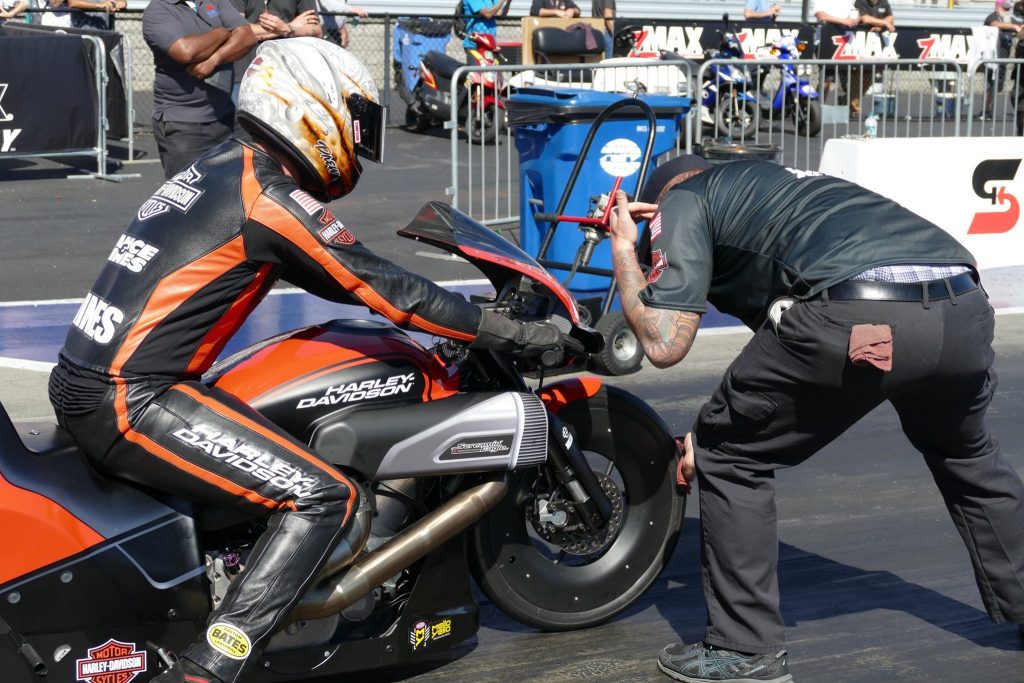 The Mello Yello Drag Racing Series continues Oct. 17-20 with the fourth of six races in the Mello Yello Countdown to the Championship playoffs, the AAA Texas NHRA FallNationals at Texas Motorplex in Dallas.
Results
ROUND ONE — Ryan Oehler, 6.860, 198.15 def. Angelle Sampey, Harley-Davidson, 8.078, 120.27; Hector Arana Jr, 6.815, 198.12 def. Angie Smith, 6.899, 193.24; Scotty Pollacheck, 6.831, 197.39 def. Hector Arana, 6.872, 196.87; Karen Stoffer, Suzuki, 6.793, 198.96 def. Kelly Clontz, Suzuki, 6.970, 192.17; Andrew Hines, Harley-Davidson, 6.866, 198.88 def. Michael Ray, 6.927, 193.05; Steve Johnson, Suzuki, 6.867, 194.69 def. Andie Rawlings, Suzuki, Broke – No Show; Eddie Krawiec, Harley-Davidson, 6.835, 198.06 def. Matt Smith, 6.942, 171.42; Jianna Salinas, Suzuki, 7.125, 190.19 def. Jerry Savoie, Suzuki, Foul – Red Light;
QUARTERFINALS — Johnson, 6.937, 192.66 def. Oehler, Foul – Red Light; Hines, 6.815, 198.82 def. Pollacheck, 6.855, 197.54; Arana Jr, 6.984, 172.96 def. Salinas, 6.983, 189.87; Stoffer, 6.809, 199.05 def. Krawiec, 6.855, 197.48;
SEMIFINALS — Hines, 6.831, 198.90 def. Arana Jr, Foul – Red Light; Stoffer, 6.797, 199.20 def. Johnson, 6.952, 193.85;
FINAL — Hines, 6.805, 199.37 def. Stoffer, 6.804, 199.20.
Pro Stock Motorcycle Points
1. Andrew Hines, 2,387; 2. Karen Stoffer, 2,330; 3. Eddie Krawiec, 2,272; 4. Jerry Savoie, 2,245; 5. Hector Arana Jr, 2,242; 6. Matt Smith, 2,236; 7. Angelle Sampey, 2,171; 8. Angie Smith, 2,148; 9. Ryan Oehler, 2,127; 10. Hector Arana, 2,096.
There are more videos on the Cycledrag Youtube channel (please subscribe here) and the Cycledrag.com Facebook page (Please like here) and more will be coming soon. Check back daily.