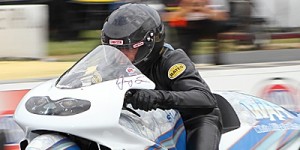 There is nothing but excitement in White Alligator Racings Jerry Savoie's voice as he
talked about racing at the Big Go (Mac Tools U.S. Nationals) in Indianapolis Indiana.
"Itis the biggest race of the year, just to be here it is exciting and to be in the top ten at the
US Nationals is even more exciting."
Savoie has many things to look forward to this weekend not only being in the top ten
and racing in Indy, but the debut of a new motorcycle.
"To be introducing a new bodystyle, a new bike, is even better. I don't think anyone can be more excited then I am
right now."
Savoie is making the switch from the Suzuki TL body to the much newer look
of the Suzuki Hayabusa. Testing the new bike last week did not go as planned for the team, but Jerry remains
positive in what little they took from testing.
"Testing did not go very well. We made one pass, then the second pass we blew up the engine and had to go back to the shop. It
went straight and everything was good so we will see. Friday night will tell the story."
As far as thoughts on the countdown Savoie is taking things one step at a time.
"I wish we could be in a better position. We are in the ninth spot, we are pretty much locked in I
am excited about that. As far as the countdown we are taking it race by race hopefully
we do well"
Qualifying for the Mac Tools US Nationals starts at 5:30pm Friday, 3:00pm and 6:00pm
Saturday, and Sunday at 11:00am and 2:00pm
Eliminations begin on Monday at 11:00am