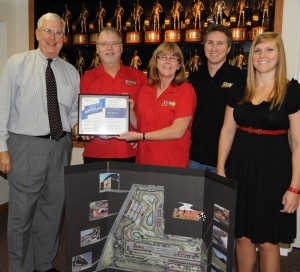 Star Racing of Americus was presented with a plaque recently for their nomination as one of the top 100 small manufacturing companies in Georgia for 2011.
Star Racing, a manufacturer of motorcycles and motorcycle parts, was nominated as one of the small Manufacturers of the Year for 2011 by South Georgia Technical College in Americus, Georgia. A small manufacturer is classified as a company with 150 or less employees.
As one of the nominees, Star Racing received a plaque signed by Georgia Governor Nathan Deal, and Ron Jackson, Commissioner of the Technical College System of Georgia, which is a sponsor of the Manufacturer's of the Year program.
George and Jackie Bryce, owners of Star Racing, and Derek Churchwell, General Manager of Star Racing were invited to attend a luncheon with the Governor in Atlanta earlier in the year where each manufacturer who had been nominated was spotlighted.
Star Racing was established in 1980 and since that time George and Jackie Bryce's highly successful operation has risen from obscurity to become one of the most successful teams at the race track, winning six NHRA national championships and 78 event wins. They also operate a successful world-wide mail-order parts business with engine building and machine shop services for the racing industry.
George and Jackie Bryce are also planning to bring a multi-million dollar racing facility to Americus in 2012. The Americus Motorsports Complex is expected to have a $75 million economic impact on the area and will be located across the highway from South Georgia Technical College on South Georgia Tech Parkway in Sumter County.
George Bryce also teaches a Pro Stock Motorcycle racing school in Gainesville, Florida. Considered by his peers to be an expert in the sport, he brings his knowledge of racing to the classroom.
"Star Racing is honored to have been selected by South Georgia Tech as a 2011 Small Manufacturer of the Year, " George Bryce said. "We could have located our business anywhere in the world, but we chose Americus as the home of our racing team, as well as our parts and manufacturing center."
Star Racing brings a wide variety of customers to Americus to visit or tour their facility which is located at 123 Crisp Drive. They race all over the country as well as internationally and are featured frequently on national television.