The woeful economy and high fuel prices have done significant damage to the sport of drag racing.
Perhaps a more serious problem for straight-line fans is the aging of top racers in the NHRA, the nation's premier drag racing sanctioning body.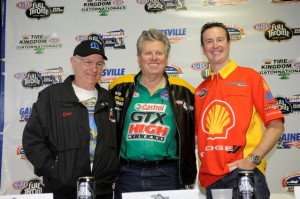 Consider this; the two biggest names in drag racing are "Big Daddy" Don Garlits and John Force. Garlits is 79 and Force is 62. Where are the stars of tomorrow?
Many agree the most important measure of a star is the ability to sell tickets. Bring Force to a small eighth-mile track on a Wednesday night, promote it and spectators will fill the stands. What other active racer can make the same claim? Who else is an attraction?
The motorcycle ranks are even more anemic when it comes to star power. Does anyone buy a ticket to see any of the Pro Stock Motorcycle racers?
Of the 84 drivers entered in NHRA's Norwalk event this past season, 29 were 41-50, 12 were 51-60, and astonishingly, eight were 60 or over.
NASCAR seems to be doing a better job of developing new young stars like Kurt and Kyle Busch, Joey Lagano and Trevor Bayne.
When Force finally retires, the NHRA will be faced with an even greater dilemma than the NBA encountered in the late 90's when its marquee star, Michael Jordan, walked away from the game. NBA ratings, attendance and revenue suffered.
However, the NBA had the advantage of a much larger and younger fan base and a huge talent pool to draw potential new stars. Kids aren't down on the corner practicing their reaction times, they're shooting hoops.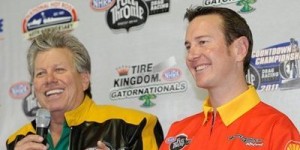 An overwhelming portion of NHRA's audience is over the age of 50. Advertisers want to see the all-important 18-35 demographic, who spend and drive pop culture.
The "Fast and Furious" import scene which flourished in the early 2000s is all but dead. NOPI and NHRA Explode are gone.
At nostalgia car shows, older gentlemen stare for hours at iconic and classic vehicles like the Stone Woods and Cook Willys coupe. They reminisce about how they used to build toy models of the vehicle as children. Are any of today's kids building Spencer Massey or Antron Brown model dragsters?
NHRA's telecasts have to become more gripping and captivating. Aside from Force, nitro racing is NHRA's greatest attraction. Unfortunately, nitro racing doesn't carry over well on TV – you can't feel it, you can't smell it.
The most alarming question is; if NHRA continues to age and decline in popularity, what is the future of the organization and the sport?
To survive and prosper, NHRA must find a way to reinvent itself, to somehow generate interest in the sport by young men and women. The NHRA must develop compelling young stars and television shows.
But how?
What is your solution or take on this dilemma? Leave a comment below.