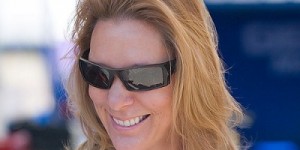 GEICO Suzuki rider Karen Stoffer is eager to revert to early season form this weekend at Lucas Oil Raceway, and if she does, the reward could be a win in the 57th annual Mac Tools U.S. Nationals presented by Lucas Oil.
Stoffer reached the final three times and the semifinals once in the season's first four Pro Stock Motorcycle events to take control of the category's point lead.
Then came some unfortunate engine problems in Norwalk and Chicago that set the GEICO team back, from which Stoffer and the team is only now recovering. Broken engines have been repaired, and crew chief Gary Stoffer and the team are working to get them back in the rotation.
Yes, Karen Stoffer won in Denver with a different, high-altitude engine that is not as effective at sea level. The team was forced to use it and a new engine at Sonoma and Brainerd, and while the results weren't stellar, Stoffer is in a better position for the rest of the season because of it.
"There were calculated decisions we made to put ourselves in the position that we ended up in when we went to Sonoma and Brainerd," Stoffer said. "But heading into Indy, it's going to be a little different. We'll be getting a couple motors back that weren't in the equation, and we're not going to be using (the Indy race) as a test session.
"We have five qualifying sessions. We'll put one of the motors in on the first day, and if it doesn't produce anything, we'll still have four qualifying attempts to try other motors and get back on our game."
Stoffer is second in the Pro Stock Motorcycle points standings with just the Indy race left before the Countdown to the Championship begins.
"Going to Indy is going to be different for us than it has been in the last couple of races," Stoffer said. "It should resemble more of what we had in the first part of the year. That's the hope, and that's the plan.
"We want to consistently go down the racetrack, and by doing that, we can consistently tune the bike and my riding together and get back to where we were in the beginning of the season."
And even though this weekend's race is considered by many to be the crown jewel on the NHRA schedule, Stoffer says "it really is just another race."
"Do we approach Indy differently? No," Stoffer said. "From a rider and crew and tune-up standpoint, although it's a big race, if you approach it differently, you might not have the outcome you want. We're going to approach it like we have all the races this year and focus on being consistent and showing that we are back on that program of consistency."