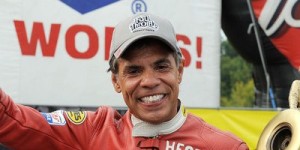 Hector Arana, rider of the Lucas Oil Buell, knows what it's like to be the last man standing at drag racing's biggest race, and it's a feeling he'd like to experience again this weekend at the 57th annual Mac Tools U.S. Nationals presented by Lucas Oil.
"Indy is our home track," Arana said. "That makes it important right from the start. I won the U.S. Nationals before, and it was a big win for me, so I'm looking forward to doing it again."
Arana, who was Pro Stock Motorcycle winner of the U.S. Nationals in 2009, the same year he won the NHRA championship, said there's a little something extra about racing at Lucas Oil Raceway on Labor Day weekend.
"It's the granddaddy of them all," Arana said. "When you talk to anyone, the U.S. Nationals is the one they all know as our biggest event. It's the largest attendance we have for spectators and even racers.
"It's special. Everyone wants to be there and participate and most of all, win it."
A win would be a big boost for Arana, who is sixth in the class points heading into the final regular season race. He also said a great weekend would be a fitting tribute to the co-founders of Lucas Oil, who have done so much for not just himself, but for the sport of drag racing at a whole.
"I definitely want to do well there so Forrest and Charlotte (Lucas) can feel proud of us and keep participating in this sport," Arana said. "If you stop and think about it, where else have you seen sponsors so involved in a sport? They do everything they can to promote drag racing. And they go out of their way to promote this class.
"You go to Lucas Oil Stadium and you walk inside there, and you can see everything they support in drag racing. They're trying to educate those football fans about another sport, which is drag racing."