After an unfortunate start to the 2016 NHRA Mello Yello Drag Racing Series, Victory Motorcycles rider Matt Smith is ready for a rebound at this weekend's seventh annual NHRA Four-Wide Nationals presented by Lowes Foods at zMax Dragway.
The two-time Pro Stock Motorcycle world champion inexplicably failed to qualify for the season-opener last month in Gainesville, Fla., bitten by some elusive electrical bugs, but after sorting through the issues in testing, Smith is expecting a big return at his hometown track.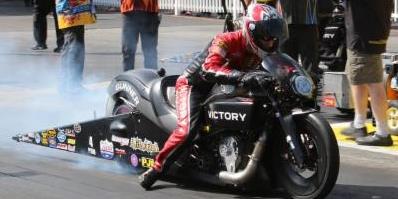 "We're going to bounce back," said Smith, who hails from nearby King, N.C. "That was a total fluke in Gainesville; we had a gremlin in the wiring somewhere. We had tested so well before that race but struggled during the event itself, so we stayed after on Monday and found the problem. We confirmed it (last week) by running four quick passes at another test session, so we're totally ready to go."
Smith made his latest test passes at zMax, a track about 80 miles south of home. He and wife/teammate Angie test there several times during the season, and when the track first held its unique Four-Wide race, it was Smith who went to the winner's circle.
"I caught on to the format pretty quick," Smith said. "I enjoyed it; I enjoy the challenge of something new. We won the first race here, so I have very good memories of the event. Actually, we've run well every time we come here, so I'm looking forward to racing here again and trying to get a 'W' for Victory Motorcycles. We need to put this thing in the final and give us a shot to win the race."
That kind of attitude suits most racers well when it comes to facing the Four-Wide race, as it is different than every other NHRA event. Rather than two riders side by side taking one Christmas Tree start, there are four riders taking two separate Trees.
"You've got to have a good attitude all the time," Smith said. "This race is unique, one-of-a-kind, and we really love doing it. Your concentration level must be high when you pull up there because even though you can't see all three of the other bikes, you can see when they stage because the lights on the Tree show you where everyone is in the staging process.
"Once you start a race, you can't give up because each round the top-two riders advance, so even if you're behind the person you can see, you're definitely not out. You just never let off, which suits me perfectly.
"It's our home track, and we test a lot there. We're always good there, and I think we'll be pretty bad-ass come this weekend."
Pro Stock Motorcycle qualifying sessions are schedule for 4:30 and 6:30 p.m., Friday, and 2 and 4 p.m., Saturday. Eliminations begin at 1 p.m., Sunday. FOX Sports 1 will air qualifying action from 10 p.m. to midnight, Saturday, and elimination racing from 4:30 to 7:30 p.m., Sunday. All times are listed in Eastern Time zone.