For Victory Motorcycles rider Angie Smith, the best way to deal with the seventh annual NHRA Four-Wide Nationals presented by Lowes Foods this weekend at zMax Dragway is to not think of it any different. Instead of racing one other Pro Stock Motorcycle as at every other national event, Smith will battle three bikes in the unique Four-Wide race, but that shouldn't be an issue, she said.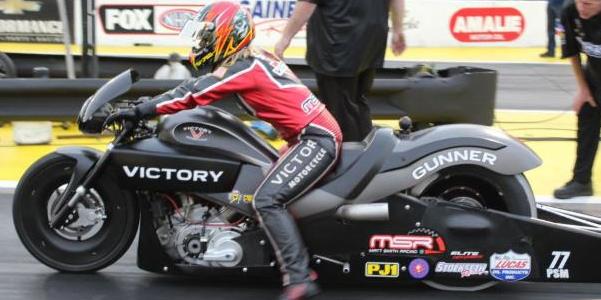 "You really don't worry about it because it's just another race," Smith said. "If you truly are just racing your lane, it's just another race. You're just racing three other people instead of one other person. You just have to go up there and not let that be a distraction. As long as you take care of yourself, everything will be OK."
Smith has learned that through her experience racing at zMax and by her insistence on racing her lane, like at every other race. Yes, racing four-wide was different when NHRA started it at this event in 2010, but times have changed.
"The first time we came here, it was crazy," Smith said. "People didn't know how to pre-stage or stage. Everybody looked like they had never come to a drag race before. Now that we've done it several years, everybody's getting in the groove of how it works.
"You've got to be mindful of people playing games on Sunday, but as long as you go in there, pre-stage, and stage, then there are no games to play."
Smith should feel at home at zMax since the track is 80 miles south of her home in King, N.C. She and husband Matt will have plenty of support this weekend, too.
"We love zMax Dragway, and we love the Four-Wide," Smith said. "It is our home track, and we come here a bunch during the year to test. It's an amazing facility. It's the Bellagio of dragstrips, and to have it here in our back yard is a great asset to us.
"When we're racing here, all our friends and family get to come, which is awesome, too."
Pro Stock Motorcycle qualifying sessions are schedule for 4:30 and 6:30 p.m., Friday, and 2 and 4 p.m., Saturday. Eliminations begin at 1 p.m., Sunday. FOX Sports 1 will air qualifying action from 10 p.m. to midnight, Saturday, and elimination racing from 4:30 to 7:30 p.m., Sunday. All times are listed in Eastern Time zone.