The NHRA Mello Yello Drag Racing Series season has started well for Lucas Oil rider Hector Arana Sr., and now he heads to a track where his team holds the record for elapsed time and speed.
Son Hector Jr. set the zMax Dragway e.t. and speed marks last season, and Arana raced to the final round at the 2016 season opener in Gainesville, Fla., and he is in line for a solid race at the seventh annual NHRA Four-Wide Nationals presented by Lowes Foods this weekend.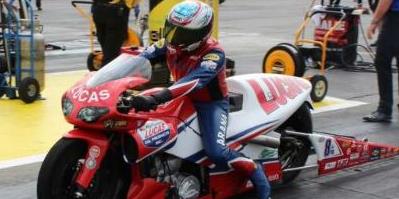 "We're all excited and looking forward to the Four-Wide," Arana said. "Hector ran a fast speed and e.t. there last year, so we'll try and stay focused and hopefully make some more good laps. We're focusing on Hector Jr."
As the team owner and father, Arana wants to make sure his son is in his best position to succeed, especially after struggling in Gainesville, where Hector Jr. made it into the field in the final qualifying session before losing in the first round.
"I definitely want to keep the momentum going," Arana said. "But my biggest concentration is on Hector Jr. so his bike can run as well as mine or even better. That's what I want. If he does well, then that's less stress for me and I can concentrate on my program."
Hector Jr.'s speed of 199.88 mph in Charlotte last March is also the NHRA record, meaning the elusive 200-mph barrier could be within reach, but Arana isn't worried about chasing it.
"We want it; we want it really bad," Arana said. "I don't think it's going to happen this weekend, but I can't think about it because I don't want to lose focus on the big picture."
Arana has a sparkling record in Charlotte, winning in 2009 and going to the final round in 2010 and 2013. The 2010 race was the first Four-Wide event, and he finished as the runner-up. That experience has him relaxed when facing the unique four-wide format.
"I try not to think about it," Arana said. "I just go at it and do what we know what to do. That's the state of mind that I'm going to stay in. I'm going to stay focused and see what happens. It is what it is, so I'll do my best and hope that it's good enough."
Pro Stock Motorcycle qualifying sessions are schedule for 4:30 and 6:30 p.m., Friday, and 2 and 4 p.m., Saturday. Eliminations begin at 1 p.m., Sunday. FOX Sports 1 will air qualifying action from 10 p.m. to midnight, Saturday, and elimination racing from 4:30 to 7:30 p.m., Sunday. All times are listed in Eastern Time zone.