The world's largest motorcycle drag racing series kicks off its 2016 season April 22-24 at Maryland International Raceway™ (MDIR) with the Pingel Spring Nationals—opener of the Mickey Thompson International Drag Bike League™ (IDBL).
Huge fields of the world's quickest bikes will duel one-on-one on what is widely considered the finest motorcycle drag racing surface on the planet. MDIR's well-trained staff will prep the track to the nth degree and hustle record setters down track at the spiritual home of the sport.
Three-time Orient Express Pro Street champion Joey Gladstone started off 2016 with an ego-bruising, holeshot, final round loss at the recent Manufacturers Cup race in Valdosta. He then came back around at that event to nail an .026 light on legendary Rickey Gadson in the Real Street final and take the win in that class.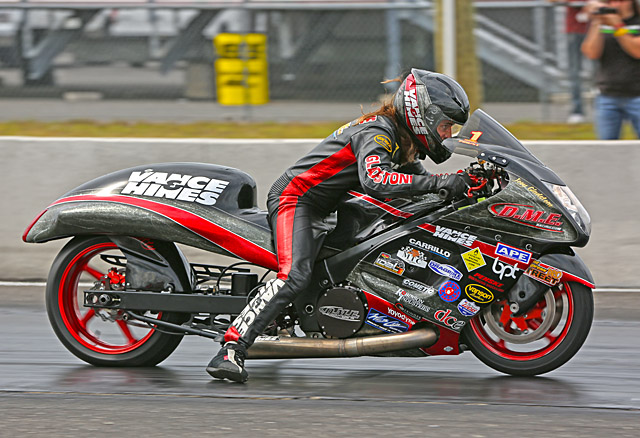 You can bet that Gladstone will maintain that level of competitive intensity when his DME team unloads their trailer in Maryland and seek to match last year's performance. Gladstone and DME set the Budds Creek quarter mile on fire at this event in 2015 with a well-below-the-record 6.72 at an incredible 221 mph—so much so that IDBL changed the rules and retired Gladstone's record.
Gladstone's DME Racing teammate Terence Angela also has something to prove after Valdosta, where he qualified number 1 but got absolutely glued to the tree by eventual winner Ehren Litten's .008 light in round 2.
And then there's Litten, the former DME team member who's now found a home on three-time champ Rodney Williford's team. Can he ride a wave of success from Valdosta all the way to Maryland?
Pro Street will be packed with contenders, including DME's Jason Dunigan and Chris Connelly, Richard Gadson on Brad Mummert's old school, air-cooled Suzuki GS, "First in the 6s" Ryan Schnitz on the HTP Performance Suzuki Hayabusa, Darion "Nanu" Payne, Tony Ficher, Justin Shakir, Mark Gargiulo, Doug Witt and more.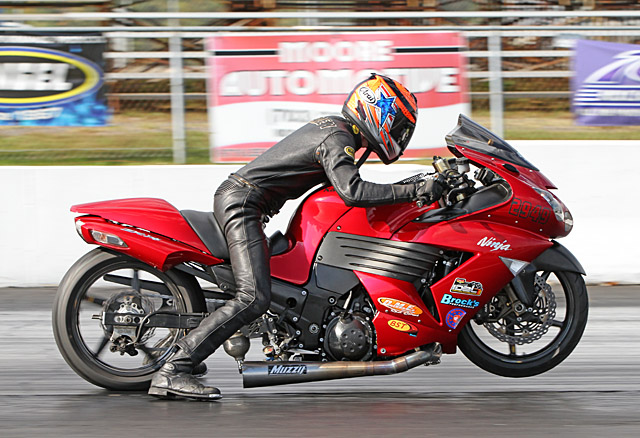 Like Gladstone, multi-time DME Racing Real Street champ Jeremy Teasley was stung in his signature class in Valdosta, losing to Rickey Gadson in round 2. His team boss Roger Starrette also lost in the second round. Teasley was on an unfamiliar mount—former teammate David Merks' turbo 'Busa. Will he be back on his trusty nitrous-huffing Kawasaki ZX14 in Maryland?
No matter what Teasley's riding, he'll have to get around the record-setting, all-motor, DME 'Busa ridden by Gladstone, the turbo 'Busa of "Super Dave" Stewart, supercharged record holder Tom Federici, the turbo ZX14R of Gadson, and many more.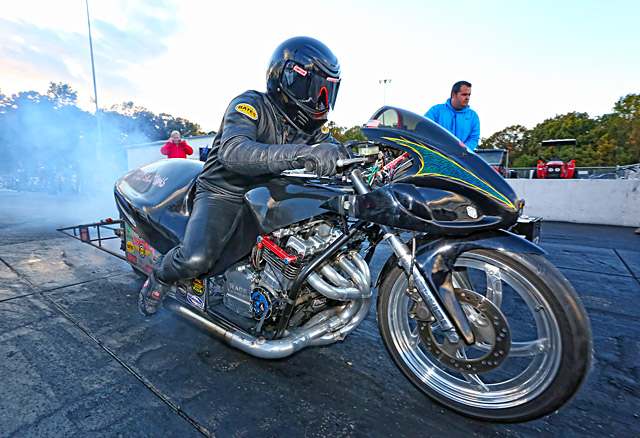 Can the phenomenal growth of Vance & Hines 4.60 possibly continue? IDBL's fastest growing is also the world's quickest 2-wheel index class. Champion Tyler Cammock will defend against Ronnie Procopio, Mac McAdams, Curtis Griggs Jr, Bobby Lovingood, Ronnie Smith, Eran Pielert and many, many more.
FBR Shop 5.60 bikes take a second longer to reach their eighth mile finish line than 4.60, but that doesn't mean they're wasting time. These riders—often on streetbikes—are looking over their shoulders and playing index class finish line games. Dustin "Tennessee" Lee just barely nipped 2014 champ Michael Ostrowski for last year's title, but Long Islander Ostrowski has no doubt fumed all winter about that. George Shriver, "Fearsome" Andy Baumbach and more will be vying for this year's crown.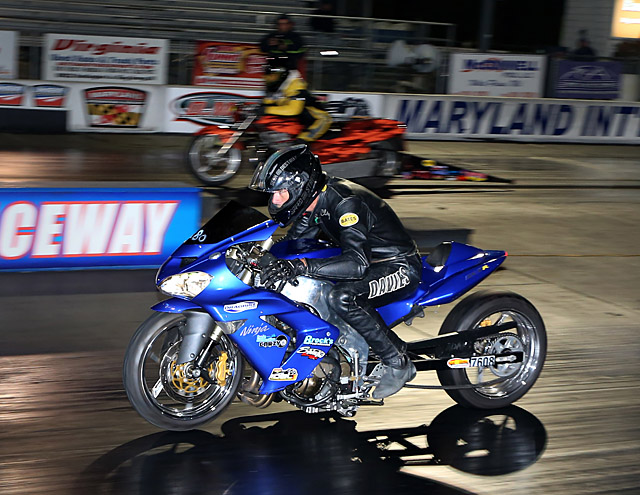 Ben "Hardest Working Man in MC Drag Racing" Knight will not be able to remove his nose from the grindstone if he intends to repeat as Carpenter Racing Crazy 8s champion. Robert Parker fell just short last year and carries extra motivation into 2016. Shinko Pro ET champion Clay Davies, Boo Brown, Brock's Performance Street ET champ Shayne Proctor, and more will all be clawing for their share.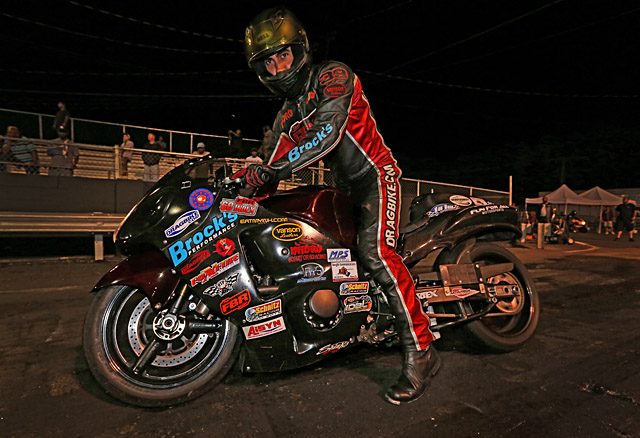 Trac King Clutches Top Sportsman takes the quickest 32 out of Pro ET and pits them in intense battles. Andre Jones rode his no-bar 'Busa to the championship last year—a slap in the face to dragbike competitors like Chuck White, Doug Robinson, West Virginian Brian Canoles, Jay Windsor and more. Expect retaliation.
Many of the above will also be filling the staging lanes for Shinko Pro ET and
Brock's Performance Street ET both Saturday and Sunday, along with bracket racing studs like Spencer Claycomb, Mike Schulz, Mike Herman Jr, and Virginia's Brian Guarino.
Capping off the action Saturday night will be the cash and chaos of Grudge, highlighted by HTP's trailer full of grudge bikes, including Buck Burrough's "Kingpin." After the crowd cheers and the smoke clears, who will be left holding all the money?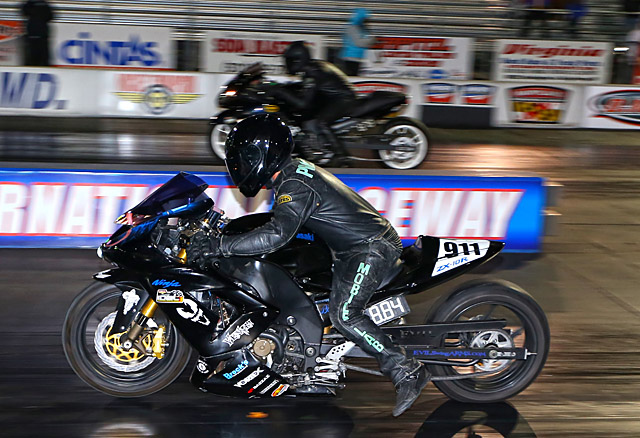 IDBL and the MDIR staff are stoked for this opportunity to show that Budd's Creek is still number 1 when it comes to motorcycle drag racing, and you will not want to miss it.
Find out more about the Mickey Thompson Performance Tires International Drag Bike League at http://www. RaceIDBL.com
Find out more about Maryland International Raceway at http://www.RaceMDIR.com
This report was prepared by Tim Hailey. Enjoy everything there is to read, see and watch about motorcycle drag racing and more at http://www.eatmyink.com