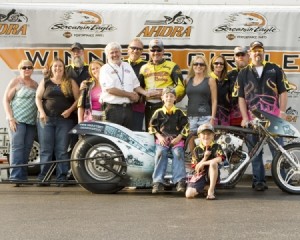 Hawaya Racing Team headed to Bristol, Tennessee this past weekend for the NHRA Lucas Oil Screamin Eagle Series race presented by Harley Davidson Motor Company. Johnny Vickers in his second NHRA event this year, was riding the #1 school bike, Walter Halonski was aboard the #2 school bike and Rebel Glover was on the former Carrie Tate bike that he recently purchased. 9 Pro Dragsters showed up for the 8 bike field, meaning someone was gonna go home early.
In qualifying, Vickers qualified in the #1 spot in the second round of qualifying setting a new track record for the Pro Dragsters at 7.370 seconds (low ET of the meet) at 172.45 MPH. Walter eventually qualified in the #5 spot running a 7.640 pass. Rebel wound up #3 with a 7.510, Gary Stroud on his Derringer was #4 with a 7.533, Rich Vreeland was 6th with a 7.700 pass, Steve Pleasant riding his son Clint's bike was #7 and Janette Thornley was in the #8 spot with a 7.803. Billy Jackson who was experimenting with clutch set-ups was the odd man out, running a best of 7.804. Did you catch that? Janette 7.803, Billy 7.804, 1/1000th of a second was the difference in racing on Sunday and going home.
During a very exciting first round of eliminations on Sunday, Vickers ran right on his qualifying time running a 7.371 to Janette's 8.079. Gary Stroud took out the #2 qualifier Dale Nilles on a hole shot and Rich advanced over Rebel on another hole shot. Round #2 was just as exciting as Vickers ran a 7.440 ET at an awesome 180.79 MPH (high MPH for the meet) to advance over Stroud and Vreeland out ran Pleasant with a 7.658 ET to face Vickers in the final.
When all the tire smoke cleared, it was Vickers taking his second Wally in as many events, defeating Vreeland in a great side by side race for the fans, 7.48 to 7.58.
"Bristol is one of my favorite tracks, but this was my first win there, so I was pleased with the out come said Johnny. It was great to run Rich in the final and to see him back running up front. HRP was well represented with 8 out of the 9 bike there, Derringers.
I would also like to mention that Acka Riemer, of HD Service, T/F racer from Germany made the trip across the pond just one week prior to the Bristol event to assemble his bike and make the race. We had done extensive chassis upgrades over the summer to his ride. He had no crew with him, but still managed to make the race, just missing out on qualifying. He will return, this time with full crew, to compete in the AMRA Rockingham race in October."
The next stop for the Hawaya Racing Team will be the AMRA race in Bowling Green, KY in which Johnny will again be on the #1 school bike looking to defend his national record set at that event last year.
Team Hawaya would like to thank our sponsors for their continued support and commitment to the sport of Motorcycle Drag racing:
VP Racing Fuels
Venom Group International
Vreeland's Harley Davidson
Mickey Thompson Tires
Vanson Leathers
PAC Racing Springs
RUSH Racing
Projack Race Lifts
Contact www.hawayaracing.com for more information
Phone 336-973-5078