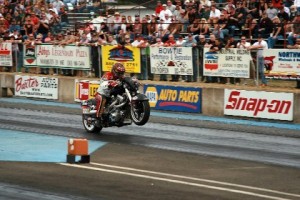 Verl "Smitty" Smith Racing for Vets took a win in the Cutter's Foam Pro Street division of the AHDRA's Lonestar Nationals presented by Kresto at Texas Motoplex near Dallas, TX.
Smith defeated Danny Worth in the first round, and went on to take out reigning champion, Andy Simon in the finals with a  9.523 ET at 145.00 mph against Simon's 10.091 at 122.09 mph.
Smitty has been creating a bike show prior to each event at regional VA hospitals and homes. He takes with him not only a few hours of time to visit but some of the technical jargon appreciated by the Vets and, of course, Smitty brings his winning Harley-Davidson race bike.
Verl Smith Racing for Vets is supported by Celorie Bros Dump Trucking, Biker's Choice, MOMS,
Feuling, Stringer Engines, Oak Grove Choppers, Mickey Thompson Tires, Avon, Outlaw Racing Fuel, STD, Davey Rocket Corp., Alliance Mechanical, Bitchn Seat Co., Old School Choppers, and Spyke, Inc.
Verl "Smitty" Smith is an honorable man trying to do the right and honorable thing.