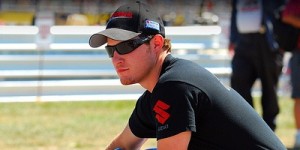 Jim Underdahl, rider on the Suzuki Extended Protection Pro Stock Motorcycle, jumped into the top ten in Championship points with his quarterfinal finish Sunday in the 42nd NHRA SuperNationals at Old Bridge Township Raceway Park in Englishtown, N.J.
After claiming the lucky No. 13 qualifying position, Underdahl dispatched No. 4 qualified Hector Arana, Sr. in the first round, running his event-quickest time of 6.925-seconds at 192.91 mph to Arana's slower 7.040-seconds at 190.48 mph.
"Up until that point, we were feeling really good," Underdahl said. "The bike was responding extremely well, and every round got quicker and quicker. That always makes you feel good."
In the quarterfinals, he faced off against 2010 series runner-up Andrew Hines. At the starting line, Underdahl plastered Hines with a .025-second reaction time to Hines' .067. Underdahl led the race about a third of the way down the track but was unable to hold off the quicker Hines, losing at the stripe 7.006 at 188.86 to 6.946 at 188.46.
Despite the loss, Underdahl moved into ninth place in championship points and closer to his goal of making the Countdown to the Championship, the NHRA's playoffs for the Championship crown.
"We're leaving feeling really positive because we are really having good success with what we're doing to them bike. That last round wasn't really reflective of what we can do, especially after having run a '92 in the first round. If we just could have repeated that, the results for the event would have been completely different. But, that's racing," Underdahl said.
The next time Pro Stock Motorcycle is contested at an NHRA event is July 7-10 in Chicago – more than a month away, and Underdahl said he and his crew chiefs Greg Underdahl and Ben Kriegsfeld have plans to continue working on the summertime/hot weather performance.
"We've got plenty of time to work things out and keep improving. We want to keep doing a great job for our sponsors, Suzuki Extended Protection and AGP Turbo, and that means staying ahead of the performance curve. Until Chicago, we'll work with some testing and make sure we've got what it takes to keep going rounds," Underdahl added.