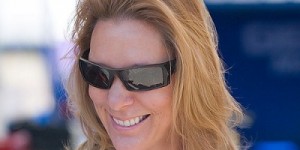 Another day, another trip to the money round for Karen Stoffer and the GEICO Suzuki.
Stoffer finished as runner-up at Sunday's 42nd annual NHRA SuperNationals at Old Bridge Township Raceway Park, her third runner-up result of the season, and extended her lead in the Full Throttle Pro Stock Motorcycle points.
"I'm not looking at points right now," Stoffer said. "I'm just looking at how consistent the bike can be. You look at our e.t.s and you look at the bike going straight. Whatever outcome we get because of that, we're going to get."
The only thing Stoffer didn't get in E-town was a better light than opponent Matt Smith in the final, losing on a miniscule holeshot. Smith got a slight advantage at the line (a .023-second reaction time to a .035 by Stoffer) but his elapsed time was slower than Stoffer's as he ran a 6.900 second lap at 191.73 mph to Stoffer's 6.889-second lap. The race was a dead heat to three decimal places but Smith ultimately took the victory by .0002 seconds, or about one inch.
"I really didn't have a bad light," Stoffer said. "It was where we wanted to be and where we put the bike. Consistency got us to that final and got us to where we are in points, so we weren't going to go away from that.
"I'm sure Matt saw me, because I saw him the whole way down. I was getting tucked in as far as I can to scrub off the time. If we stick to this consistent game plan, maybe one of those pewter Wallys will come our way."
On the way to the final, Stoffer defeated GT Tonglet, Michael Phillips, and Gerald Savoie with ETs that were either first or second quickest in each round.
She now leads the Pro Stock Motorcycle standings by 43 points over Andrew Hines.