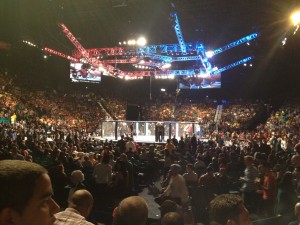 The sluggish economy seems to be ravaging the revenues of many avenues of sports and entertainment. Yet, much like its accomplished mixed-martial arts fighters, the UFC is finding ways to succeed in the face of adversity.
UFC 148, held July 7 at the MGM Grand Garden Arena in Las Vegas, Nev., was further evidence that mixed-martial arts' meteoric rise in popularity has not come close to tapping-out.
The highly-anticipated event featured UFC Middleweight Champion Anderson "The Spider" Silva, widely-considered by fight experts the greatest pound-for-pound fighter in the world, meeting the outspoken and controversial No. 1 contender Chael Sonnen for a second time. The bout sold 15,016 tickets and produced a new live gate revenue record for the venue and for UFC in the United States at over $7 million, beating the previous mark by $1.6 million. On the eve of the fight, over 8,000 fans even showed up to The Mandalay Bay Convention Center to watch the fighters weigh-in.
"We have every reason to believe this was our biggest fight ever," said UFC president Dana White. When the pay-per-view buyrate information is released, White says it's plausible that Silva vs. Sonnen II will surpass the organization's record of 1.6 million buys from 2010's UFC 100, featuring the Brock Lesnar vs. Frank Mir II fight.
"For the past month I have done nothing but work on this fight," White said. "What really sold UFC 148 was the first fight between Silva and Sonnen. That was the type of fight that makes legends."
During their first encounter, Sonnen dominated the undefeated Silva for four-and-a-half rounds before The Spider was able to trap Sonnen in a submission.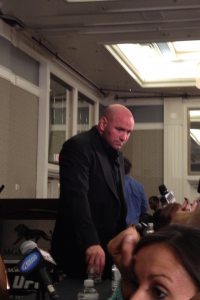 "The way Chael dominated [last time] and the way Silva found a way to pull out a win made everyone want to see the rematch," White said.
UFC 148 also featured a prominent co-main event as 15-year UFC veteran Tito Ortiz faced off against rival Forrest Griffin in what would be Ortiz's final fight of his career. Griffin won via decision; the grueling showdown was named "Fight of The Night," earning Ortiz and Griffin an additional $75,000.
The UFC hopes to showcase more blockbuster events like UFC 148 outside of the United States by continuing what has been a thriving international expansion. Fresh off a successful debut in Japan in February,  UFC will hold its first-ever event in China this November.
"We really want to introduce China to mixed-martial arts," White said. "Every time we go into a new country and put on a great event, the sport starts to spark. Gyms start opening, people start training and more and more fighters start to come out of those countries."
The UFC has made momentous strides since the organization's first event in 1993, which drew only 2,800 fans and garnered 86,000 pay-per-view buys.  With a prudent, aggressive business model in place and ever-more "must-see" fights on its cards, the UFC's market share should continue to reach new heights.