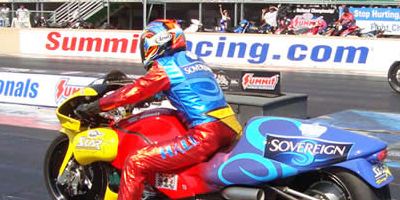 Sovereign-Star Racing teammates Scotty Pollacheck and John Hall both claimed round wins and improved qualifying positions at the Summit Racing Equipment NHRA Nationals this past weekend in Norwalk, Ohio.
After the team's difficult race in Chicago the week before, the Sovereign-Star Racing crew came back strong this week in Ohio as both motorcycles and racers saw better performance numbers.
"Both bikes, drivers and I did way better than we did at the Route 66 Nationals last week," Star Racing owner George Bryce said, "Scotty, John and I are really starting to 'click' on what we need from each other to put better numbers on the board."
Hall posted his best qualifying position of the season at the No. 6 spot with his 7.016/189.47 run on Saturday.
"It was great to qualify in the top half at No. 6. That was my best qualifying so far this season. The bike was really fast – especially considering what brutal weather we had over the weekend. The heat and humidity were the worst we've seen," Hall said.
"The most amazing thing is that John's No. 6 qualifying spot came with the exact motorcycle, same engine, tire and driver that we used last weekend when he didn't get in the show in Chicago," Bryce said.
Hall went on to defeat Jerry Savoie, the No. 11 qualifier, in Round 1 Eliminations with a 6.987/188.07 against Savoie's 7.076/188.36.
Halls' teammate, Pollacheck, the No. 10 qualifier, claimed his fourth Round 1 win of the season with a 7.037/188.07 run against No. 7 qualifier LE Tonglet on his GT Racing Suzuki.
Scotty Pollacheck continued to make consistent passes on his Sovereign-Star Racing Buell as he claimed his 4th Round 1 win of the season against LE Tonglet as the No. 10 qualifier in Norwalk.
"We were paired up with LE Tonglet again for the second time. He's definitely a good racer. You always have to have a good pass when you're racing him, but lucky for us – since he was the No. 7 qualifier – he had a technical issue and we were able to take the win with my quickest pass of the weekend," Pollacheck said.
In Round 2 Eliminations, the Sovereign-Star Racing teammates faced off with the Aranas and their Lucas Oil Buells, with Pollacheck racing Hector Arana and Hall against Arana Jr.
Hall went red against Arana Jr., and Pollacheck's consistent 7.038/187.60 run wasn't enough to take out Arana Sr.'s 6.942/189.87 performance.
Overall, Bryce and his team were encouraged by their steady progress over the course of the weekend.
"This is the first time that we've consistently showed improvement every time we went down the track. That was one of our big goals that we set for our team and we were very pleased to reach it this weekend," Bryce said.
"We've gotten a much better handle on things and better information for tuning, which made us improve in qualifying this weekend and helped us head in the right direction from the start Friday," Pollacheck said.
The weekend proved to be not only an improvement in the team's qualifying positions and Round 1 performance since Chicago, but also showed success in the teammates' NHRA Pro Stock Motorcycle points standings. Pollacheck moved up one spot to the No. 8 position, while Hall remains at No. 12.
"I'm still in the process of improving as far as driving," Pollacheck said. "I've made 39 runs on the bike, and I feel so much better on it now than I did even two or three races ago. So, every time we make more laps, I feel much more comfortable on it than I did before."
The weekend also provided an opportunity for Sovereign-Star Racing fans to brave the heat as they came out to watch the team compete.
"One bright spot of the weekend was the fans. It was amazing how many fans we had out there who stuck it out all weekend in that 100-plus degree heat and humidity. Thanks to everyone who came out to support us. It's always great encouragement knowing that people are there to support the team," Hall said.
John Hall had his best weekend yet this season at the NHRA Nationals in Norwalk, Ohio, as he qualified No. 6, his best position yet, and took the Round 1 win against Jerry Savoie.
The Sovereign-Star Racing crew now has only one week to make the needed improvements for the upcoming back-to-back races that will take them across country from Georgia to Denver, Colo., and Sonoma, Calif.
"Everything with the team is definitely coming together well," Pollacheck said. "When we discuss things with each other, we understand one another a lot better. We talk about making changes and we can see those in the runs. So, it's definitely a lot smoother than it was."
"Our Sovereign-Star Racing engines have been fantastic and our team in Americus, Georgia, is continuously improving our power and performance," Bryce said. "I speak for the entire team in sending out a huge 'Thank you' to Jeno at Sovereign Racing in Budapest, Hungary, for the opportunity that he has given all of us to chase this dream. Thank you, Jeno!"
The 2012 Sovereign-Star Racing Team is a partnership between Georgia-based Star Racing and the Hungarian-based Sovereign Racing Team, the 2011 UEM European Pro Stock Bike Championship Team, owned by sugar distributor Jeno Rujp.
The Sovereign-Star Racing Team would like to thank the following sponsors: Sovereign, Star Racing, S&S Cycle, Daytona Sensors, Worldwide Bearings, CP Pistons, Permatex, Americus Motorsports Complex, Who's Up Next?, and Quality Tire.