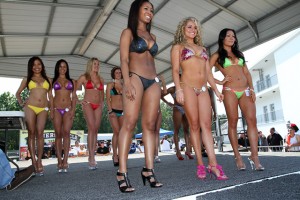 The Mickey Thompson MIRock Superbike Series returns to Maryland International Raceway for the biggest and baddest motorcycle drag racing, stunt and club culture event of the year—the Fast by Gast / WPGC Bike Fest on July 21-22, 2012. The weather will not likely be as hot as the last MIRock event, held at the peak of this summer's heatwave at Rockingham Dragway, but the action—both on and off track—surely will be.
Two-time defending Orient Express Pro Street champ Rodney Williford got his groove back at The Rock and is looking to bring his winning momentum to MIR and make a move in the points standings. But he'll have to get past the MPH record-holding, DME Racing Hayabusa of two-time winner Joey Gladstone by day's end to claim the win.
After winning the Rockingham opener on Ken Edwards' "No Joke" 'Busa, rider Jeremy Teasley and the team went through some struggles, including a lurid rear wheel failure and crash at MIR in June. After blowing a motor in morning shakedown at Rockingham, Edwards left the park, saying he was done for good. So Teasley's Real Street owner/tuner, Roger Starrette, will try his hand at turning the knobs on "No Joke" at MIR to see what the orange bike can do, and see if Teasley can make a run in the points.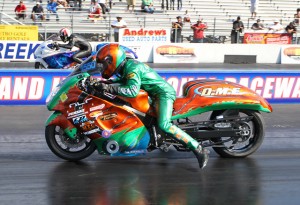 Making a run in the points is exactly what Teasley and Starrette have in mind in DME Racing Real Street. Multi-time Real Street champ Teasley and Starrett's trailer full of nitrous huffing Kawasaki ZX14s finally found the winners circle at The Rock after ceding the first three races of the season to Johnny "Turbo" Dobrin's Exoticycles turbo 'Busa. Real Street bikes have hit the number at every event in every condition this year, so they'll be sure and make the best of MIR's meticulously prepped surface and deliver a hot, hot show.
Mickey Thompson Pro Mod should get a boost from a mid season rules tweak to bring some bikes up to speed and fill the field for the hair raising eighth mile class. Wins have been spread liberally this year amongst perennial champion Ronnie Procoppio, Mac McAdams and Robbie Hunnicutt. But HTP Performance builder/tuner Cecil Towner and his EFI/nitrous/Hayabusa combination ridden by Ryan Schnitz are knocking on the winners circle gate and hoping to complete the deal at MIR.
Also expect huge Trac King/APE Top Sportsman, House of Speed Crazy 8s, FBR Shop 5.60 Index, Fast By Gast Pro ET, and Brock's Performance Street ET fields to race deep into the night along with Saturday night's Afterdark Underground, Grudge Racing both days, and MIR's famous $1,200 bikini contest on Sunday, MC'd by WPGC's ever popular Shack Nd Pack.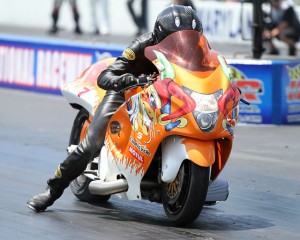 MIRock is also proud to team up with the XDL Show to bring an even bigger Stunt Bike competition to the Bike Fest with XDL's pro riders. There will be a practice session and competition on both days as these insane jockeys defy the laws of physics.
There will be a special "Paint the 1/4 Pink" race to raise money for breast cancer research. Female motorcycle racers have been raising sponsor money and donations in the sport they love for a great cause, so come on out and show them your support in this fantastic shootout.
The event will also host a huge vendor midway on both days full of motorcycle parts, apparel, and accessories. And be sure to check out the wild custom bike show, incredible live music and luscious bikini bartenders in the beer garden on Sunday.
If there is one event to make sure you hit, the Fast by Gast / WPGC Bike Fest is it!
Find out more about the Mickey Thompson Performance Tires MIRock Superbike Series at http://www.mirockracing.com

This report was prepared by Tim Hailey. Enjoy everything there is to read, see and watch about motorcycle drag racing and more at http://www.eatmyink.com
-end-
High-res images for editorial use are available by e-mailing timhailey@earthlink.net