Facing back-to-back races 750 miles apart can be a challenging experience. Top Fuel Motorcycle virtuoso Larry "Spiderman" McBride made the most of the arduous work and travel it took to pull off consecutive race weekends.
After winning a match race series and recording the sport's first side-by-side five second pass with Dave Vantine at the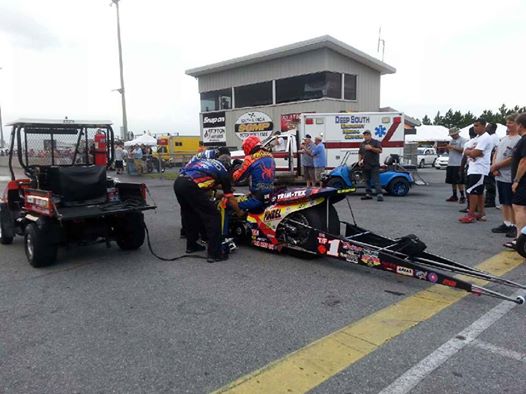 MIROCK WPGC Bike Fest at Maryland International Raceway, July 25-27, the Spiderman ran the table at the DME Manufacturers Cup Summer Nationals, Aug. 1-3, at South Georgia Motorsports Park, qualifying on the pole and winning the event.
"I love racing and it was a lot of fun but I don't know if I could it again anytime soon," an exhausted McBride said after a 700 mile drive home. "We had a wheel seal go bad on the trailer and we ended up working on it as much as we did the motorcycle.  We also had Vantine's guys at my shop grinding down clutch discs. Servicing two bikes and motors didn't give us much time to spare. "
With hot, humid and difficult South Georgia conditions McBride was the only competitor to reach the five-second zone in qualifying, soaring to the top of the pack with a 5.92 at 227 mph.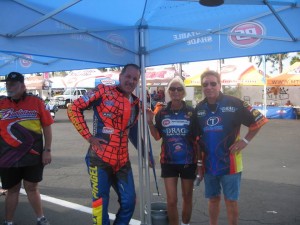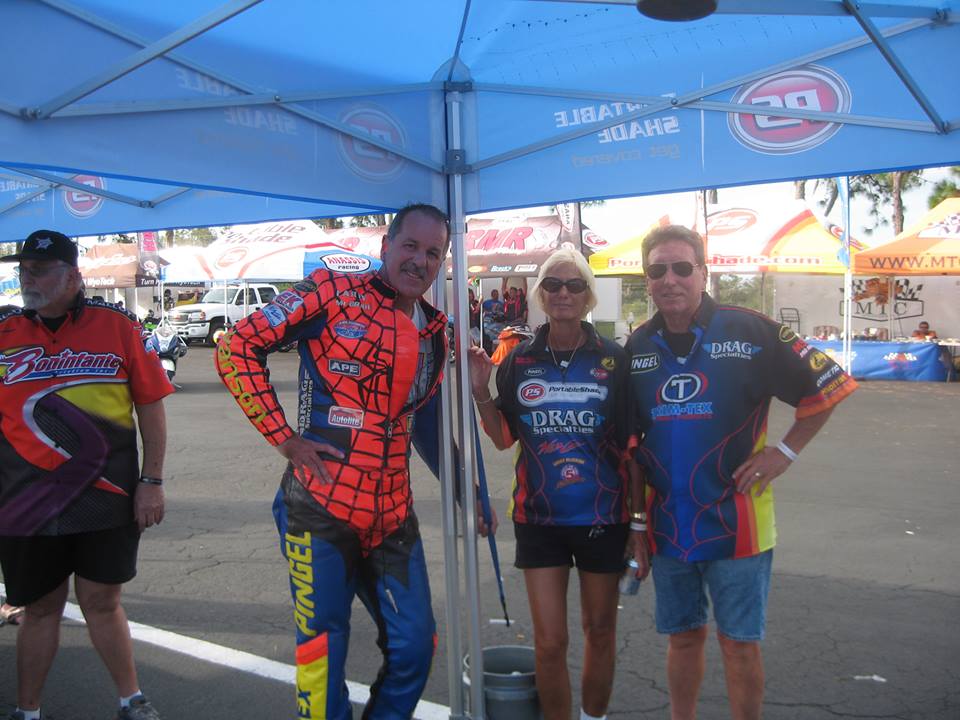 "We had 3,900 feet of air, 125 grains of water and 70 % humidity. We had to turn it way up," McBride said. "We gave it more ignition timing and more nitro. Steve (McBride) is the best when it comes to figuring out a tune-up. The hardest part was managing the clutch with a 130-degree track temperature."
In opening eliminations McBride further improved to a 5.88 at 226 mph to oust a broken Chris Hand's 15.79. What was perhaps even more impressive was Spiderman's razor-sharp, bracket racer-like .020 reaction time.
"I have more respect for Chris than anyone out there," McBride said. "I watched him run a 3.89 to the eighth earlier in the weekend. If he would have kept that momentum up he would have run a 5.89. You can't cut him any slack. That .020 is called respect. I respect his capabilities because I've been racing with him for 20 years."
It was a familiar rematch in the final as McBride was again pitted against his five-second protégée Vantine.
"I don't know if I have ever seen anyone off to a better start.  Jimmy Brantley ran a five his first year but I put Vantine right up there with him," McBride said. "He works so hard and is doing such a great job. His whole team is really on top of things."
The dash to the stripe was on as the competitive racers cut impressive reaction times by Top Fuel standards, with McBride gaining the holeshot, .053 to Vantine's .077. McBride's machine stayed strong and he maintained his lead for the entire length of the dragstip, crossing the finish line first with a 5.96 at 228 mph to Vantine's 6.12 at 222 mph.
"I was ready for it. I knew Dave was good on the lights. I tell everybody I can be beat, but I know when I go to the line I'm bringing everything I got," McBride said.  "We broke a blower belt 5.1 seconds into the run because we took too much fuel away from it. If I had not been on my game, Vantine would have put us on the trailer."
Overall less than .20 separated the entire field in qualifying and McBride was most impressed with Sam Wills and his 6.08.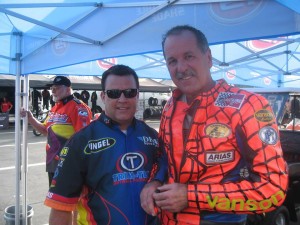 "We have the best Top Fuel class going right now. Things are getting serious and you better be in the 6.0s to have a chance," McBride said. "We are all friends but we all want to win."
The farewell tour for McBride's record-breaking motorcycle of over 20 years, "Blue", continues at the MIROCK Orient Express U.S. Nationals from Atco Dragway, Sept. 5-7.
"I'm really looking forward to it," McBride said. "I have a lot of great memories at Atco."
McBride thanked his primary sponsors; Pingel Enterprise, Trim-Tex Drywall Products, Drag Specialties-Parts Unlimited, Red Line Synthetic Oil Corporation and Final Swipe Merchant Services.  

"Joe Koenig is one of the best guys I have known in my life. He sells the best drywall products in the world."

"Wayne and Donna are like family to me. I make the joke that I'm their oldest and youngest child. Pingel has by far the best quality in America. They have the top of the line, best engineered products and they are all USA made."

"The Web Cam girls and Steve are the best. They are like family to me as well. Laurie Dunlap does so much to help the sport. They also make the best cams on the market."
McBride added – "Red Line is the best oil on the market or Alan Johnson would not be using it."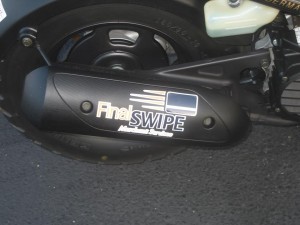 "Drag Specialties is a great company that I'm honored to be involved with. They are the best people to deal with."
"I really appreciate Final Swipe and Gary Baillio. He's a great man with a great company."
"There is not one sponsor that is not important." McBride thanked his associate sponsors and added, "Everybody is equally important. We couldn't do it without each one of these fine companies."

K&N Air Filters, Web-Cam, Vance & Hines Motorsports, PR Factory Store, Ferrea Valves, Kibblewhite, Precision Machine, World Wide Bearings, Vanson Leathers, Millennium Technologies, Belt Drives Ltd, Simpson Race Products, Nitrous Express, APE, EK Chain, Arias Pistons, MSD, Protect ALL, Cometic Gaskets, B&J Transmission, Carolina Cycle, L.A. Sleeve, PJ1, Mickey Thompson Tires, Valco, Goodridge, Carlisle Belts and Gates Belts.