The numbers are in and MIROCK's Jason Miller is reporting that this year's WPGC Bike Fest was the largest ever.
Miller says, "We had 760 racers and 6,646 people in attendance for the weekend. I worked long and hard to promote this event through my channels, social media outlets, web forums,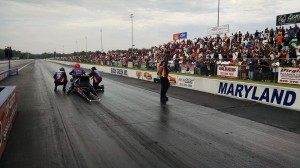 event cross promotions, direct mail, networking, radio, sponsor mailing inserts, etc. Thank you to the WPGC 95.5 for all of their awesome promotional efforts along with our loyal MIROCK Sponsors, and Dragbike Media who helped make this event what it is today. You guys and girls all rock!"
MIROCK – 14th annual WPGC Bike Fest
July 25-27, 2014
Maryland International Raceway
Forecast: Mid 80s and sunny Fri & Sat. Low 90s with 50% chance of thunderstorms throughout day on Sunday. Real Weather: Upper 80s and partly cloudy Fri & Sat. Overcast and early showers on Sun with high 80s temps.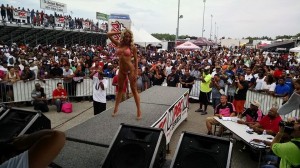 SPONSOR CLASS RACERS RE-ENTRY
MIROCK Top Fuel 2
Orient Express Pro Street 19
DME Racing Real Street 14
Louis Concrete 4.60 Index 20
FBR Shop 5.60 Index 24
Cycle Connection Crazy 8's 50
Bikers Against Breast Cancer Paint The 1/4 Pink 14
Trac King Clutches Top Sportsman 32
Psychobike.com Grudge 49
Fast by Gast Pro E.T. (Saturday) 150
Fast by Gast Pro E.T. (Sunday) 105  re-entry 27
Brock's Performance Street E.T. (Saturday) 154
Brock's Performance Street E.T. (Sunday) 127 re-entry 25
Total – 760