Riding its biggest wave ever, the already huge Mickey Thompson MIROCK Superbike Series makes its return to legendary Rockingham Dragway for the 18th annual FBR Shop Summer Sizzler on August 15-17. And Rockingham owner Steve Earwood is welcoming everyone back with a guaranteed $5000 to win Nitrous Express Pro ET purse on Saturday. "No minimum field, and the normal entry fee applies," said Earwood. "That as big as any Pro ET purse ever that I'm aware of." You can bet there will be some serious glares and gamesmanship going on in the lanes, at the tree, and at the stripe for this one.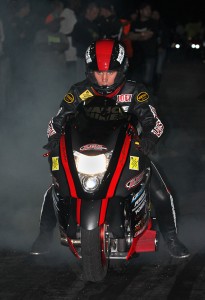 It's the perfect way to step up Rockingham's game in favor of Sportsmen racers following the outstanding MIROCK debut of Top Fuel at Maryland a few weeks ago, and the season starting Adams Performance Spring Bike Open—Rockingham's biggest-ever MIROCK opener.
Rain, wind and unseasonable cold shut Rockingham down after only one round of eliminations during the ironically named Spring Bike Open. Sportsman purses were split, and Pro classes postponed until the FBR Shop Summer Sizzler. That means two races in one on Rockingham's PJ1-prepped quarter mile for the fans and pro competitors.
The DME turbocharged, Suzuki Hayabusas of champion Joey Gladstone, Jason Dunigan, Terence Angela and Ehren Litten locked out the top four Orient Express Pro Street qualifying spots and were all still alive when racing ended on Sunday. "Would've been an all-DME semifinal," predicted DME boss Dimey Eddinger, and they'll get a chance to prove it against Darion "Nanu" Payne, Rendolf Torbed, defending race winner Doug Gall, and John Gover during qualifying on Saturday. And then guess what? They and more get to do it all over again on Sunday!
Back in April, Super Dave Stewart led DME Real Street qualifying on his turbo 'Busa, and will face Cameron Teasley in round 2 of eliminations on Saturday. Perennial Real Street champion Jeremy Teasley faces Eddie "Who" Chapman, and teammate David Merks faces fellow big man Anibel Merced. And like Pro Street, another whole race runs on Sunday—this time with Maryland winner Rickey Gadson able to join the mix.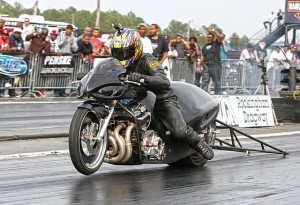 Maryland racer Eran Pielert led Louis Concrete 4.60 qualifying with a 4.615 in April, then advanced to round 2 where he will face Baybay Yarbrough on Saturday. Barry Harvey, Ronnie Smith, Dale Niles, and Kevin White also advanced, but not champion Kenny Cornnell, who will have to wait 'til Sunday for his chance to race.
Trac King/APE Top Sportsman takes the quickest 32 of every Pro ET field and throws them in the same snake pit together to see who survives. Studs like Jay Windsor, George Shriver, Brian Canoles, Jimmy Shifflet and legendary Virginian Boo Brown are usually alive at the end of the day and striking for a championship.
Cycle Connection Crazy 8s might see its biggest Rockingham field ever in August, with no-bar index diehards like the Teasleys, Floridian Robert Parker, Connecticut Kawasaki Kingpin Bob Carlson, Buckeye Ben Knight, Fun-For-All's Ron Arnold, Clay Davies, Richard Gadson…..the list goes on and on and on ya don't stop.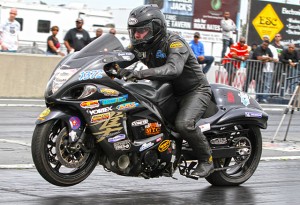 FBR Shop 5.60 eighth mile index class finds a good mix of bar and no-bar bikes running the number, including Jeremy Tealsey's stock wheelbase ZX14R. Also look out for Knight on Marion Ford's dragbike, Parker on his '14, Shifflett on the Hillbilly Hustler and a whole pit-full of others.
Brock's Performance Street ET racers will be seeking their own share of the purse and limelight, with guys like Tennessee's Dustin Lee, Michael "Ice Cold Killer" Herman Jr. and others looking to throw down for glory.
And when you talk about glory, you're talking about the very program that defines Rockingham Dragway—Afterdark Underground. Riders like Lavar "Lil' Charlie" Delee, Jeremy Teasley, Richard Gadson, Dust and more wait for motor-mouths Alex Bud Light, Chachi, Country, CJ400 and more to seal the deal to race on the best that HTP, Adams Performance and Johnny Locklear have o offer.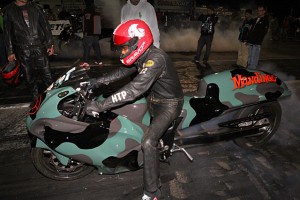 This is set up to be the biggest Summer Sizzler in the 18 years of the event, and you'll definitely want to be a part of it. "I'm proud of that number," Earwood says about the 18th Annual. "It's been tough business these last few years, but MIROCK is very strong and Rockingham Dragway is bouncing back right along with it. I can't wait to see everybody back here—it's been a long time since April!"
Find out more about PJ1 motorcycle products at http://www.pj1.com/
Find out more about the Mickey Thompson Performance Tires MIRock Super Bike Series: http://www.mirockracing.com
Find out more about Rockingham Dragway: www.rockinghamdragway.com
This report was prepared by Tim Hailey. Photos are for editorial use only. Enjoy everything there is to read, see and watch about motorcycle drag racing and more at http://www.eatmyink.com