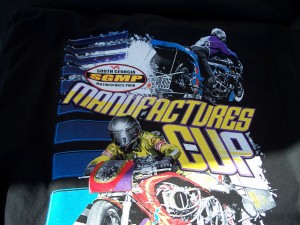 After an overwhelming show of support at the inaugural Manufacturers Cup this past November, in Valdosta, Ga., two more races are scheduled to take place at South Georgia Motorsports Park in 2011.
The Manufacturers Cup was made possible by nine motorcycle drag racing companies, dubbed "The Nifty Nine."  Jay Regan of MRE was responsible for creating the concept shortly after AMA Dragbike announced it was ceasing operations midway through season.
"When is the last time you can remember a World Finals flopping?" asked Regan.  "I knew if we could get all of the manufacturers involved we could have a good race."
Regan's prophecy proved true as droves of spectators and over 570 entries came out to take part in this special event.  Top Fuel showcased a full field for the first time in over five years and Pro Comp and Pro Street had over 32 entries respectively.  Even four nitro Harleys participated in the action. Takeshi Shigematsu and Tommy Grimes dazzled fans by recording the quickest side-by-side Top Fuel Harley pass ever, 6.13 to 6.16 and the world's quickest drag racer Larry "Spiderman" McBride ran a near-record 5.84.
Several who attended were very complimentary of the event.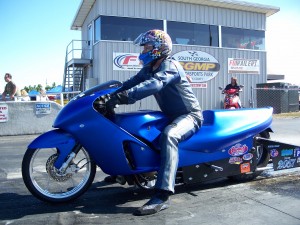 "I'm really excited about the positive feedback from the racers. They are the ones that helped us decide to do more events," said Nifty Nine member Dave Schnitz of Schnitz Racing. "The positive comments we had from everyone during the finals on Sunday set the groundwork for more races."
All nine manufacturers are expected to return in 2011. Schnitz explained how major decisions such as this one are made amongst the Nifty Nine committee.
"Someone comes up with an idea and everyone dissects it. We pull out the good and the bad, we take a vote, and get some great results from the group decision," Schnitz said.
The committee said there will be a spring race and a fall race, but has yet to officially announce dates.
"We've had this race in the works for a while now, but we are still about two or three weeks away from announcing dates," Schnitz said.  "We wanted to start getting the word out now."
Schnitz says the committee was more than happy with the SGMP venue.
"We have to take our hats off to the South Georgia Motorsports Management and employees. They worked hard to help us through our first race and we look forward to a long term relationship," added Schnitz.
Competition categories at last month's event were; Top Fuel, Pro Comp, Pro Street, Real Street, Super Sport, Top Gas, Super Comp, Street Fighter, Pro ET, Street ET and Grudge.
The committee plans to release more information soon.