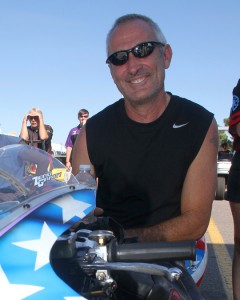 Rookie racer Terry "Milkman" Schweigert and the DTM Performance Pro Extreme Motorcycle team are heading to Qatar for the 2010-11 Arabian Drag Racing League. "I'm so excited and grateful for this opportunity to see and experience Qatar and the Middle East, but more than anything to race my bike and compete in the Arabian Drag Racing League," said Schweigert. "I still don't believe we are going but it sure looks like it's happening."
Builder/tuner Dan Wagner believes it, because he's been up to his neck in packing bikes, tools, spares, etc. for the long trip. DTM racer Dave Norris will also be on board for the 8 race season at the ultra modern Qatar Racing Club. "Two weeks of packing up," said Wagner. "But with these good bikes and spares, we don't expect to be shipping anything home. These bad boys will surely sell and we'll have to build new ones for the 2011 series back here in the States."
After the packing job was complete, Wagner headed to the Manufacturers Cup race in Valdosta, where he tuned David Vantine to a runner-up finish on his brand new bike. DTM engine customer Ronnie Procopio won the event. And now, immediately after Thanksgiving, Wagner, Schweigert and crew will fly to Doha for the December 2-3 opening round. "This was never even a dream, it's totally unbelievable," said Schweigert, a third generation Canadian dairy farmer. "I asked Dan and his wife Kathie if we could pull this off, because it's a lot of work and lot of time logistically. Kathie told me if I really want to go, we'll do it."
"Our goal is to win every race," said Wagner. "But I guess everybody has that goal, and there's gonna be lots of bikes there." In addition to Schweigert and Norris, Robbie Hunnicutt, T.T. Jones, Matt Smith and Lance Hines will also be taking on all comers in Qatar.
Wagner's made the trip before, so he has experience tuning to the atmospheric conditions there. "The bikes seem to tune the same. It's at sea level or right around there, and the air's not really any better or worse. They run in the evening and the track is awesome. Cool dry air, awesome track—we should be able to run pretty good numbers. I'm really looking forward to get out there and try the new Schnitz Pro Series 3 box. Dave's really helped us out. That box isn't even available 'til January."
Although Schweigert dearly loves his British Columbia farm, he's looking forward to Qatar's winter climate and extending the season with his adopted racing family. "Kathie and Dan are incredible friends," said Schweigert. "They're awesome! Dan is called Dan the Man not because it rhymes, but because he IS the Man. The guy is a rocket scientist! Ask any Pro Extreme Motorcycle guy and they will agree, in addition to being humble, honest, and a whole lot of fun to be around. The time and energy he puts into this program is just crazy.
"I couldn't do this without the support of my family. My sons and employees are doing a great job taking care of Road End Farms while I'm racing. I'm very proud to be a Canadian racing overseas and will do my best to represent my country."