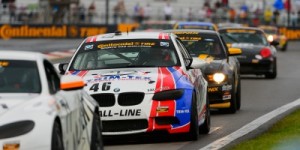 Bryan Sellers and Mark Boden crossed the famed finish line at the 'Yard of Bricks' in first place of the Continental Tires Sports Car Challenge (CTSCC) series race, making it two in a row for the Fall-Line Motorsports pair. Teammates Charles Espenlaub and Trent Hindman finished just off the podium with a 4th place finish which is also the second race in a row that Espenlaub has finished 4th. Al Carter and Hugh Plumb ran into misfortune once again at Indy after making contact with another competitor and having a misstep in the pits. They were classified 19th after failing to finish the race.
Mark Boden drove the first stint in the #46 Trim-Tex Drywall Products/ Fall-Line Motorsports BMW after starting 13th. He drove a long stint- over an hour- and handed over the reigns to Bryan Sellers in 11th position. The #46 car's strategy worked out perfectly, and the extensive caution periods played into their hands making the race on only one stop. In typical Bryan Sellers form, he drove his BMW to the front, taking th
e lead and then holding off one of the Roush Performance Mustang driven by Billy Johnson for several laps. The two were in a tight battle, just a few tenths separating the two, but ultimately the race ended under full course caution. Bryan Sellers led his third race in a row in the CTSCC series, and wins his second race in a row following the duo's first victory at Watkins Glen just weeks ago. Mark Boden now moves into 6th in overall standings.
Mark Boden: " We were strong all weekend. We didn't have a great qualifying but we knew we had a good car. I got tangled up early in the race but it had a minimal effect on the car. The team did a great job giving us a phenomenal car but also with pit stops, which put us in the position to allow Bryan to work his magic, get the car up front, and hold off a very strong 61 car. Also, hats off to BMW for finishing 1, 3, and 4 in the GS class."
Bryan Sellers: "Its hard to believe when you're sitting here at Indy and we just kissed the bricks which is something we all dream of growing up. Things worked out for us today the way we planned which is also very surprising, it doesn't always happen that way. Today for us was very much a team win. They made a pretty risky strategy call and with an hour-and-a-half left to go we made the call to stay out on fuel, which is a very long time for our fuel window. Luckily, the yellows played into our favor a little bit but the team executed under pressure, had a great stop, and were able to get us second in line at the 1st restart. Billy Johnson pushed a little wide and I was able to get by him but from there it was tough work to keep him behind for the rest of the race. When the team gives you a car in the lead it's tough to not bring it back for them so I am so happy that I could do that for the guys and all of us could win at Indy together."
Trent Hindman started the race behind the wheel of the #48 Cirocco Ozzimo/ Atlas Acon/ DFL Interiors/ Fall-Line Motorsports BMW in 3rd place as the 17-year-old New Jersey native competed in his first-ever professional sports car race. He fell back a few spots momentarily before getting in the groove and moving back up to fifth place. This remarkable young driver made a flawless pit stop and driver change as Charles Espenlaub got in the car. Espenlaub moved up to 4th position, just behind his teammates, and again, due to the numerous caution periods, didn't have many chances to move up. Espenlaub, however, gained valuable points and is now just 54 points out of the Championship lead with four races remaining in the 2013 season.
Hugh Plumb narrowly missed the pole position in the #45 Eagle/ B+ Foundation/ Fall-Line Motorsports BMW and had to settle for starting second in the race. He quickly made fast work of improving his position as he took the lead from the pole sitter on the straightaway in dominant fashion. Hugh led the first twenty-six laps, pulling away from the field after his hour-long stint. Al carter got in with an hour-and-a-half remaining in the race and after all pit stops were complete, he found himself in 3rd place. Sadly, this is when the fortune turns to misfortune. Following an on-track incident with another competitor, Carter came into the pits for service. The car was damaged pretty heavily and the crew was working on the repairs. Somehow, a miscommunication occurred and Carter left the pits without all four tires installed properly. The right rear came off on the circuit and left him stranded.
Michael Harvey, Team Manager: "Unbelievable, this groups just gets better. The Fall-Line BMW's were strong today although we had a lot of pressure throughout the entire race.  Unfortunately for the #45 we made a very un-characteristic mistake which was disappointing but overall another great result with strong championship implications."
Next up is Road America August 8-10. The re-play of the event will be televised on SPEED TV Saturday, August 3 at 4p ET.
Fall-Line Motorsports is a premiere builder and fabricator of racecars for all levels of competition. Fall-Line specializes in BMW, Porsche, Audi and other high-performance makes. Fall-Line Motorsports unveiled their Grand-Am team in 2006 and won the GRAND-AM Continental Tire Sports Car Challenge GS Championship title in 2010. In addition to fielding 3 GS BMW M3's in the Continental Tire Sports Car Challenge, Fall-Line also prepares and fabricates cars for other CTSCC teams, SCCA and NASA drivers, track day prepared and high performance street vehicles. www.fall-linemotorsports.com
@FallLineMotors www.facebook.com/Falllinemotorsports
Trim Tex Drywall Products global headquarters and manufacturing facility, located in Lincolnwood, Illinois, is the most modern and efficient in the industry. Trim-Tex also has a satellite facility located in Orange, California. Both facilities feature a Design & Training Center where architects, builders, and contractors can be inspired and educated. With a combined inventory of well over 100,000 boxes of product and a 40-year history of 100% in-stock, Trim-Tex sets the standard for same day shipping. Trim-Tex doesn't just make decorative products. In fact, Trim-Tex has over 20 patented drywall products designed to improve installation quality and design aesthetics in commercial and residential projects worldwide. www.trim-tex.com@TrimtexDrywall www.facebook.com/TrimTex
ABOUT THE B+ FOUNDATION: The Andrew McDonough B+ Foundation honors the memory of Andrew McDonough. Andrew's mom, dad and sister founded The Andrew McDonough B+ Foundation. The overall goal of The B+ Foundation is to "Do Good". During the racing season, Al Carter and Hugh Plumb visit kids with cancer in hospitals before racing events to make a positive difference and keep the "B+" message alive through outreach efforts and talks. The B+ Foundation provides financial assistance to families of children with cancer nationwide. In the last two years, The B+ Foundation awarded over $1,000,000 to families of children with cancer while giving over $500,000 to support research efforts. Information about the Foundation and its activities can be found at www.BePositive.org.
Atlas Acon Electric Service Corp.:
With a reputation spanning over 50 years, Atlas-Acon provides full-service electrical contracting for new construction, renovations, as well ongoing service and maintenance in the commercial and industrial markets in the greater New York area. Atlas-Acon works with some of the largest general contractors, construction managers, architects and engineers utilizing its vast expertise to manage project-specific schedules in a cost effective manner. The construction needs of its corporate clients are diverse and unique and Atlas-Acon prides itself on creating and developing innovative solutions.
Cirocco & Ozzimo Inc. is a commercial exterior and interior renovation contractor serving the Tri-State area of New York, New Jersey and Connecticut. Cirocco & Ozzimo is recognized as us one of the top concrete firms in the New York City metro area and specializes in masonry, plaster and fireproofing to Building Owners, General Contractors and Consultants for building renovations and new construction.