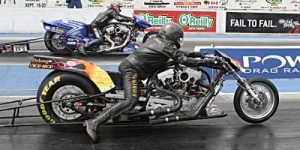 15th Annual Griz Robinson* Memorial Bike Show will be held again this year on Sunday, August 4th at the VA Black Hills Health Care System, Ft. Mead, SD, between Sturgis and the Sturgis Dragway. 
Verl "Smitty" Smith, long time event coordinator says, "Although it saddens my heart ,because VSR4VETS won't be able to be present for the 15th Annual GRIZ ROBINSON Memorial Bike Show this year. But thanks to Freddie Robbins, Robbins Performance & Mike Bahnmaier and Jody Dukelow of Mid Continent Racing– the show will continue."  
Robbins (North Carolina) brings a slow southern drawl, great organizational skills and a long drag race history in his own right. Bahnmaier's Mid-Continent Racing (Kansas) brings years of experience and 4 nitro bikes to the show.  Mid-Continent will leave the Show to do burnouts on Main St. later on Sunday afternoon prior to the 2nd Annual WMDRA/Amsoil Sturgis National Drag Races presented by Screamin' Eagle race at Sturgis Dragway.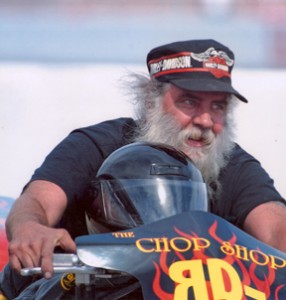 Anyone and everyone is invited to spend a few hours with the Veterans at Ft. Meade Campus.  These vets really enjoy the visit and the bikes. As Robbins said about the Bike Show, "If you go once, you'll make it part of your Sturgis experience, talking to those Vets just make your heart feel good."
VA Black Hills – Fort Meade Campus
113 Comanche Road
Fort Meade, SD 57741
(605) 347-2511
From the Southeast (Rapid City)
Take 1-90 west to US-14 west for 25.7 miles. Take Exit 32 Sturgis on to Junction Avenue for 1.6 miles. Turn right on SD-34 for 2.2 miles. Turn right on Comanche Road and the medical center is located directly ahead.
Thanks to everyone that is making this possible!
*Griz Robinson was a Top Fuel Nitro racer and Sturgis Champion who was killed while riding a motorcycle several years ago by an underage driver.
Robinson's team and family always attended the Black Hills VA Show with pride and compassion, we honor not only our veterans but Griz's memory as well..