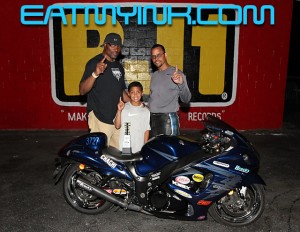 The Mickey Thompson MIRock Superbike Series returns to Steve Earwood's Rockingham Dragway with the Dragbikelive.com Sportsman Showdown, and once again the spotlight will shine directly on sportsman and grudge racers.
Three-time winner Kenny Cornell will lead the quickest index bikes on the planet to the eighth mile in Louis Concrete 4.60. Dialing it back a bit slower, FBR Shop 5.60 went to James "Crow" Teasley Jr. last time at The Rock, as Teasley was no doubt tired of seeing his famous son Jeremy claim all the glory. Class sponsor and points leader Marion Ford will not ease up, though, and aims to put his bike in the winners circle.
Trac King/APE Top Sportsman is always the battle of the quickest and fittest, and Rockingham's August heat will test the focus and tuning ability of these racers. MIRock Crazy 8s will see all-out, no-bar battles between class champion Shayne Proctor, Bob Carlson, Ben Knight and others.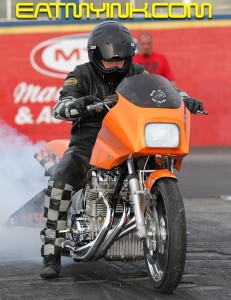 Typically stacked with talent, Nitrous Express Pro ET and Brock's Performance Street ET fields will wage war for the dwindling spots remaining for November's Fast by Gast Pro ET tournament of champions.
And of course, what would The Rock be without lively Afterdark Underground and grudge sessions? The southeast's finest grudge bikes and edgiest jockeys all call Rockingham Dragway home—the place for their longest, highest wheelstands and saltiest trash talking. You won't want to miss it!
Find out more about PJ1 motorcycle products at http://www.pj1.com/
Find out more about the Mickey Thompson Performance Tires MIRock Super Bike Series at http://www.mirockracing.com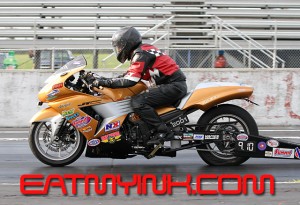 Find out more about Rockingham Dragway: www.rockinghamdragway.com
This report was prepared by Tim Hailey. Photos are for editorial use only. Enjoy everything there is to read, see and watch about motorcycle drag racing and more at http://www.eatmyink.com