Successful motorsports marketing can have a tremendous impact on image.
For years, when race fans saw DuPont products, they thought about NASCAR icon Jeff Gordon just as much, if not more, than they thought about paint. For drag racing fans, Castrol GTX will always be synonymous with the legendary John Force, much like fellow all-time great Kenny Bernstein will always be associated with Budweiser.  As of late it seems Red Bull is rising to fame for its involvement in racing the same way it rose to fame for its energy drink.
Through primary, associate and personal athlete sponsorships Trim-Tex is carving out an impressive motorsports legacy which includes championships in NHRA Pro Stock Motorcycle, IMSA Continental Tire Sports Car Racing and multiple titles in Top Fuel Motorcycle racing.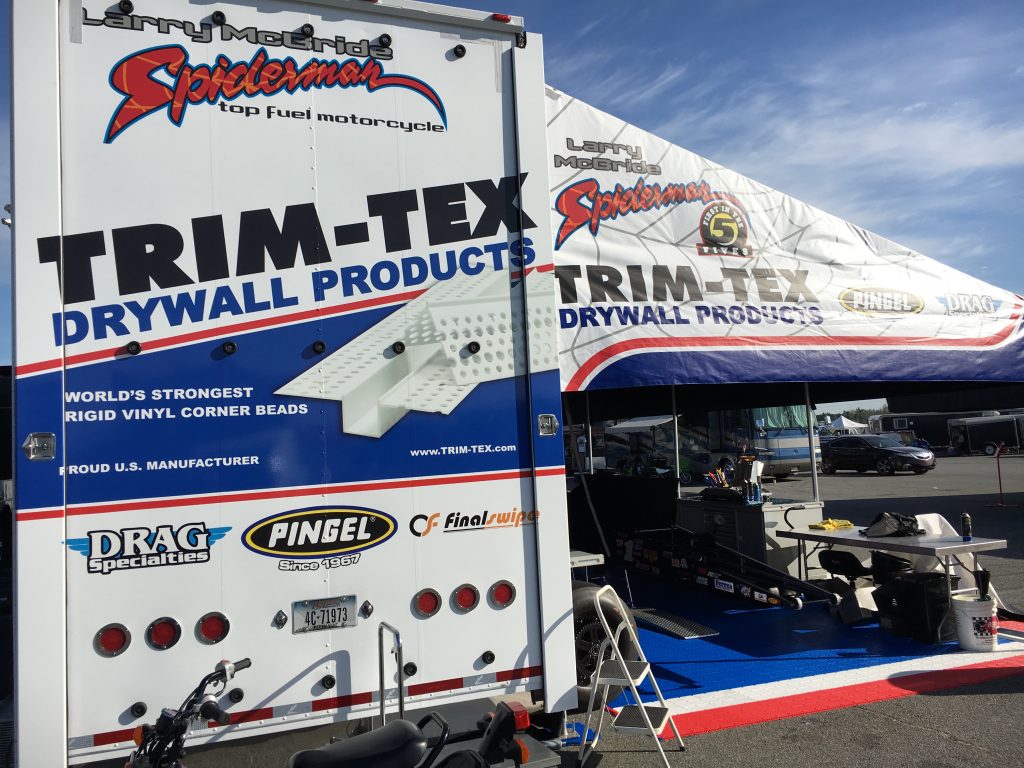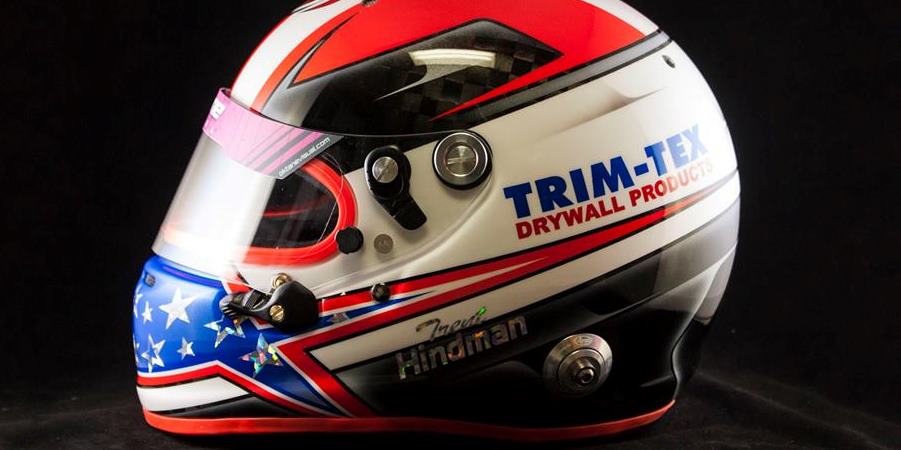 Trim-Tex Drywall president Joe Koenig was asked how he felt about his industry-leading company becoming known for motorsports excellence the same way it's known for having the finest vinyl drywall products in the world.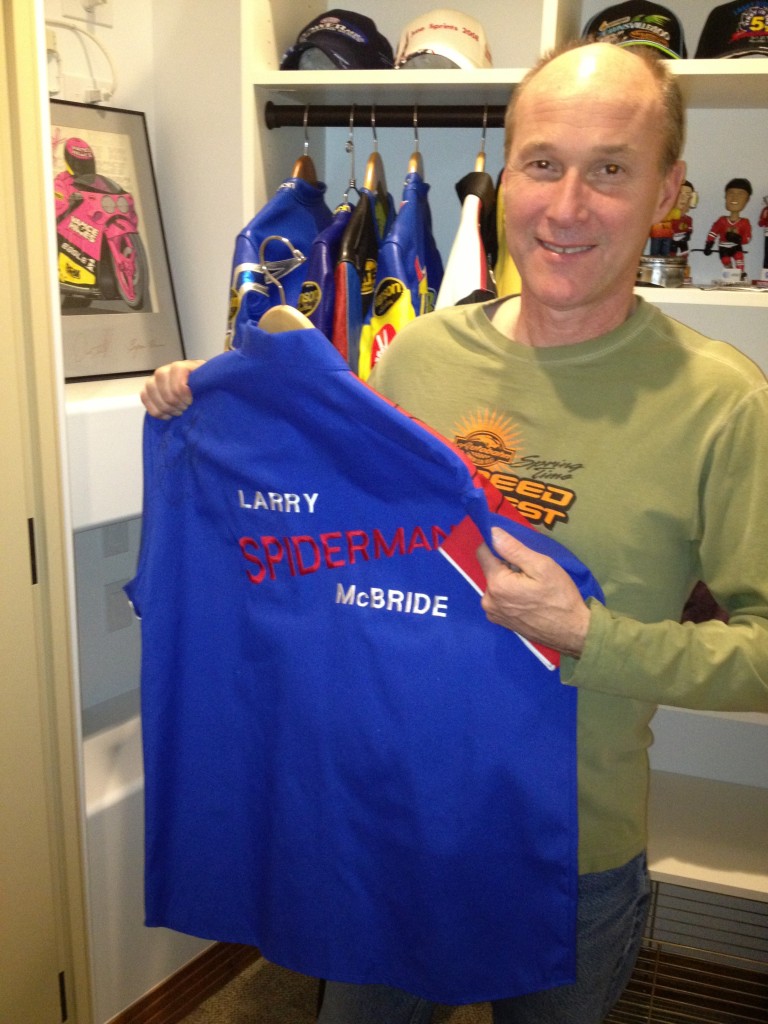 "We have had a lot of fun. I don't have enough time to open a speed a shop or anything, but I like that people outside the construction industry are getting to know us as a successful company that is passionate about motorsports," Koenig said.  "When we get involved, we win championships. We love winning and I enjoy bringing my dealers and their customers out to the races."
As a competitor himself, Koenig nearly became the first to put a Pro Stock Motorcycle in the six-second zone with a run of 7.02, establishing a long-standing AMA Prostar record in 2002.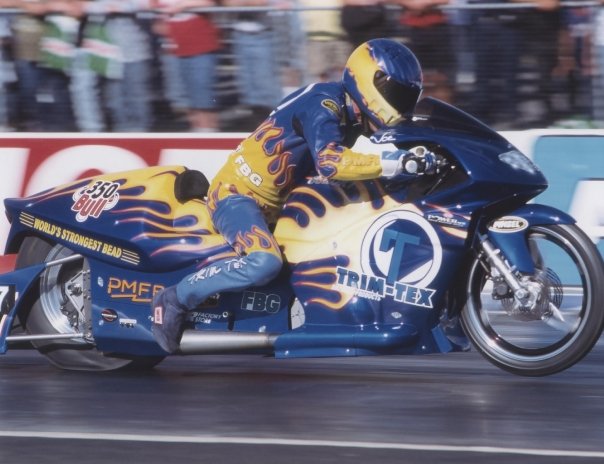 It seems the highly-competitive Koenig has always had an eye for talent.
Koenig has long been a supporter of Larry "Spiderman" McBride, helping the Top Fuel legend amass 15 championships, world records and dragbike racing's first ever five-second run.  For the debut of McBride's new masterpiece of a motorcycle this season, Trim-Tex upped their involvement with the Spiderman, becoming the teams primary sponsor.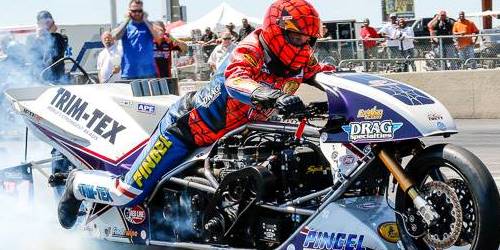 "I like to help. To get a program of this caliber to the next level with a brand new motorcycle, every bit of financial support is important," Koenig said. "But Larry doesn't need me to be successful, he and his team provide the talent, the passion and all of the hard work.  He is a 15-time champion." " All of his sponsors provide financial and product support, and vicariously we are along for one fast ride."
"For 2016 to debut a new machine and have a large deal with a corporate sponsor is a dream come true" McBride said.  "It's been a great relationship ever since 1999 when Wayne and Donna Pingel introduced me to Joe. It's more of a friendship than a sponsorship. Being involved with Team Trim-Tex is an honor."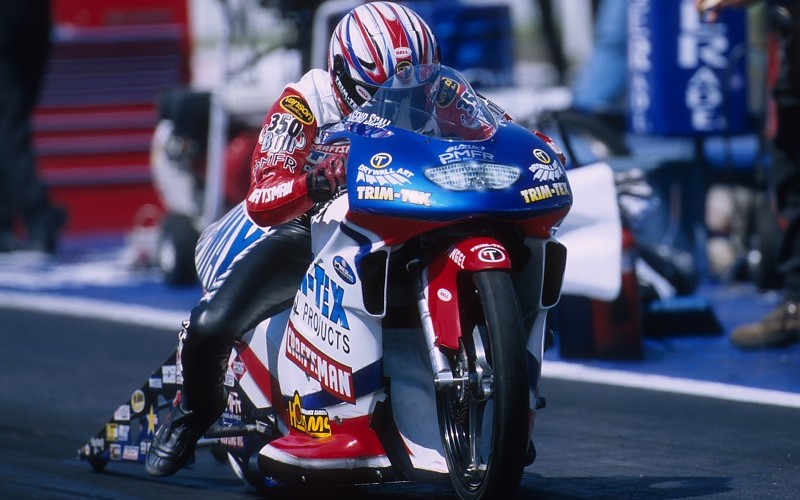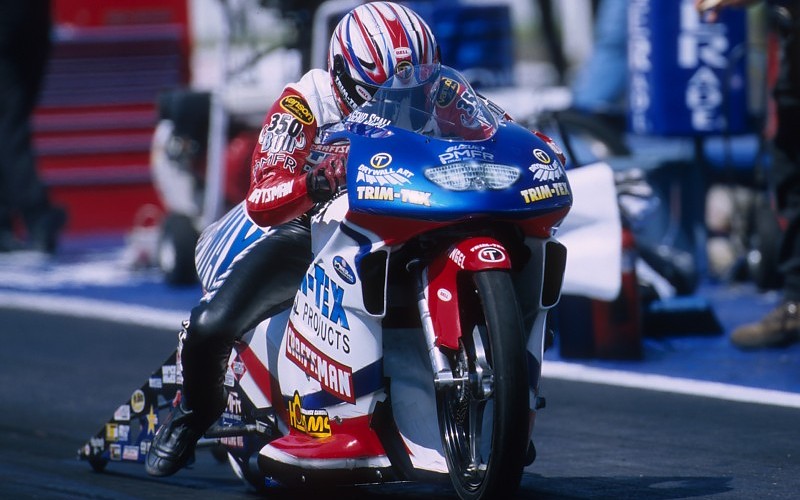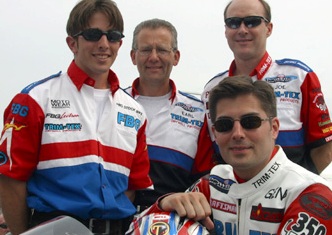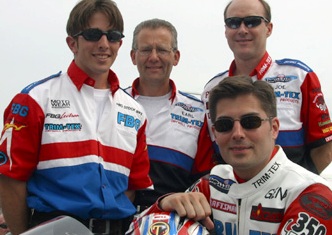 In 2003, in an era of NHRA Pro Stock Motorcycle long dominated by the likes of Vance & Hines' Matt Hines and Star Racing's three time champion Angelle Sampey, Koenig assembled his dream team with Geno Scali and longtime Fast by Gast crew chief Earl DeGlopper. The squad won the coveted season crown in its first year together.
"Geno was a journeyman struggling to win events," Koenig said. "I recognized the talent and knew if we could assemble the right team we could win."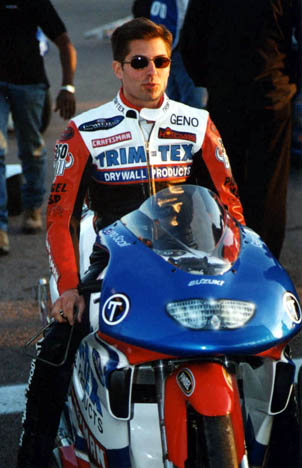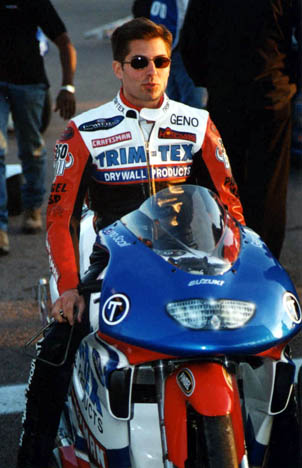 Koenig's keen eye for talent and team synergy transitioned nicely to sports car racing where he assembled another championship dream team with superstar drivers John Edwards and Trent Hindman.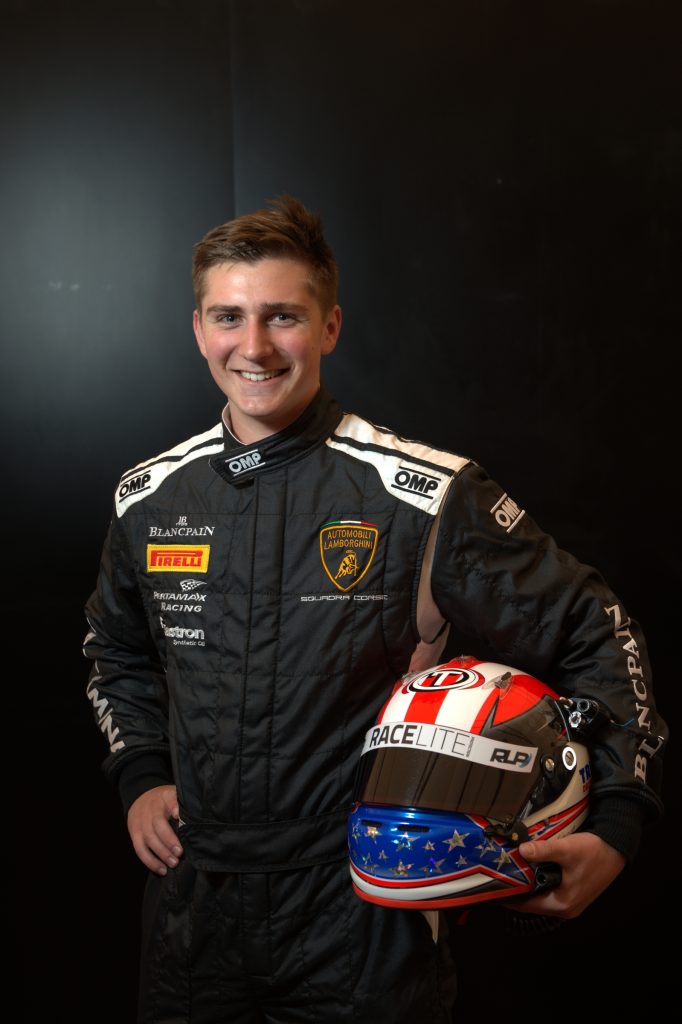 "John Edwards is amazingly talented. He is the youngest American to win an open wheel race at 12 years old. I knew Trent was tough the first time I saw him out on the track. He was this young stud that showed up in GT2 Porsche and started kicking our butts," Koenig said.  "I'm proud of being instrumental in putting Edwards and Hindman together."
The talented duo captured the IMSA Continental Tire Sports Car Challenge Grand Sport championship for 2014 in a Fall-Line Motorsports BMW M3. "Joe has gone above and beyond to assist us throughout the 2014 and 2015 Continental Tire Sports Car Challenge GS efforts, and really he was the man behind the 2014 GS championship run," Hindman said.  "Again I cannot thank Joe and all the folks at Trim-Tex enough for their continued support."
Trim-Tex was so impressed with Hindman, they signed him to a 2 year motorsports athlete contract for the 2016-17 racing seasons. Trent will be wearing a Trim-Tex motorsports helmet in multiple race series and hopefully in many winning cars.
"I am very excited and honored to be on-board with Trim-Tex and Koenig again for 2016. Trim-Tex as a whole is an incredible company with an equally incredible reputation and racing history, and it is certainly a very special thing to be a part of that great heritage. I look forward to trying to bring Trim-Tex home yet another championship this year," Hindman said.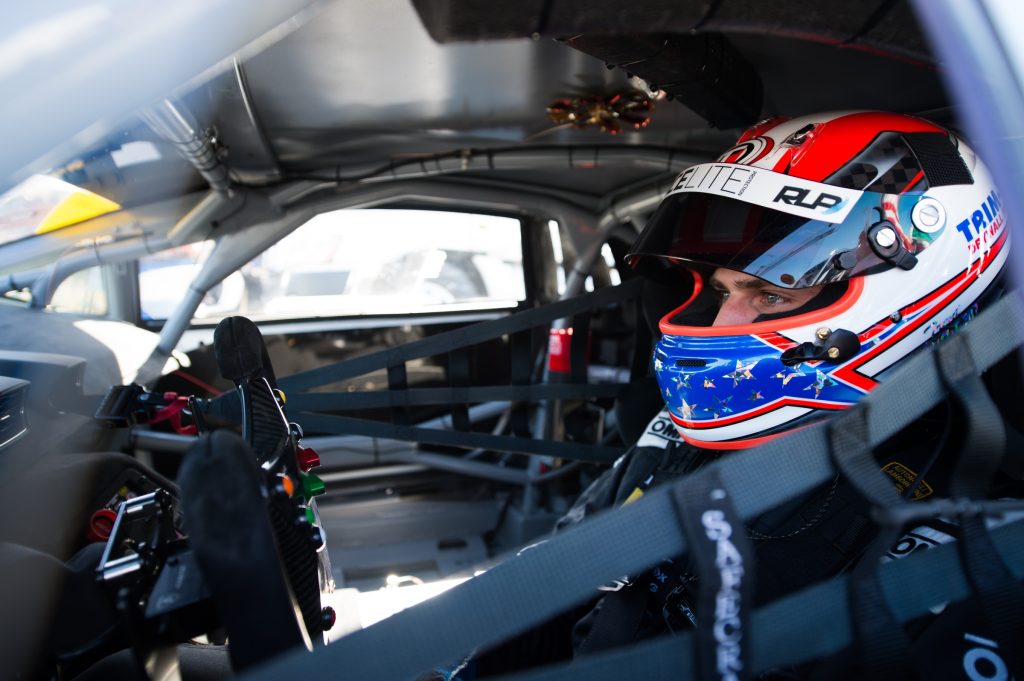 Hindman already scored two victories this season, racing his No. 12 Body Motion Porsche to a victory in the Sebring 150, and one at Laguna Seca at the Continental Tire Monterey Grand Prix powered by Mazda.
"It's so fulfilling considering how late everything came together this off-season," Hindman said. "We have spent a lot of time on our test days making sure we have a great car on the long runs and that really helped us at Laguna Seca.  We have had great pit stops too. It means a lot to get these wins for my whole team and of course Joe, and Trim-Tex."
"The very first time I met Trent and I raced against him I knew right away he was ultra-talented, very respectful and extremely fast 17 year old," Koenig said. "What I most admired about him and his family is that they are quite humble and they are very appreciative. I respect that and that's why I want to continue to help him in his career. Trim-Tex could not be more proud to be associated with this fine young man and champion."
Koenig says Hindman has the talent to go far.
"I would hope that Trim-Tex's involvement springboards him into having other companies step up. We could absolutely see him in NASCAR someday. He is that talented," Koenig said. "we will always be on his side as he is family just like Larry."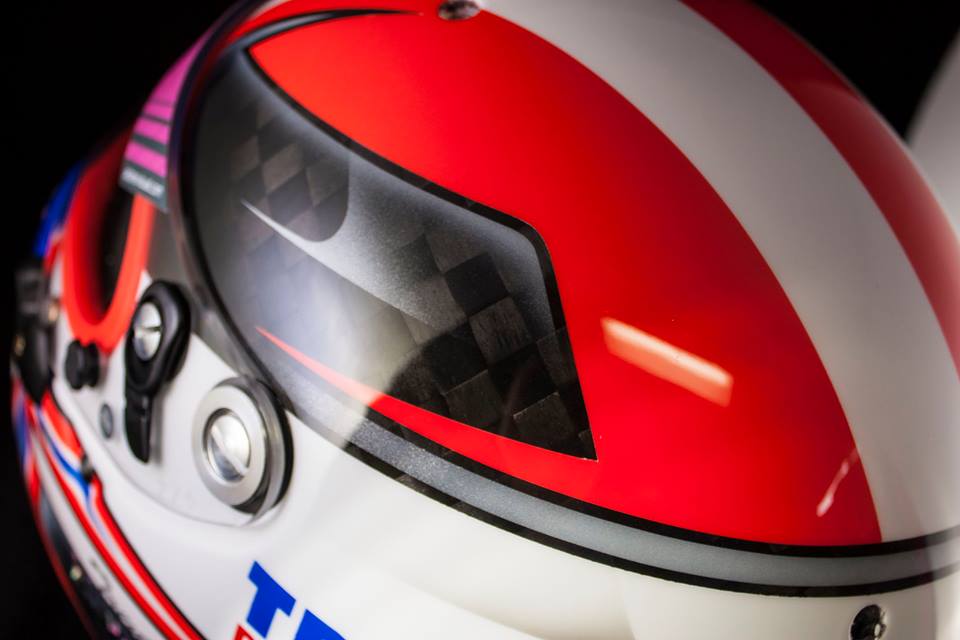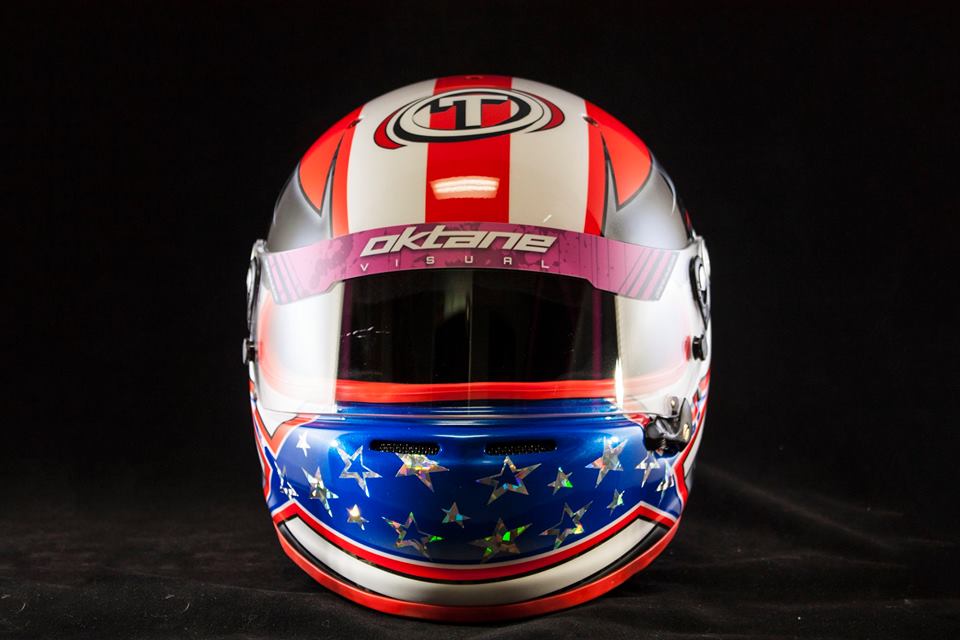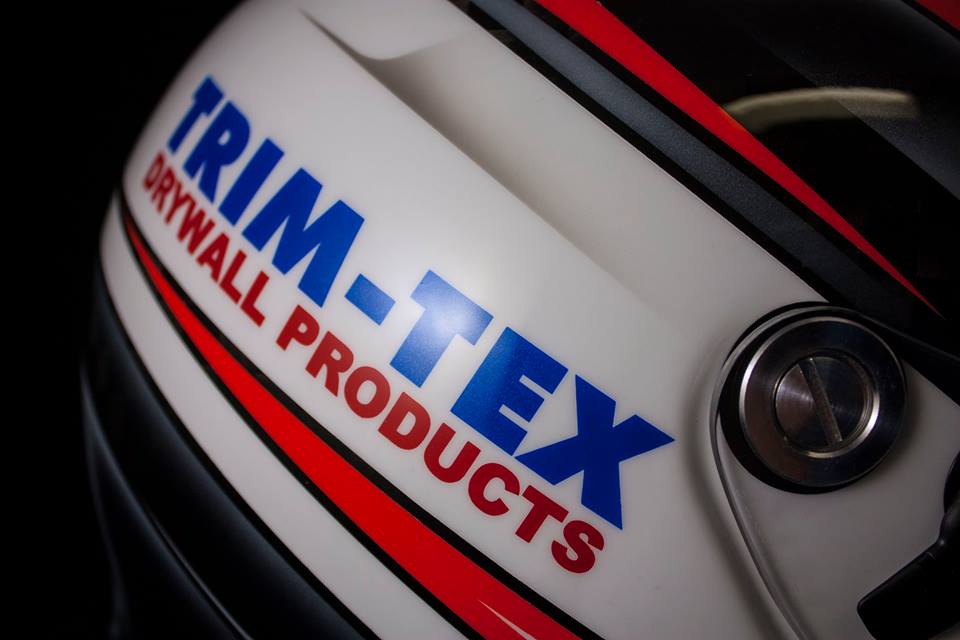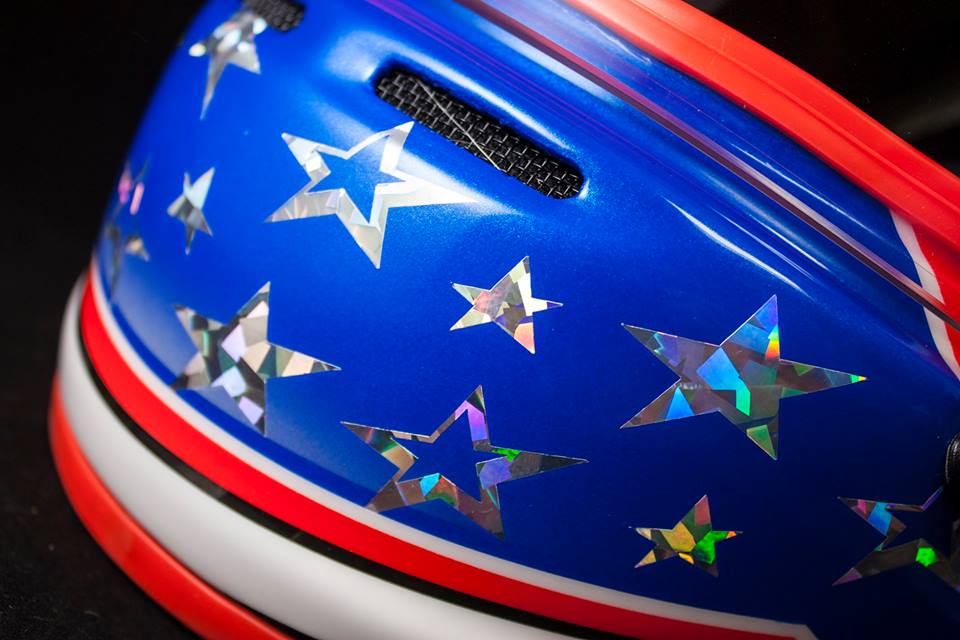 Yet the success on the racetracks is still dwarfed compared to the success Trim-Tex has experienced in the world of remodeling and building.
If you are thinking of a project make sure your contractor is using Trim-Tex Drywall products.
"Even though we love motorsports, being the world leader in rigid vinyl drywall accessories is what pays the bills. Please make sure you specify Trim-Tex in your next project, whether it's a remodel, new home construction or high rise building. It's a total Win Win, your project looks better and the added revenue allows us help more motorsports athletes."
McBride has experienced the perfection of Trim-Tex products firsthand.
"I've been to a lot of trade shows and I have never seen products as fine as the ones Trim-Tex develops," McBride said.  "Wayne and Donna Pingel have great taste and they used Trim-Tex all throughout their home."
Make sure you do too.