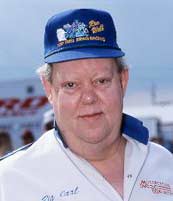 Top Fuel Motorcycle veteran racer and crew chief Carl "Big Carl" Ahlfeldt, 65, passed away October 10th at his home in Oklahoma City.
Big Carl was involved in motorcycle drag racing for the past forty-some years. He owned and operated Motorcycles Unlimited in Oklahoma City and was most notably known as the driving force behind Ron Webb's famous "Fire and Ice" Top Fuel Motorcycle. From 1989 to 2005 he served as crew chief and engine builder for Webb along with his son, Carl, Jr. Perhaps the team's greatest accomplishment came in 2003 at the AMA/Prostar World Finals when Webb recorded a career best 6.04, just four-hundredths from the team's sought-after goal of a six-second pass.
Ahlfeldt was a formidable racer in his own right, competing in the early days of the sport along side legendary riders like the late Elmer Trett.  Ahlfeldt's talent and innovation earned him the respect of Trett and many others.
After retiring from racing Ahlfeldt built and designed dragbikes for racers all over the country. Ahlfeldt was well known for his perfection and precision of building and innovations in the motorcycle racing world. Many revered him as a  genius and expert machinist who took great pride in every piece he built. Ahlfeldt's roots run deep in the history of motorcycle drag racing and will be missed dearly and by many.
God Speed Big Carl