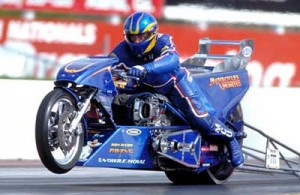 16-year Top Fuel veteran Ron Webb grabbed a fist full of throttle and fought his 1200-plus horsepower Trett/Motorcycle Unlimited machine down the quarter-mile to a near five-second awe-inspiring blast of 6.04 at a blazing 227 mph at the 2003 AMA/Prostar World Finals in Gainesville, Fla.
When asked how wild of ride this track-pounding 6.04 was Webb offers an unexpected response.
"It was so easy to ride your grandmother could have rode it," Webb said of his career best run.  "I never expected it to be a 6.0."
Adding to Webb's confusion was the fact the bike wasn't functioning properly at the time.
"It really doesn't make sense," Webb said.  "We were saving our good motor for Sunday. The motor we ran was hurt and we were running on only three cylinders early into the run. We ran 6.20s and 6.30s earlier in the weekend when the motor was fresh."
With the wounded machine only utilizing three-fourths of its cylinders and still running a mere four-hundredths of a second away from Webb's long sought goal of a five, it's reasonable to think the pass would have been a five with a healthy motor, right?  Webb sternly pledges to make no such calculations.
"I'm not into this prediction game that everyone out there seems to play," Webb said.  "If I had a nickel for every time the computer said somebody should have run a five I would be rich.  The only thing that matters is what the time slip says."
After the record run Webb felt more focused than ever on his mission of breaking into the fives – a