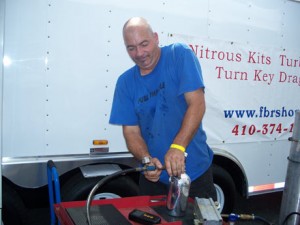 Marion Ford, owner of the famed FBR shop, dominated the competition at the first ever all-Atak race at the MIROCK FBR Shop Fall Nationals in Rockingham, NC. Ford's success should come as little surprise, being that he is the creator and designer of the Hayabusa-motored, dragbike chassis, Atak bikes.
"I knew I had an advantage," Ford said.  "When I get to race against all the other ATAK bikes I feel I really do have the upper hand. After all they are all my little Frankenstiens. I know what they want and how they work."
Ford competed aboard one of his 2007 models and team rider Ken Lewis entered his  2004.  Lewis also entered the machine in the 5.60 class and was No. 1 qualifier with a perfect 5.600.
"I had the slowest of the ATAK bikes but with a dial in that doesn't matter in the slightest to me," Ford said. "When it came down to Big Dale Hamilton and me in the final a decision was made to split the money and run for the trophy. I had figured all along that if I got any money it would just be split up between the ATAK owners anyway."
Ford got the best of Hamilton on the tree and carried it through for the win.
"We gave the $1000 winner's purse back to the other owners, so all the racers entered had a free weekend as well as some gas money," Ford said. "I will do this race for the ATAK owners as long as we have the FBR shop Fall Nationals at Rockingham Dragway.  (Rockingham track owner) Steve Earwood was great in letting us put this together and I thank him as well as thanking all the ATAK owners that have supported the MIROCK series. The ATAK owners race is a free entry race with a $1000 purse, winner take all. This race is to thank the owners that have supported the MIROCK series with their ATAK entries."