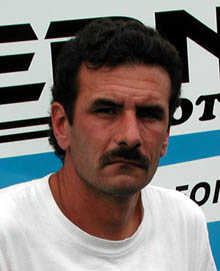 Mike Romine won back-to-back AHDRA Top Fuel championships by learning to ignore his desire to go faster.
Consistency wins championships – It is that drag racing cliché which best sums up Mike Romine's second consecutive title run in 2006.
Romine is certainly no stranger to winning championships.  Formerly, he claimed nine No. 1 plates in the AMRA.  However, it wasn't until 2005, that Romine figured out how to vault himself above the competition in the highly competitive AHDRA series.
"We have had the performance for the last several years, we just didn't have the consistency to win a championship," Romine said. "If we were running 6.40s and someone was running 6.30s we used to go after them. Now we focus more on getting a tune-up that will give us a consistent bike on Sunday. That doesn't work every time, but it has worked enough. We didn't worry about setting records."
Romine finishes the season with four wins, two runner-ups, and one victory on the NHRA exhibition circuit.  Three of Romine's pivotal victories came at mid-season – Atlanta, Norwalk, and Iowa – and gave him a significant lead in the point series.
"The highpoint of the season was winning Norwalk, because it kept our hot streak going," Romine said. "It was a huge step for our program to be running so consistent at mid-season.  In previous years we always ran well in the fall in the spring, but fell off in the hot summer months."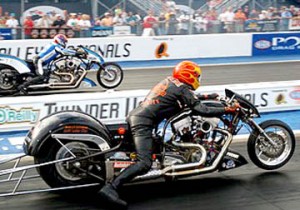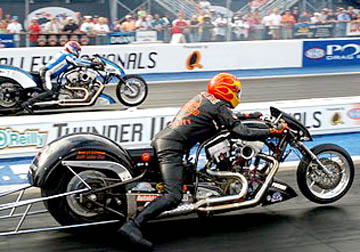 Romine's dominance in the dog days of summer proved incredibly valuable as his performance slipped away in the fall and Jay Turner and Doug Vancil began to encroach on the points lead.
"The end of the year wasn't easy. We had clutch problems in Richmond and we had ignition problems in Vegas," Romine said.  "I knew Jay (Turner) and Doug (Vancil) would be there at the end.  We were just fortunate to get off to a great start.  Even when we were a couple hundred points up I knew it wasn't in the bag."
Romine finished the season 115 points ahead of second place Jay Turner.  For 2007 Romine is busy building a brand new bike that he hopes to debut in Gainesville.  He is also building a Pro Fuel ride for V-Rod Destroyer standout Doug Horne.