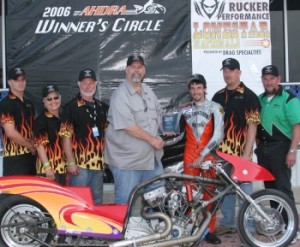 Some try for an entire lifetime to win a national championship.  Rick Moore did it in his very first year as a Pro.
After a stellar season that included six wins, two runner-ups and a quarter-mile ET record of 7.13 in St. Louis, it's hard to believe 2006 Kresto Pro Drag champion Rick Moore is a rookie.  Even more impressive is the fact that he has had very little drag racing experience prior to this season.
"I was into it as a kid and I used to do eighth-mile dirt drag, but that's it," Moore said. "In 2005 I had a dream to go Pro so I went to the Frank Hawley Drag Racing School and got my license the first time through."
The 98-pound rider was picked up by the Mid Continent Motorsports team in March of 2006.
"I have to really thank Mike Bahnmaier for giving me an opportunity.  He didn't know me at all when he decided to give me a shot," Moore said.  "It was his great tuning that won us this championship. The season was a learning experience for me every single time I went down the track."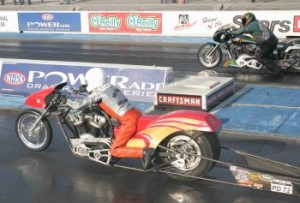 At the AHDRA season finale in Vegas Moore only needed to win two rounds of competition in order to claim the prestigious No. 1 plate.
"It was by far the toughest field we had at a meet all year long," said Moore, who qualified No. 1. "I give my team a lot of credit for tuning the bike so well."
Moore not only scored a pair of round wins to lock up the championship, he also advanced to the final and beat the man he battled with all season-long – Willie Hershberger.
"It was a perfect ending to a perfect season.  To get the championship and then beat Willie in the final was a great way to prove that we're the better team," Moore said. "It was great my entire family was there. It was a very special race."
After such an outstanding rookie year Moore hopes to be back in the saddle for 2007.