You could say it's familiar territory.
Top Fuel Dragbike legend Larry "Spiderman" McBride began his 39th season of racing the way he has begun so many – with a trip to the winner's circle. The 16-time champion swept through the five-bike field at the ManCup Spring Cup from Valdosta, Ga., April -7-9.
"It feels great. The way it is compared to a year ago is really mindboggling. We made leaps and bounds just this past week," McBride said. "We still hurt some parts, but we now have the bike reacting to everything we are doing to it. Last year when we debuted it we were flat out struggling. Now we are heading in the right direction."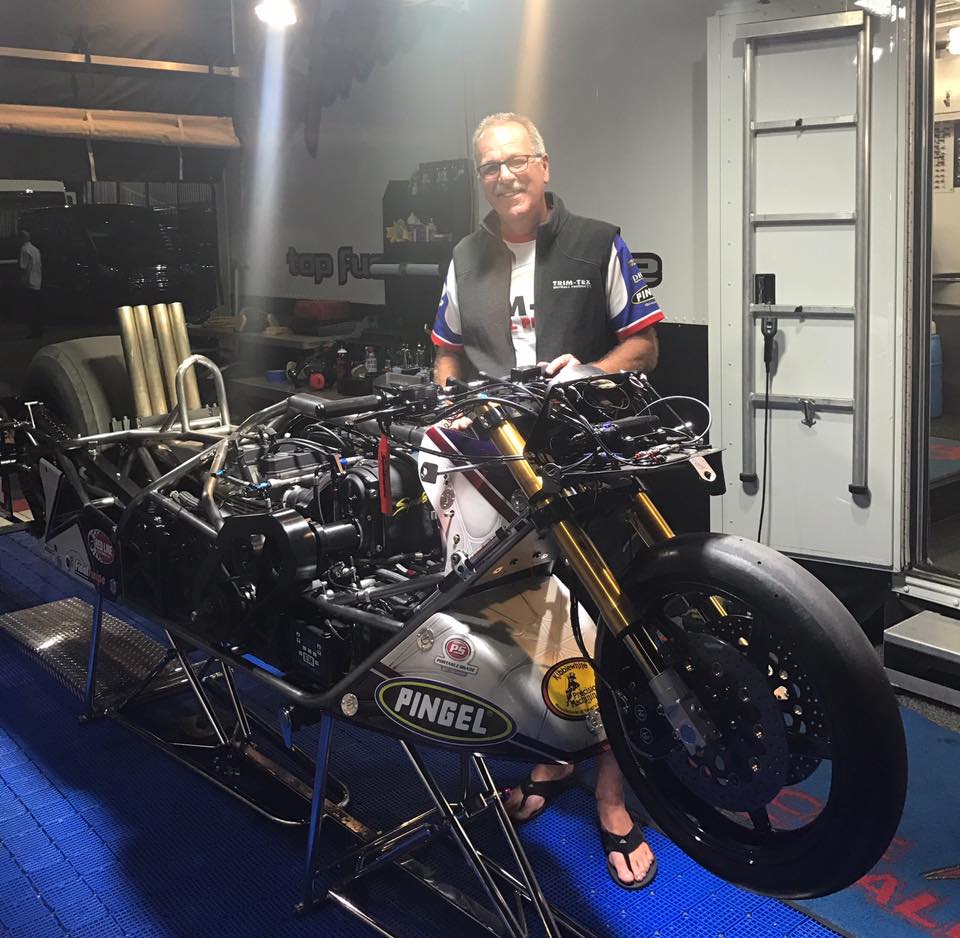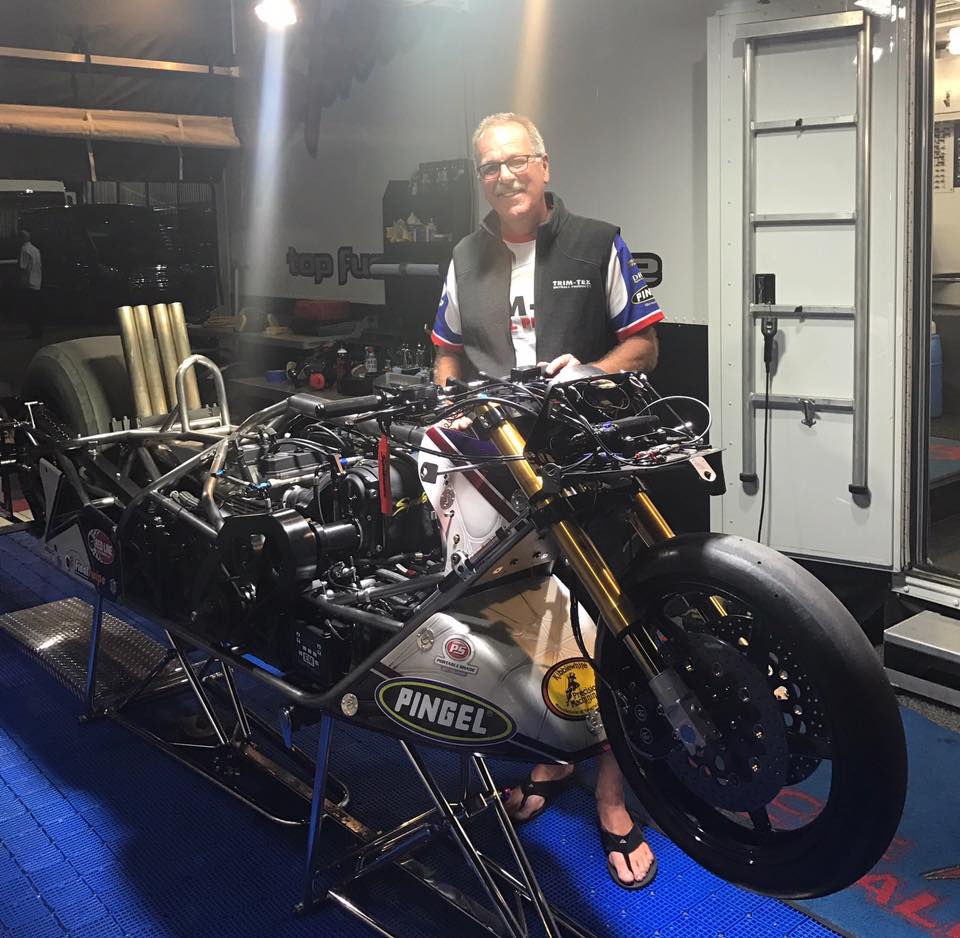 McBride wasted no time representing the big No. 1 on his wheelie bars, taking the pole with a run of 5.92 at 233 mph.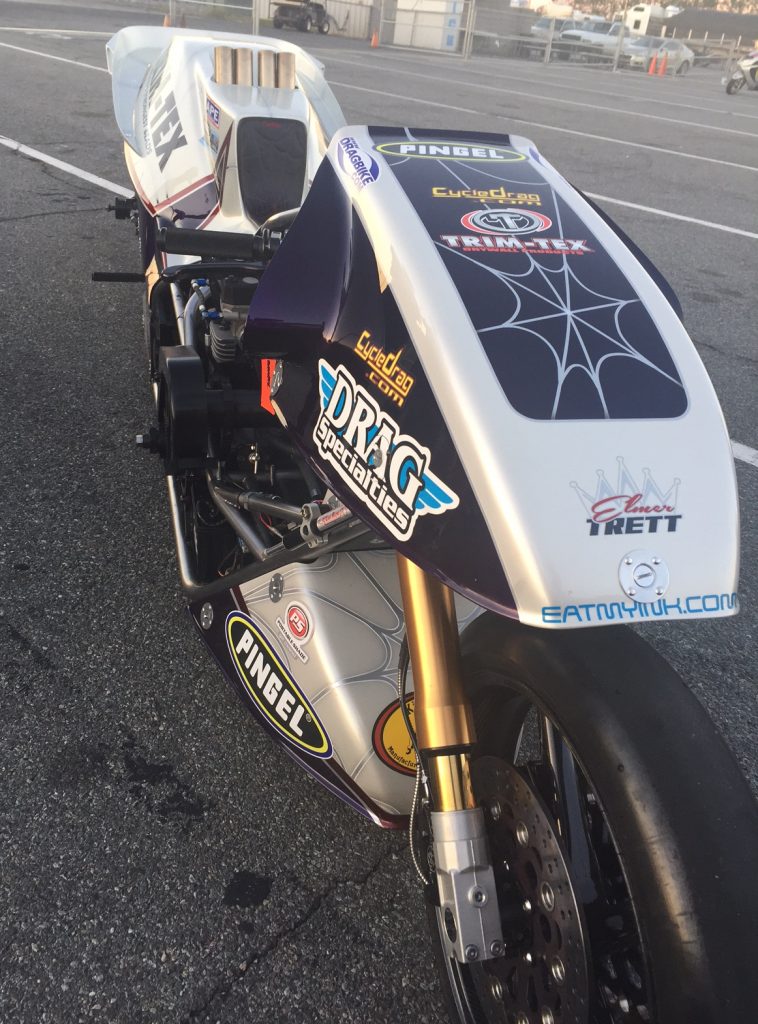 "It was a good solid run. We felt like that was about all the track could handle. We didn't seem to have as much traction as we usually do," McBride said. "We made some test runs to the 330′ before the event so we had an idea of the bike wanted. Prior to the 5.92 we smoked the tire twice, so we just kept backing it down. Sometimes you just look at the track and see what you think it will take."
The No. 1 qualifying effort earned McBride a Sunday morning bye run. The Spiderman unleashed a 5.91 at 238 mph.
"We had nothing to lose and the track was as cool as it was going to be all day," McBride said. "We just tried to repeat the .92 and it went a .91."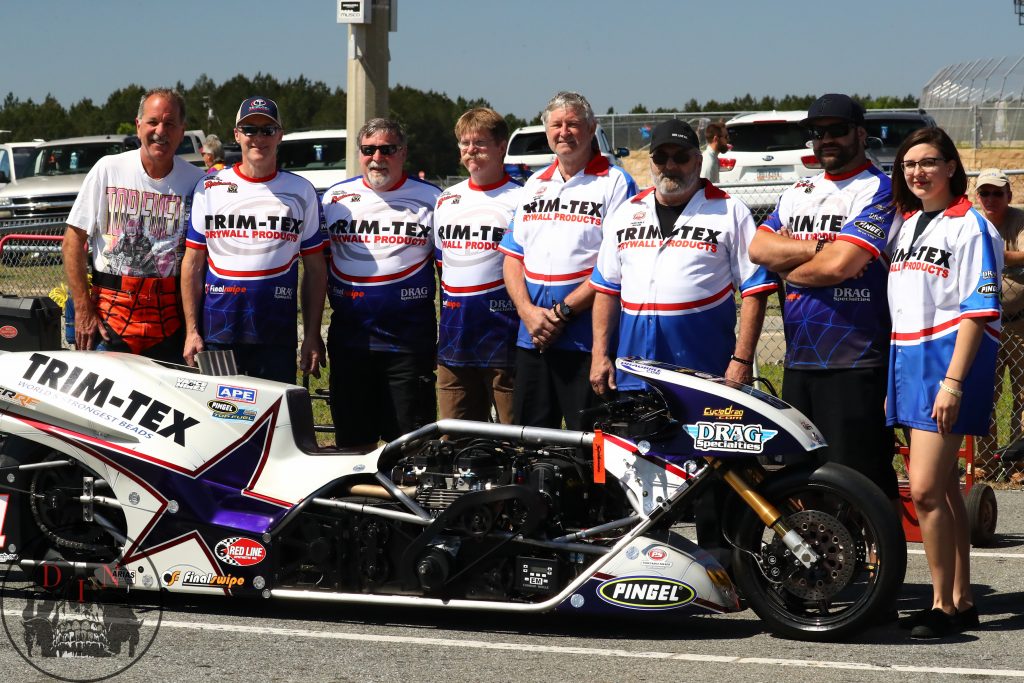 In round No. 2 McBride scored an incredibly close victory over Dave Vantine with a 6.04 to Vantine's 6.06.
McBride's 4.01 was just ahead of Vantine's 4.02 at half-track.
.033 was the margin the victory.
"It was a really close race. I could hear him right next to me. It's been a while since I had a race that close," McBride said. "We didn't want to smoke the tire so we took some power out. We ended up taking too much."
The huge field of sportsman racers on hand would have been proud of the reaction-times.
McBride cut a .050 to Vantine's .058
"Dave is great on the lights so I know when I go up against him you better be on your toes or you will get the tree cut on you," McBride said.
In the final round, McBride faced last season's runner-up in points, Sam Wills. it was perhaps a preview of what will be another season-long points battle between the two veteran racers.
Prior to the run Team McBride noticed some oil coming from the supercharger and decided to put a new one on, along with installing a fresh motor.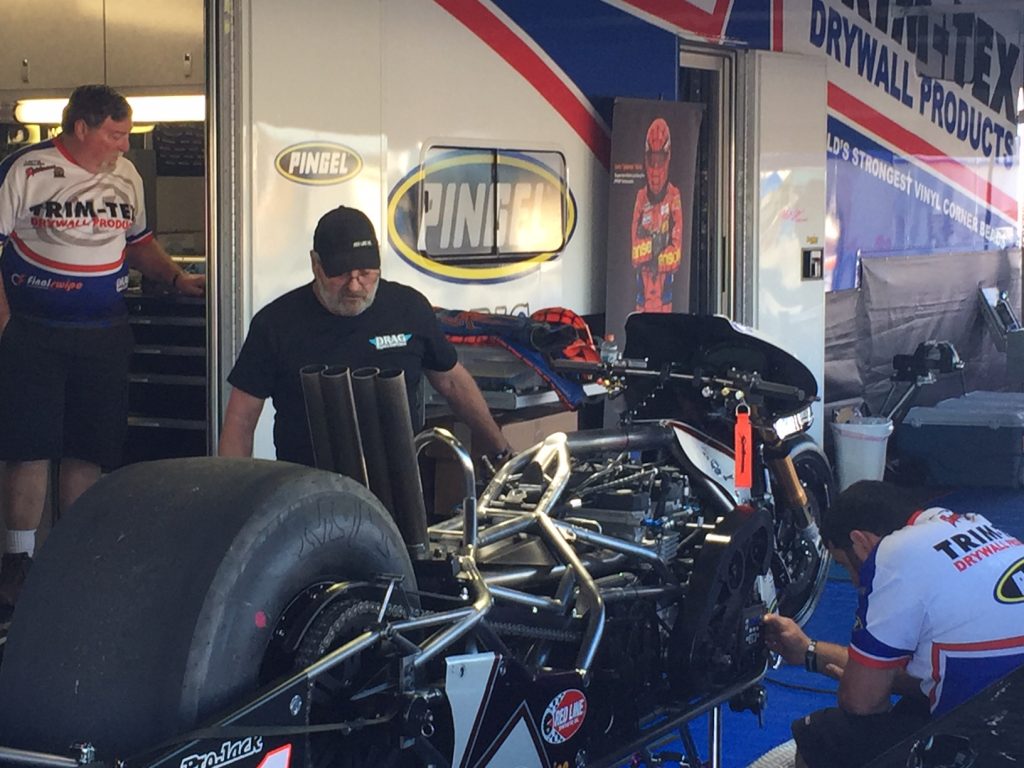 "Looking back we should have left the original supercharger on," McBride said.
The new, and faulty, supercharger caused McBride to drop a cylinder around 1000 feet and the Spiderman shut off. Wills beat McBride to the finish line with a 6.13 to McBride's 6.23.
At the far end of the track McBride was congratulating Wills.
"I was shaking Sam's hand and said congrats and Steve (McBride, crew chief) came around the corner on the Mule beeping the horn. And I'm thinking why the heck is he beeping the horn. Steve got off and told Sam he went red on the tree by .001. I went from crying to smiling," laughed McBride. "We won the race the by default, but a win is win and I know Sammy would take it if the shoe was on the other foot. That's racing."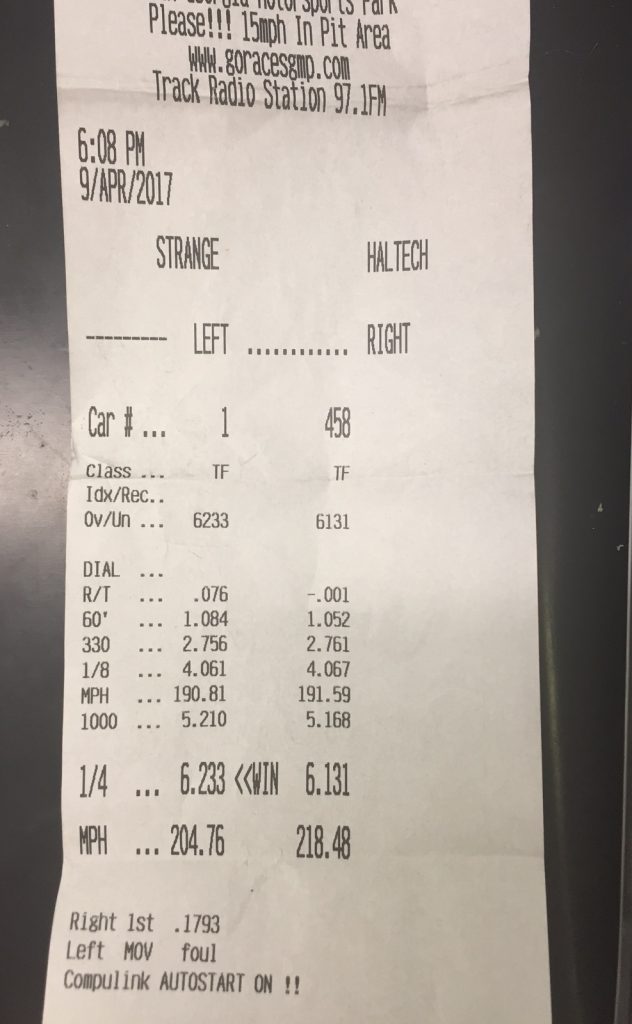 A red light in Top Fuel is very rare. In fact McBride says it's the first time in his career he has been out run but was still able to take the win.
"It's not common but you work on these things to get them reacting quicker and they can red light," McBride said. "I know. I went too deep on Friday and red lit."
McBride sponsor and Trim-Tex Drywall Products president Joe Koenig took in the event with his former NHRA championship-winning rider Geno Scali and his longtime friend and crew chief Jeff Wudi.
"We had a really enjoyable weekend," Koenig said. "We watched a very impressive group of Top Fuel racers. I really enjoyed watching Larry and this team get a handle on the bike. They are figuring this thing out."
McBride was equally pleased to have Koenig at the track, as well as longtime sponsors and friends Wayne and Donna Pingel.
"It was a great weekend and I was really happy to have them there," McBride said.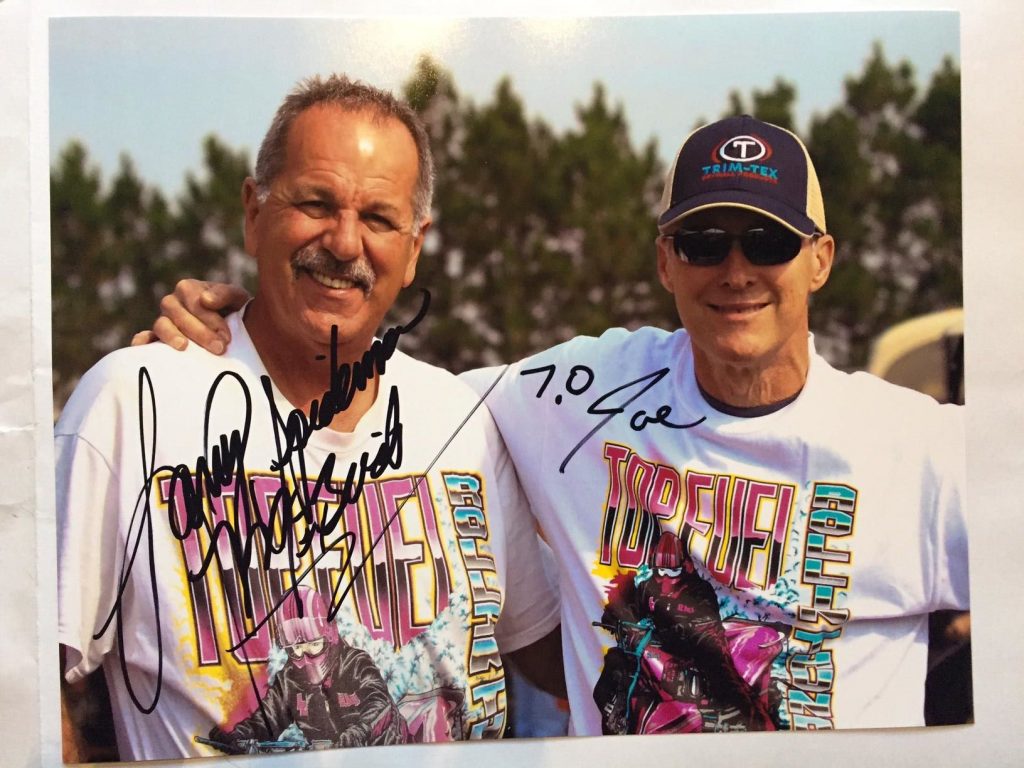 Larry "Spiderman" McBride 2017 Tour
MANCUP Spring Cup, Maryland International Raceway, Valdosta, Ga. April 7-9 – Winner
MANCUP HTP Performance Nationals, Memphis International Raceway, Memphis, Tenn. June 3-4
MANCUP MTC Nationals, Galot Motorsports Park, South Dunn, N.C. July 15-16
IDBL WPGC Bike Fest, Maryland International Raceway, Budds Creek, Md. July 28-30
MANCUP Rock, Rockingham Dragway, Rockingham N.C. Sept. 23-24
IDBL DME Fall Nationals, Maryland International Raceway, Budds Creek, Md. Oct. 6-8
MANCUP World Finals, South Georgia Motorsports Park, Valdosta, Ga. Nov. 17-19
For all their continued support with this new machine, McBride thanked his primary sponsors; Trim-Tex Drywall Products, Pingel Enterprise, Drag Specialties-Parts Unlimited, Final Swipe Merchant Services, Web-Cam, APE and Kibblewhite – Precision Machine.
Vance & Hines Motorsports, Red Line Synthetic Oil Corporation, Federal Mogul, Portable Shade, PR Factory Store, Ferrea Valves, World Wide Bearings, Vanson Leathers, Five Star Powersports, Belt Drives Ltd, Simpson Race Products, Nitrous Express, APE, EK Chain, Arias Pistons, Cometic Gaskets, B&J Transmission, Carolina Cycle, L.A. Sleeve, PJ1, Mickey Thompson Tires, Valco, Goodridge, Carlisle Belts, ProJack, Bullseye Visual and Gates Belts.