It's time once again. Another season of Top Fuel Motorcycle drag racing is here.
Few have been involved in any type of motorsports, or any competition for that matter, longer than 16-time champion Larry "Spiderman" McBride, who has been racing a nitromethane-fed, ultra-fast motorcycle for nearly four decades. McBride begins his 39th season of racing at the MANCUP Spring Cup from South Georgia Motorsports Park in Valdosta, Ga. April 7-9.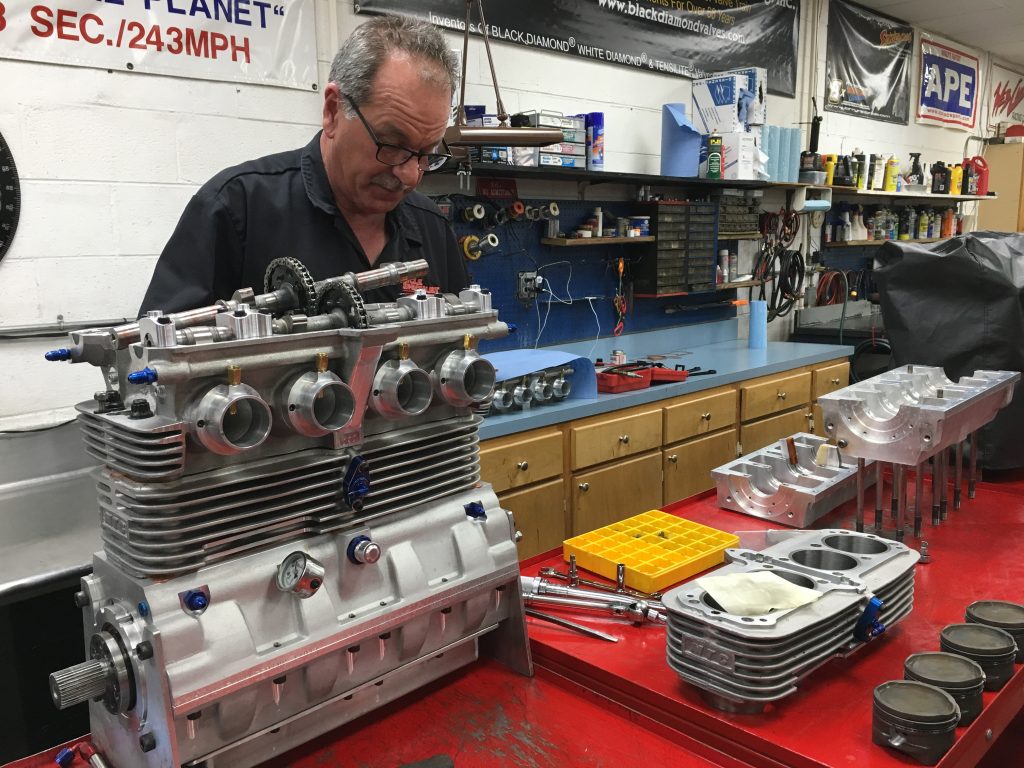 "That's a long time," 59-year-old McBride said. "It feels great to still be able to do it and have the desire to win."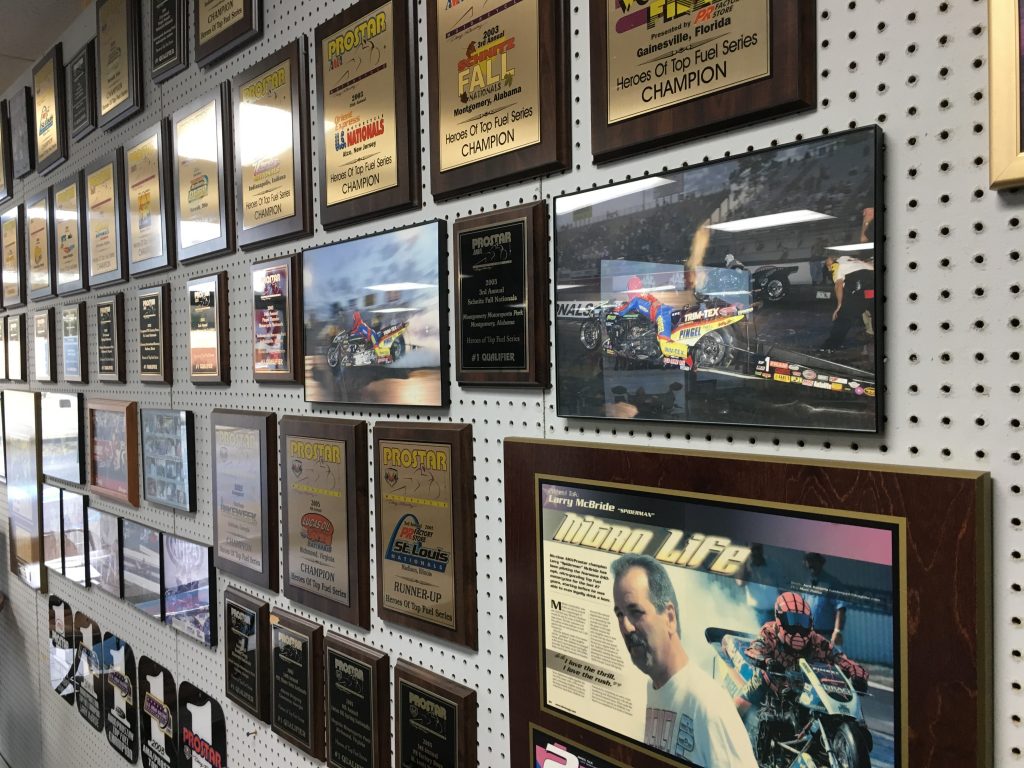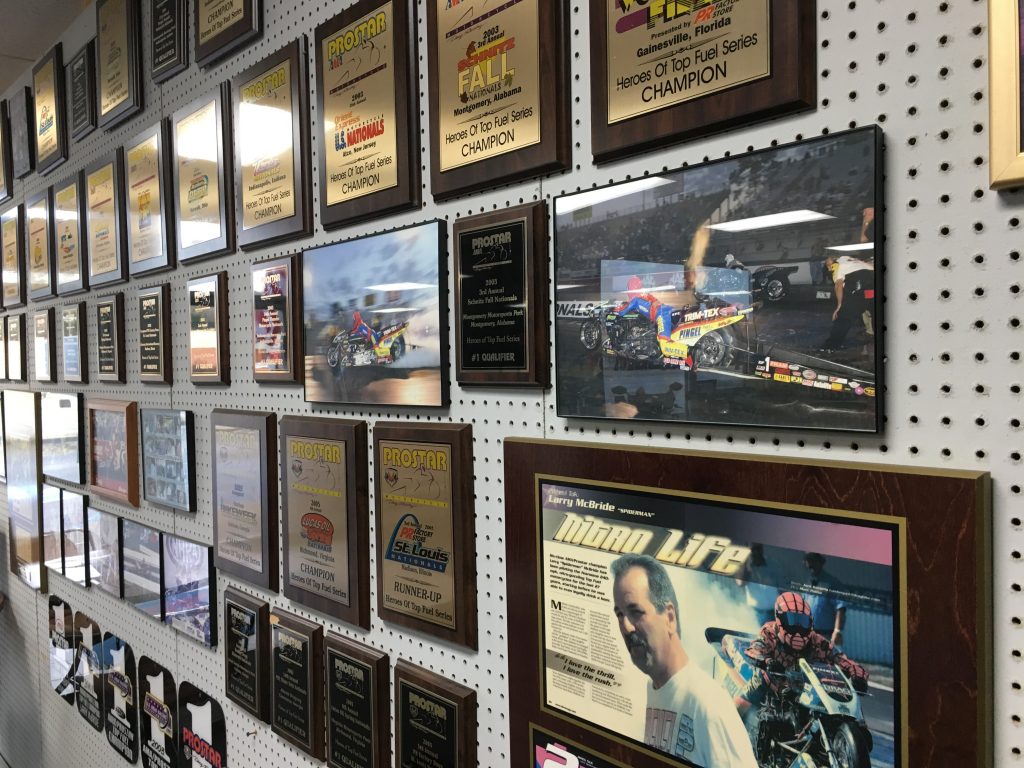 The last couple of seasons have been quite unusual for McBride. After more than a decade of smooth-sailing dominance, McBride suffered a near-career ending explosion in September of 2015 at an IDBL event in Atco N.J. McBride had already garnered enough points to win the season championship but his beloved and reliable machine "Blue" has yet to return to the dragstrip.
In 2016 McBride unveiled a new, state-of-the-art motorcycle with backing from Trim-Tex Drywall Products. The machine showed much promise with a best E.T of 5.83 , but proved to be much different than the team had anticipated, requiring quite a bit of research and development and trail and error.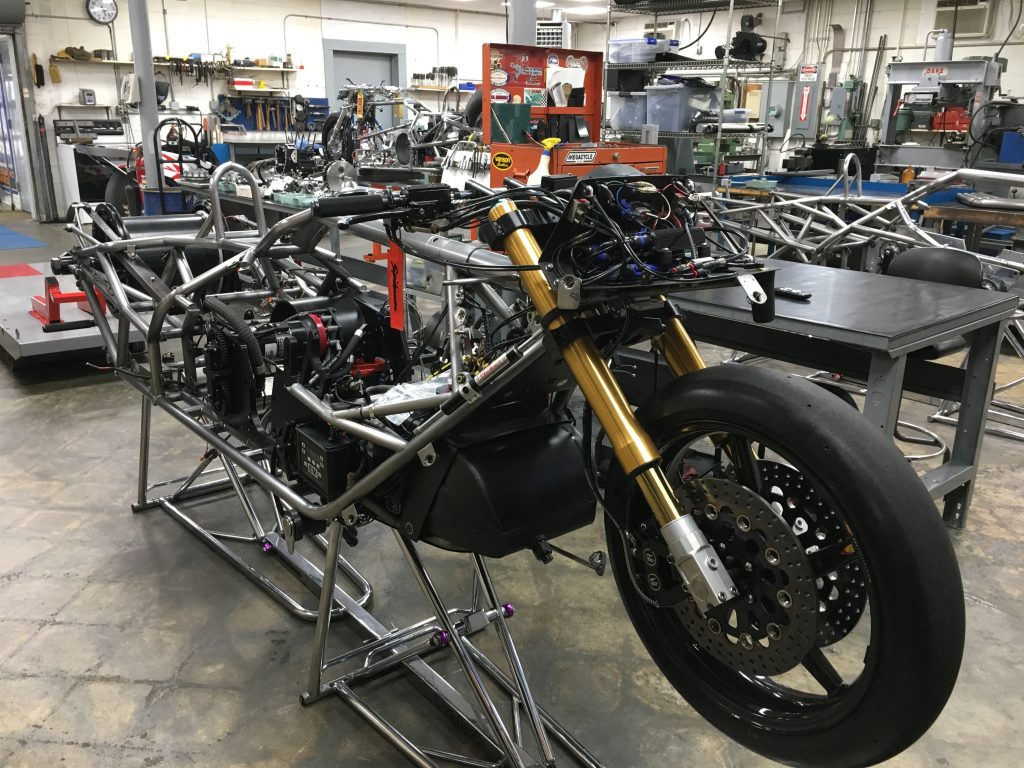 "It's hard to put my finger on why it is so much different, but it is," said McBride, who has an all-time best run of 5.74. "We built it as close to Blue as we could, but it reacts differently. It's got all new pipe and it's a bit heavier. That makes a difference. We have refined it over the winter. It should be better but you never know until you get it on the racetrack."
McBride says the off-season refinements have come in the fuel system and the clutch. McBride hopes to get an opportunity to judge the changes during a few testing passes prior to the start of the MANCUP race.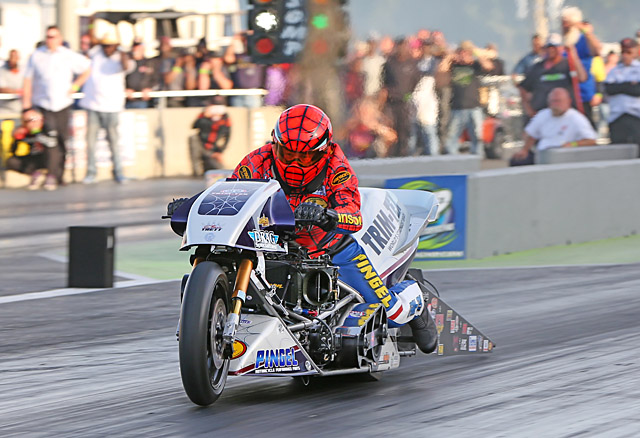 "I'd like to get a 330′ and eighth-mile before we start qualifying," McBride said.
Last season's steep learning curve with the new motorcycle had the usually-dominant Spiderman entering the final race of the year with the championship undecided. McBride needed to qualify on the pole and win the race.
"We learned a lesson last year," McBride said. "It's not always about going into the fives. You can win a race, even a championship, with 6.0s."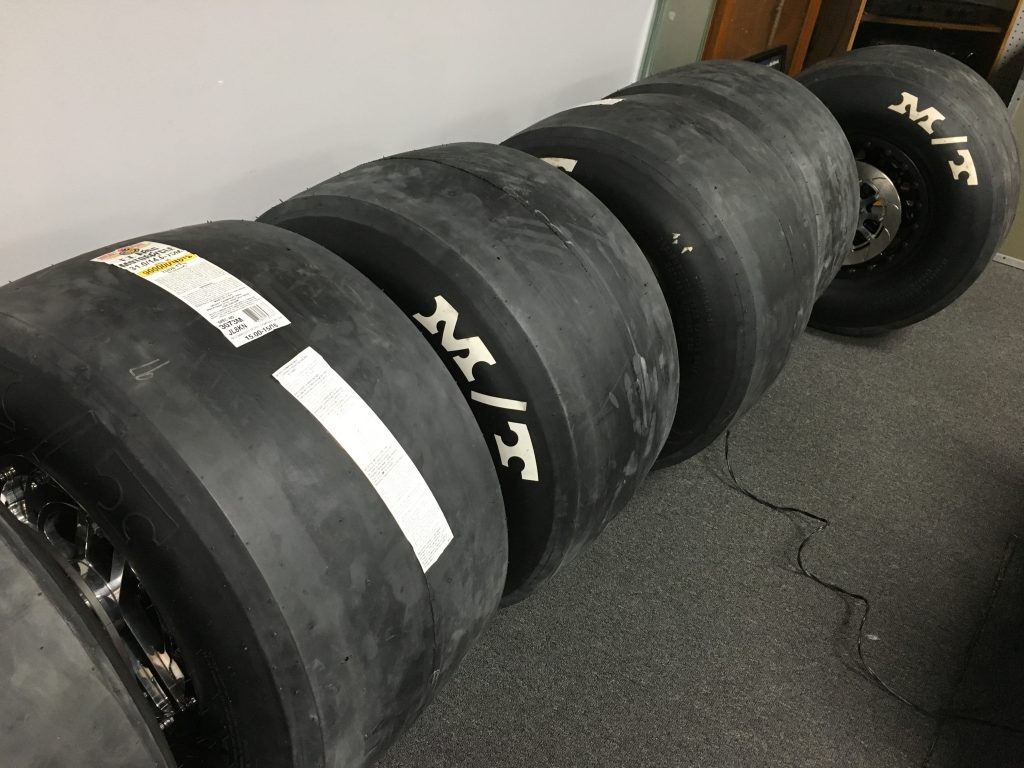 McBride also sees the rest of the class closing the performance gap and says the category is more competitive than it has been in decades. McBride will again face tough competition from Sam Wills, Dave Vantine, newcomer Mitch Brown, veteran Chris Hand and European Ian King, who will travel over from England.
"I really do not think there will be any easy first rounds. It's going to take effort and it's going to be exciting. Competition is good. It's what makes you work hard," McBride said. "You better watch out for Chris Hand. He has run some good numbers the last few years and he is getting a handle on it. Dave Vantine and Sam Wills have continued to step up. Ian and Mitch will be ready to go as well."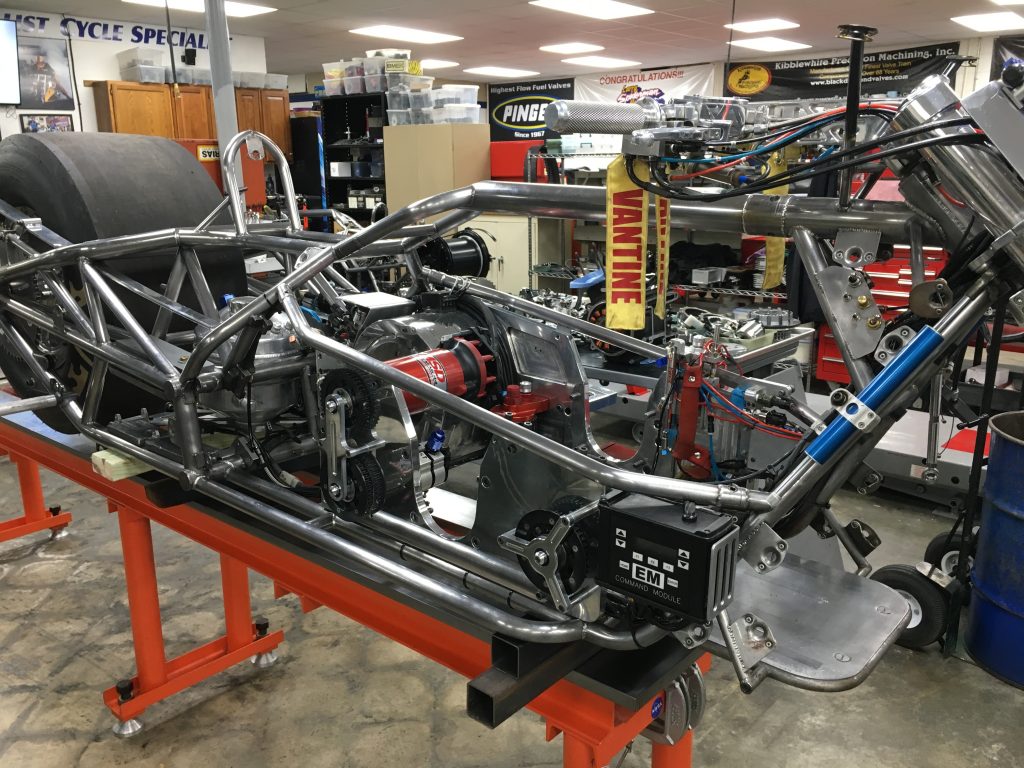 Trim-Tex president Joe Koenig is equally excited entering the second season of Trim-Tex's full sponsorship of the team.
"I am feeling very happy and ready to enjoy another season of Top Fuel Motorcycle racing," said Koenig, who will fly from his home in Chicago to the season-opening event. "We are all anticipating a great year. It's a cool time of year because right now everyone is equal in points. I always loved this time of year when I was racing because you have worked hard all winter putting together the bike, the motors, the rig, the crew and now you get a chance to put all your hard work to the test."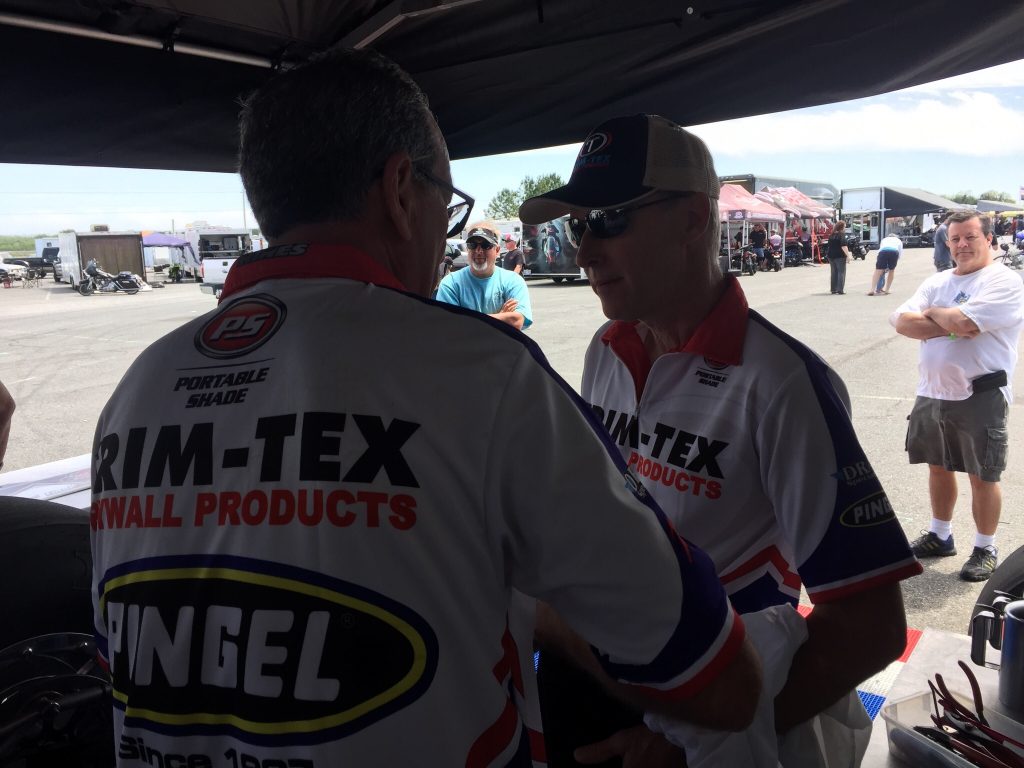 "It's been awesome to work with Joe," McBride said. "To work with somebody who has that much enthusiasm keeps me pumped up too."
Koenig feels fans are in for an exciting season.
"I really feel in my gut that we are going to see some amazing performances from Larry and many other competitors," Koenig said. "I'm very excited to see the showcase of horsepower and talent."
And for the first time in decades, McBride will have the opportunity to win two championships in a single season with the addition of the IDBL championship series at Maryland International Raceway, July 28-30 and Oct. 6-8.
"I'm looking forward to it," McBride said. "It will make for one of the most exciting seasons yet."
Larry "Spiderman" McBride 2017 Tour
MANCUP Spring Cup, Maryland International Raceway, Valdosta, Ga. April 7-9
MANCUP HTP Performance Nationals, Memphis International Raceway, Memphis, Tenn. June 3-4
MANCUP MTC Nationals, Galot Motorsports Park, South Dunn, N.C. July 15-16
IDBL WPGC Bike Fest, Maryland International Raceway, Budds Creek, Md. July 28-30
MANCUP Rock, Rockingham Dragway, Rockingham N.C. Sept. 23-24
IDBL DME Fall Nationals, Maryland International Raceway, Budds Creek, Md. Oct. 6-8
MANCUP World Finals, South Georgia Motorsports Park, Valdosta, Ga. Nov. 17-19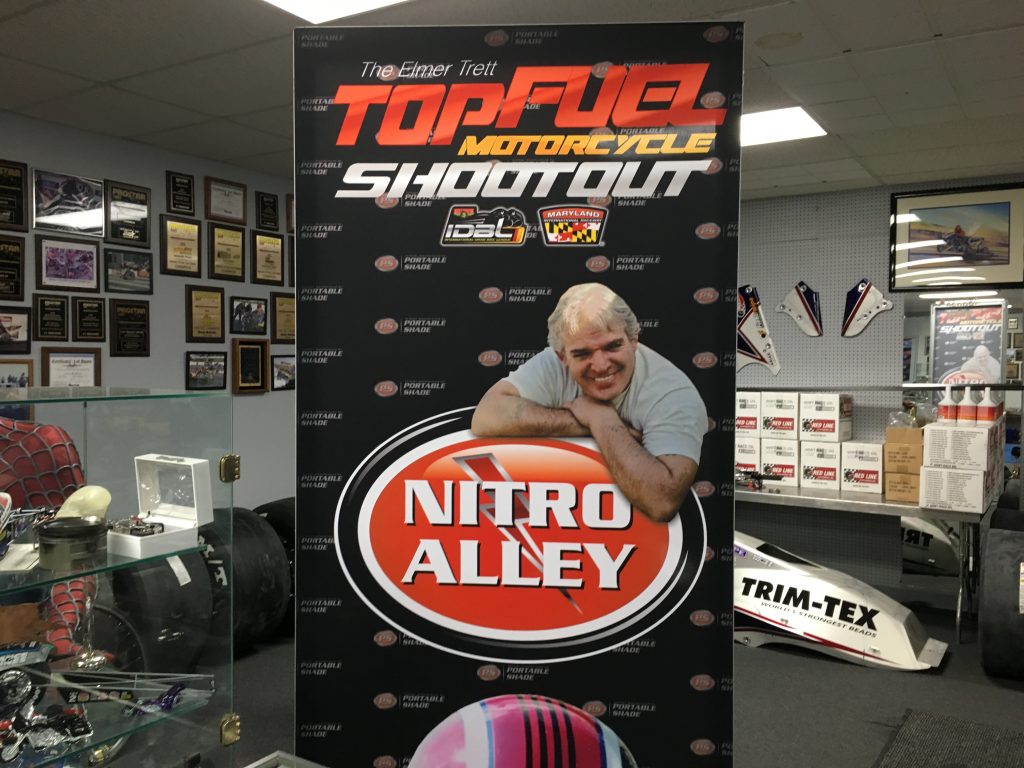 For all their continued support with this new machine, McBride thanked his primary sponsors; Trim-Tex Drywall Products, Pingel Enterprise, Drag Specialties-Parts Unlimited, Final Swipe Merchant Services, Web-Cam, APE and Kibblewhite – Precision Machine.
Vance & Hines Motorsports, Red Line Synthetic Oil Corporation, Federal Mogul, Portable Shade, PR Factory Store, Ferrea Valves, World Wide Bearings, Vanson Leathers, Five Star Powersports, Belt Drives Ltd, Simpson Race Products, Nitrous Express, APE, EK Chain, Arias Pistons, Cometic Gaskets, B&J Transmission, Carolina Cycle, L.A. Sleeve, PJ1, Mickey Thompson Tires, Valco, Goodridge, Carlisle Belts, ProJack, Bullseye Visual and Gates Belts.