Tony Ficher was in the final of the very first Orient Express Pro Street Battle Royale—the Mickey Thompson Performance Tires International Drag Bike League™ (IDBL)'s $10,000-to-win race for the world's quickest streetbikes. And even though Ficher and the Eric Paquette-built-and-tuned "Master-Blaster" supercharged Suzuki Hayabusa didn't win that event in 2013, it was a coming out of sorts for the Massachusetts-based DAS Performance team.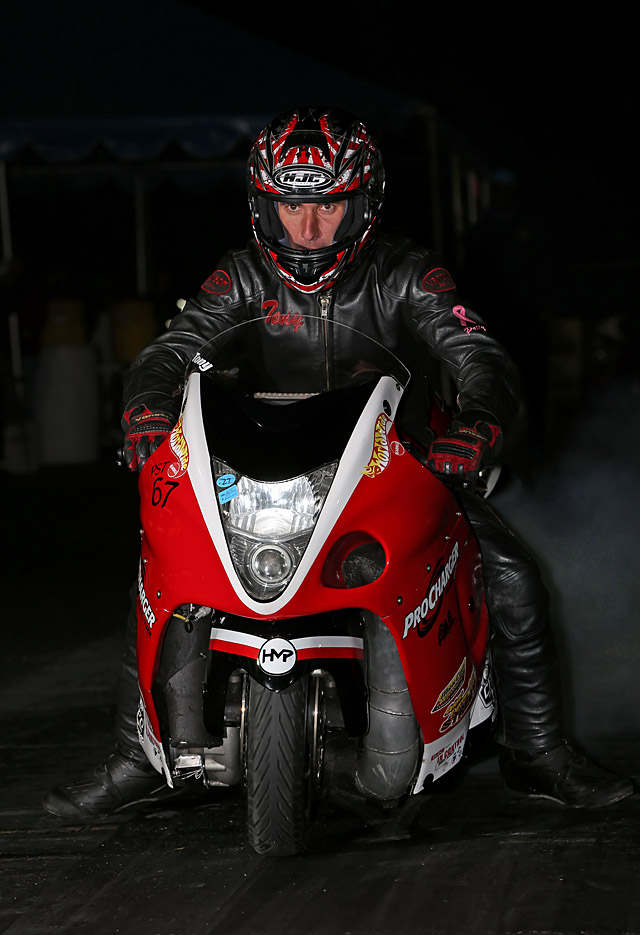 DME Racing owned the winners circle for that Battle Royale and the next two years—twice with Aruban superstar Terence Angela and once with Orient Express Pro Street champion Joey Gladstone.
Meanwhile, the always-iconoclastic DAS team traded their supercharger for an atypical turbo set-up before switching back to the Procharger for 2016. That switch may have paid off for them this time around as the Battle Royale—and all racing at October 8-9's DME Fall Nationals—was shortened by Hurricane Matthew's high winds to the eighth mile on Maryland International Raceway (MDIR).
Friday night's qualifying session was the only one run to the full quarter. Not a wheel turned on Saturday as persistent rain washed out the entire schedule. When the track was finally dry and prepped on Sunday, very gusty cross and head winds made shortening the event to the eighth mile a safety necessity.
And DME—always known for their strong back half and high MPH—struggled. Angela qualified fourth, teammate Jason Dunigan ninth, and Gladstone didn't make the Battle Royale field at all and had to settle for Pro Street B.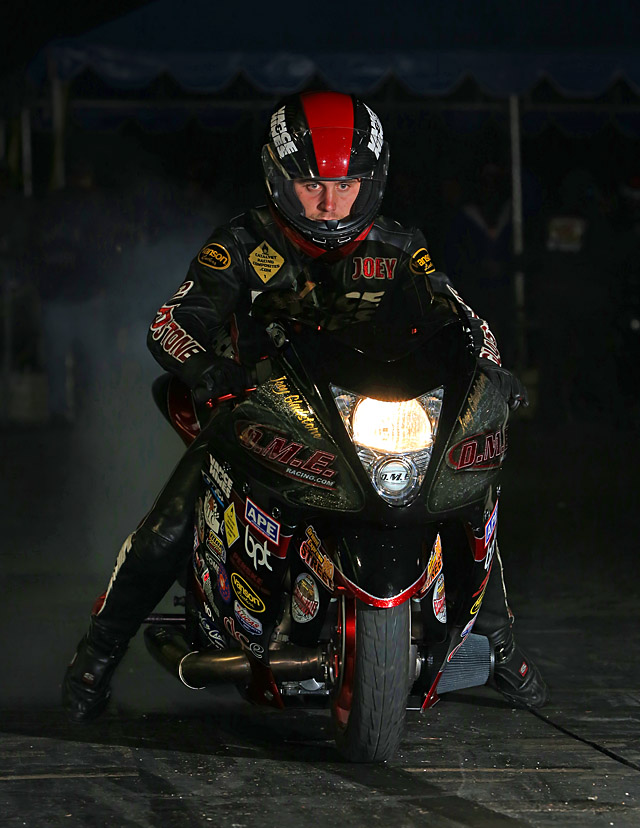 The big news in qualifying was Richard Gadson's stunning 4.34 on Brad Mummert's old school Suzuki GS. With a 1.09 60 foot time, this pass rivaled many grudge bikes using flat slicks instead of rounded street tires. The nitrous bike was expected to have an advantage in the eighth, but this beyond expectations. By comparison, three-time MIRock champion Rodney Williford was second with a 4.50 on his turbo 'Busa. Ficher, meanwhile, was eighth with a 4.58.
Performance like Gadson's doesn't come without a price, and after spinning at the hit, the bike was visibly smoking on the top end as he took round 1 with a 4.71 against Justin Shakir. By the time he faced Ficher in round 2, the bike was assuredly wounded—smoking the entire eighth to a losing 4.79 vs. Ficher's 4.58.
That win matched Ficher against NHDRO champion Mark Paquette in the semis. Paquette ran as quickly as 4.47 in E1 and was at this point considered a favorite to win. But he spun in the right lane and Ficher advanced to the final against Darion "Nanu" Payne on his Williford-tuned Mace Motorsports turbo 'Busa.
"I had a good feeling that we were gonna do well this weekend," Payne said in the staging lanes. And for moment, it looked like Payne's good feeling would come true at the expense of an equipment failure on Ficher's bike, as he struggled to get the big supercharged 'Busa started. Visibly frustrated, Ficher reset his switches and finally fired the bike, burned out and staged.
Payne took the tree .079 to .115, both bikes launching smoothly. But as Payne's bike lifted sky high at 100 feet, Ficher's stayed planted and streaked to the line for his first Pro Street win in the biggest of them all. "We went to four finals in 2013 and lost them all," said Ficher. "Eric never leaves that bike alone. We tested and tested and it's finally paid off. It's been a long time coming."
Even with a replaced Motec ECU, Gladstone was still not running that well in Pro Street B. But he was running well enough to get past his competition and make the final against Jeremy St. Julien. St. Julien took the tree by a scant .007 but Gladstone ran nearly .070 quicker to take the win. Even the B class pays big at the Battle Royale, with $2000 to win.
Gladstone had his fourth straight Pro Street championship secured by merely buying a tech card for the event, but he also had his eye focused on a DME Racing Real Street title. If the eighth mile gave his turbo bike a disadvantage in Pro Street, it was an advantage for his all-motor Real Street 'Busa.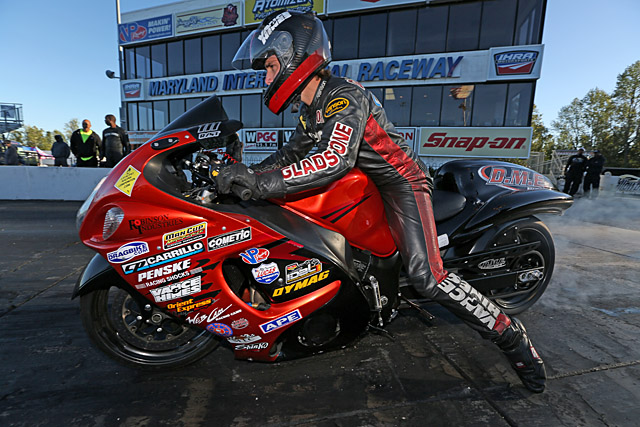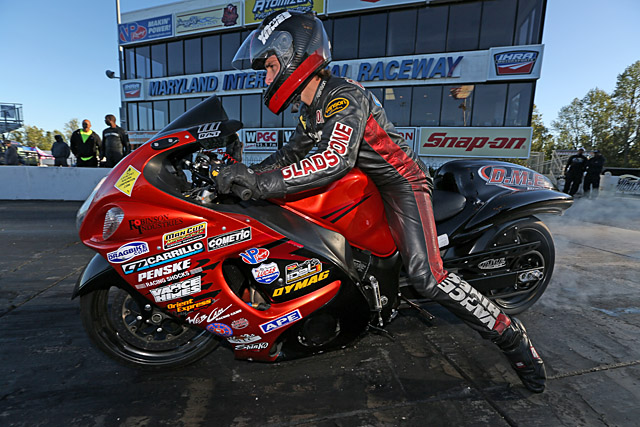 Defending champion Anibal "Cannibal" Merced's nitrous-huffing Kawasaki ZX14 doesn't perform too bad in the eighth either, but all-motor bikes have a front half advantage. Merced, though, was holding a 40-point lead over Gladstone.
Former Real Street champ Jeremy Teasley was also on an all-motor bike—the Del Flores 'Busa that was a record holder until Gladstone's DME bike arrived on the scene. "It's funny how I got that ride," said Tealsey. "We were going down 301 (a Maryland highway near the track) and Del rolled his window down and said 'Hey, do you want to ride a Real Street bike this weekend?'"
And it was that combination that ended Merced's day in the semis, but could save his year in the final when Teasley met Gladstone with the championship on the line. Teasley took a slight .005 advantage at the tree, but the season-tested combination of Gladstone and the DME bike took the stripe 5.10 to 5.13 and the championship away from Merced.
"We had a helluva year with this bike," said Gladstone. "Everybody complains about this bike, that it's bad for the class. But I've gone out in the first round like three or four times."

Long time racing superstar Ronnie Procopio was one of the few championship winners who didn't also win his class this weekend. Procopio secured the Vance & Hines 4.60 title despite losing to former 5.60 champ Kenny Cornnell in the semis. Cornnell then gave up .021 at the tree to legendary Boo Brown in the final, who took his first ever 4.60 win on his beautiful new 'Busa.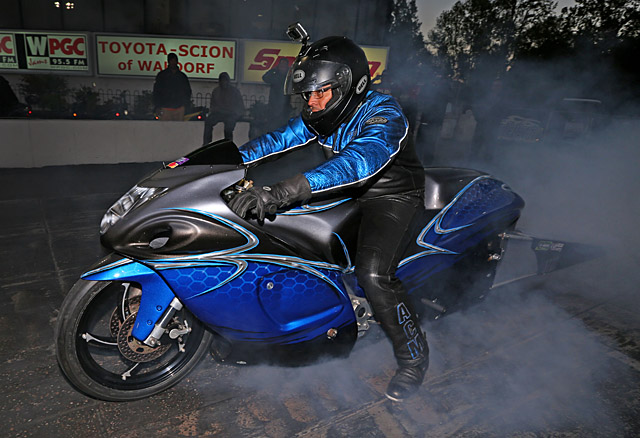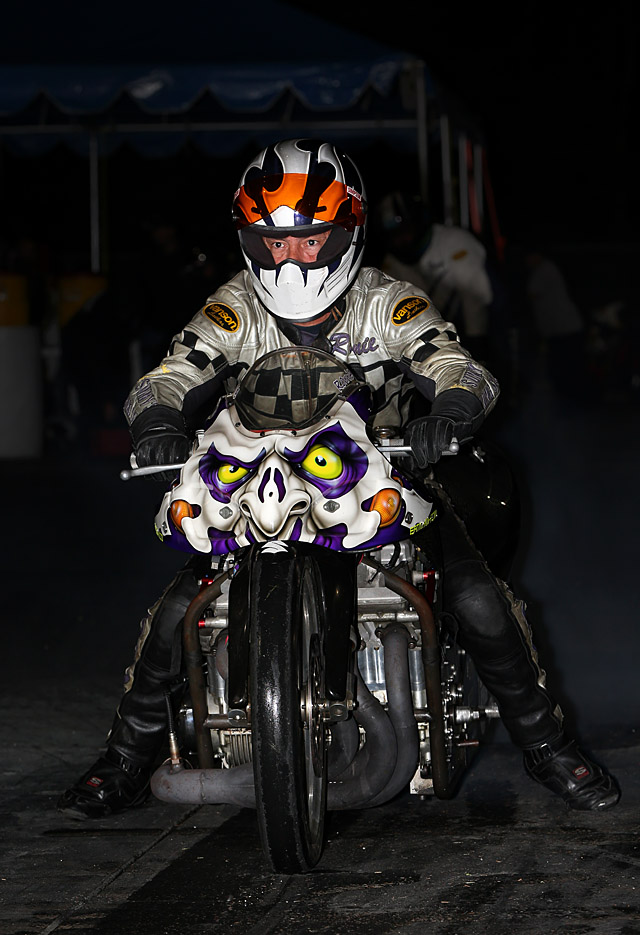 "Long Island Mike" Ostrowski put the exclamation point on his dominant second FBR Shop 5.60 championship in three years with the final round win over Rickey Gadson. Ostrowski's .015 light on his wheelie bar Suzuki bar-bike put the kabash on Gadson chances after an .053 on his no-bar Kawasaki.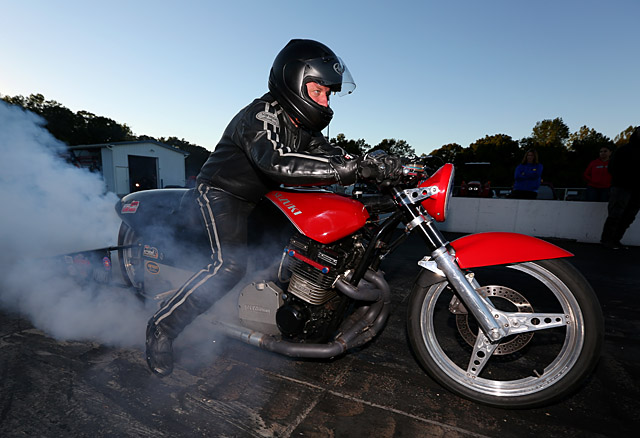 2015 5.60 champ Dustin "Biscuits" Lee called Ostrowski "The best 5.60 racer ever," after watching the final against Gadson. But Lee's pretty damn good at a lot of classes, and took the Crazy 8s final over Teasley after grabbing .026 at the tree. Lee also won the Crazy 8s championship.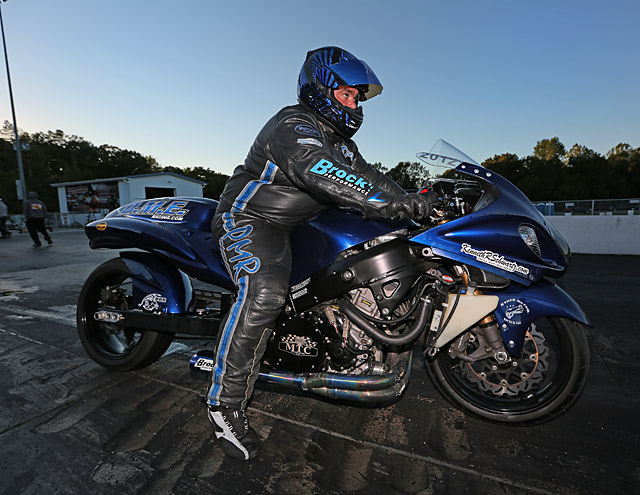 Like Real Street, the Top Sportsman championship race went down to the final round. Season-long points leader Chris Clontz lost in round 1, leaving lone contender Jay Windsor the daunting task of winning all five rounds for the win. Windsor did just that, overcoming Kevin Hamilton's .013 starting line advantage to win the final and the championship.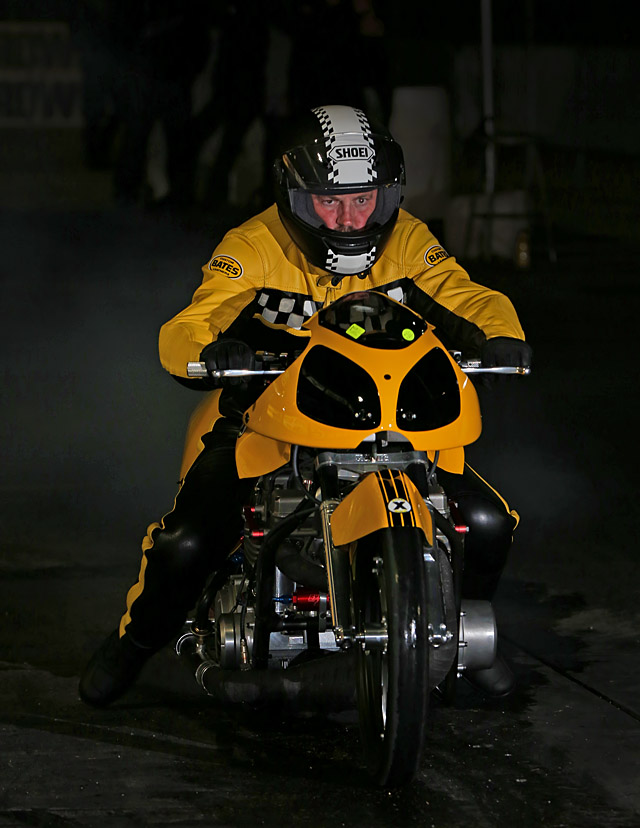 The Brock's Performance Street ET and Shinko Pro ET Tournament of Champions were able to run the full quarter mile on Friday night before weather moved in. Dustin Lee beat Spencer Claycomb in the Shinko Pro ET TOC final despite Claycomb's .005 light.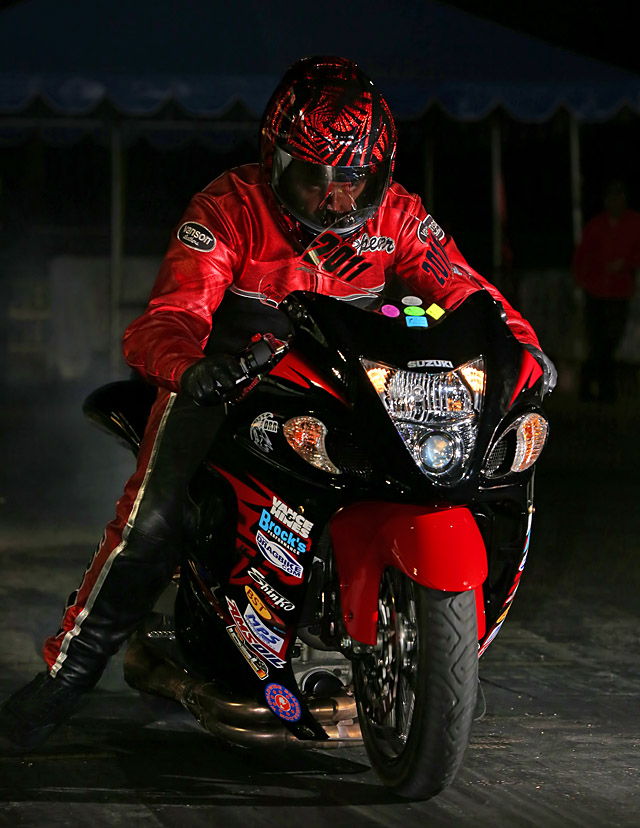 Lee was also in the Brock's Performance Street ET TOC final, but this time Bob Carlson kept the .013 advantage he earned at the tree for the win.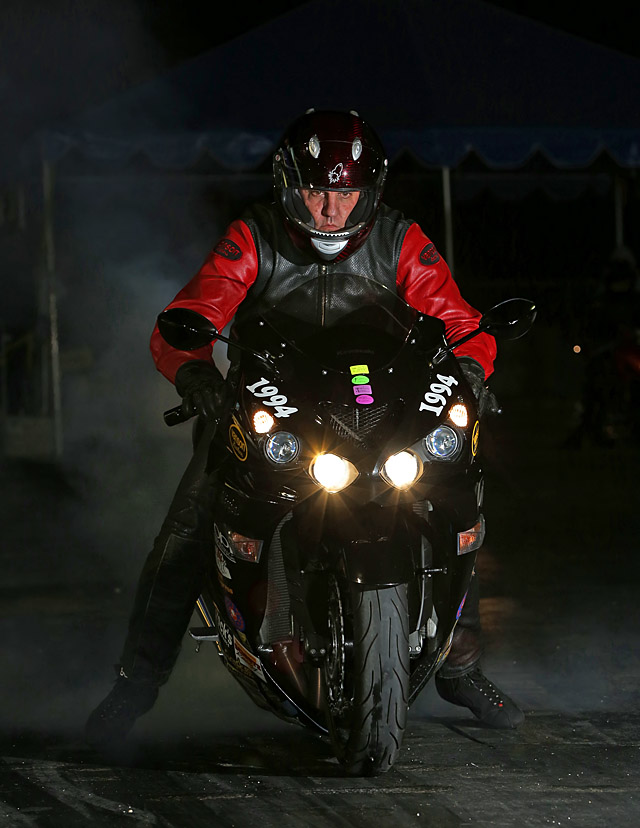 Claycomb earned his way into next year's Street TOC with a win over Mike Shulz in Sunday's Street ET final, while Richard Gadson did the same in Pro ET with a win over Boyd Mathias.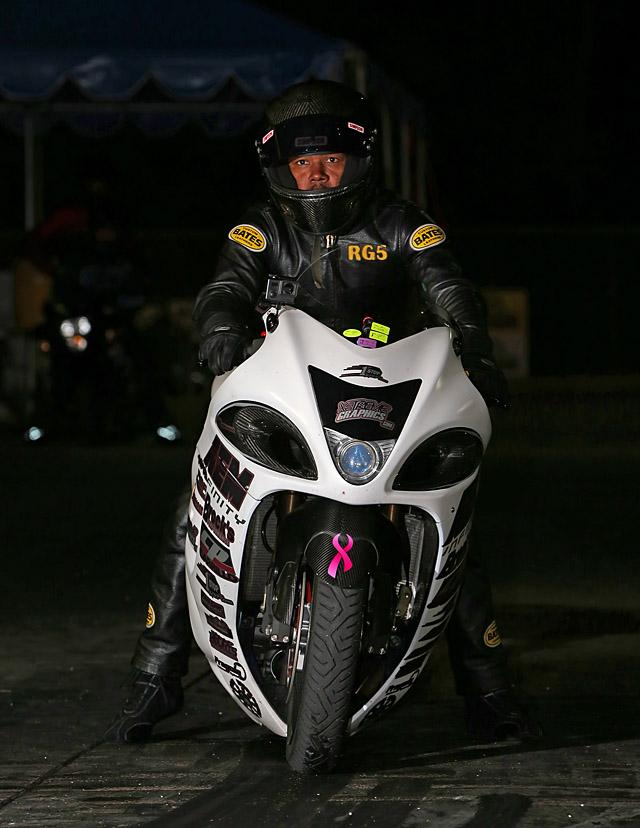 IDBL thanks its racers for their support and looks forward to handing over championship jackets when the 2017 season gets underway.
Full Results from the DME Fall Nationals and Orient Express Pro Street Battle Royale: http://www.raceidbl.com/results/2016/race_6_mdir/index.htm
Find out more about the Mickey Thompson Performance Tires International Drag Bike League at http://www.RaceIDBL.com
Find out more about Maryland International Raceway at http://www.RaceMDIR.com
This report was prepared by Tim Hailey. Enjoy everything there is to read, see and watch about motorcycle drag racing and more at http://www.eatmyink.com