Maybe Victory Motorcycles racer Matt Smith has gotten his bad luck out of the way early.
Smith, who will race in the AAA Texas NHRA FallNationals this weekend at Texas Motorplex, has been snakebit all season, suffering myriad misfortunes despite having a fast Victory Gunner.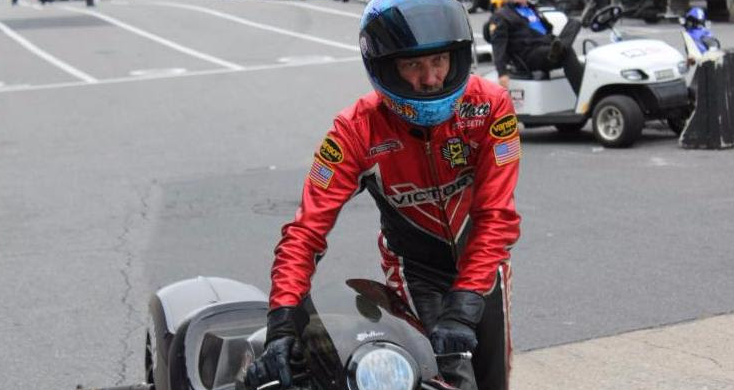 Driving toward Texas Motorplex
on Wednesday
with his Matt Smith Racing hauler, a tire blew on Interstate 20. Pieces of the charred rubber bounced into the grass off the road, causing a small fire on the side of the road. But things got worse.
"We just got into Texas and blew the right-rear tire out on the trailer," Smith said. "By the time we got it stopped, pieces of tire had rolled around in the grass in three different spots and caught the grass on fire. We emptied a fire extinguisher out, but it got out of control. It went so far in the grass that it got into some trees. It was going to be a mess, but they got in under control."
Three fire trucks soon arrived to put out the blaze, and Smith and his crew changed the tire and were on their way without further incident.
"It bent the fender a little bit," Smith said. "We pop-riveted it back down. We'll have to fix it over the winter. But I hope this got our bad luck out of the way."
Smith has qualified in the top half of the field eight times in 13 races, but he's still looking for his first victory of the season.
He's been to the final round at Dallas twice in his stellar career, in 2008 and 2013, but he has yet to win here.
"Dallas has been an OK track for us," Smith said. "I've never won this race. This is one race I've never won. We've gone to the finals a couple times, but we've never won it. I've never been lucky here, but maybe we'll get lucky this time."
Pro Stock Motorcycle qualifying sessions are scheduled for
4:15 and 7:15 p.m.
,
Friday
, and
12:45 and 3:45 p.m.
,
Saturday
. Eliminations start at
noon
,
Sunday
. FOX Sports 1 will broadcast qualifying action live from
7:30-8:30 p.m.
,
Friday
. Eliminations will air live from
2-5 p.m.
,
Sunday
. (All times listed in ET).