There are three races left in the 2016 NHRA Mello Yello Drag Racing Series, beginning with this weekend's 31st annual AAA Texas NHRA Fallnationals at Texas Motorplex, and Lucas Oil racer Hector Arana Sr. has a simple goal: Win them all.
"Hector (Arana Jr., son and teammate) and I have talked, and we know we've got three races left so we decided we want to make a statement," Arana Sr. said. "We're going to stay positive and go one run at a time and see if we can get to the finals and get a win or two or three.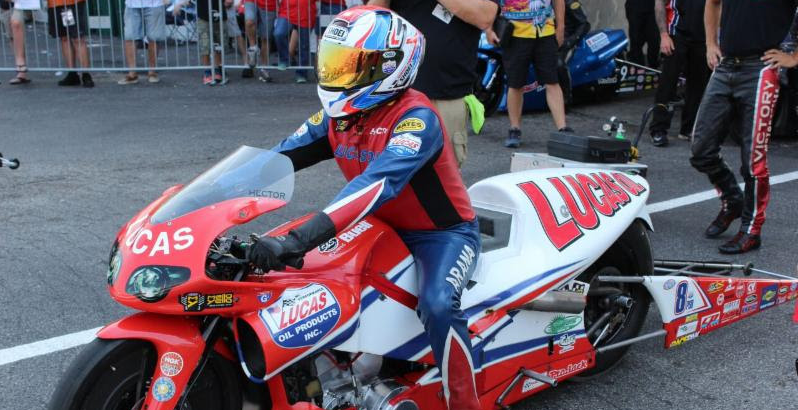 "I am hungry for a win, and I really want to get a win. There are three left, so I want to see if I can go grab the three left. That's my goal, and I know Hector feels the same way."
Arana Sr. already has a victory in Dallas, winning there in 2009 in his Pro Stock Motorcycle championship season. He hasn't won this season, however, and sits eight in the points standings at the halfway point of the Countdown to the Championship. The Countdown is the six-race portion of the season that crowns the champion in NHRA's four professional classes.
Making some progress, Arana Sr. has raced to the second round in each of the last two races, beating his son in the first round at Reading two weeks ago. That was the fifth time in 2016 that father and son have battled in the first round, with father winning four of those.
Although Arana Sr. doesn't mind racing his son – it's bound to happen from time to time — he wishes it took place in the final round, not the first. They've battled in the final round twice in their career, with Arana Jr. winning both times.
"It'd be nice in these last three races if it was Hector and I in the finals," Arana Sr. said. "I know we've faced each other a lot this year in the first round, but we've also raced in the finals two times in the past and those are much more fun. It would be awesome to do that again.
"Both of these Lucas Oil Buells are ready to go. We have the power and we have the experience to compete against anyone out here."
Pro Stock Motorcycle qualifying sessions are scheduled for
4:15 and 7:15 p.m.
,
Friday
, and
12:45 and 3:45 p.m.
,
Saturday
. Eliminations start at
noon
,
Sunday
. FOX Sports 1 will broadcast qualifying action live from
7:30-8:30 p.m.
,
Friday
. Eliminations will air live from
2-5 p.m.
,
Sunday
. (All times listed in ET).