Lucas Oil Racing TV racer Hector Arana Jr. spent the days before the AAA Texas NHRA Fallnationals this weekend at Texas Motorplex in quiet reflection.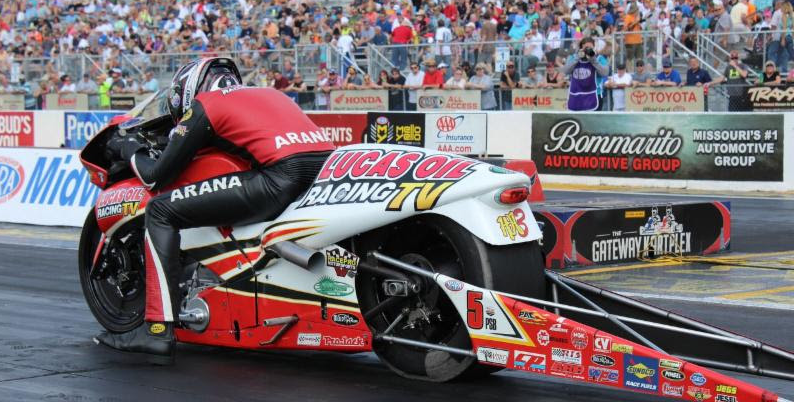 No, Arana Jr. wasn't thinking about his stellar career, which includes 11 victories and finishing in the top five in the final Pro Stock Motorcycle points standings all five years he's been racing.
Instead, Arana was thinking about ways to get better.
"I feel really good," Arana Jr. said. "I've been going over the last few races, wondering what's been going on with me and these red lights. I feel like I've gotten over the red lights, and I feel really focused and ready to go racing this weekend."
Red lights have popped up a few times during Arana Jr.'s 2016 campaign, especially lately, and they've been difficult to explain.
"It's definitely a mental battle," Arana Jr. said. "I don't know if it's the pressure of the Countdown (to the Championship) and you feel like you need to catch up. It's not like I go in there thinking about red-lighting. I feel like I've been trying too hard and trying to prove myself too much.
"You've really got to be focused and relaxed when it comes to trying to cut a good light because you're dealing with thousandths of a second. It's a tough game at this level when you're trying to be good and cut good lights. I've got to relax, get back in the zone and be more focused."
Arana Jr.'s loss to his father, Hector Arana Sr., in the first round at Reading dropped him to 10th in the points standings after three races of the six-race Countdown. But Arana Jr. isn't worried about the standings at this point, preferring to focus on going one round at a time. He's performed well under pressure plenty of times in his career, and he knows he can repeat hi s previous success.
"I know I can do it," Arana Jr. said. "I know what I'm doing. I've been good in qualifying, and I've just got to go back to my old routine on race day."
Pro Stock Motorcycle qualifying sessions are scheduled for
4:15 and 7:15 p.m.
,
Friday
, and
12:45 and 3:45 p.m.
,
Saturday
. Eliminations start at
noon
,
Sunday
. FOX Sports 1 will broadcast qualifying action live from
7:30-8:30 p.m.
,
Friday
. Eliminations will air live from
2-5 p.m.
,
Sunday
. (All times listed in ET).