PSE/Star Racing duo Cory Reed and Angelle Sampey qualified in the top half of the field and entered into raceday with lane choice. Sampey made her way to the semifinals and Reed unfortunately fell short in the first round of eliminations at the 31st annual AAA FallNationals.
In the first round, Sampey had lane choice over Shawn Gann. Sampey rocketed the black PSE/Star Racing Buell to a 6.897-second pass at 193.93 and took the win over Gann's 6.944, 193.10. In Reed's pairing against Matt Smith, both drivers were looking for the round win in hopes to jump up in the points. Reed was .013-thousandths on the tree and uncharacteristically left second at the hit. Reed clocked in with a 6.926, 190.43 but wasn't able to out power Smith's 6.893, 194.35.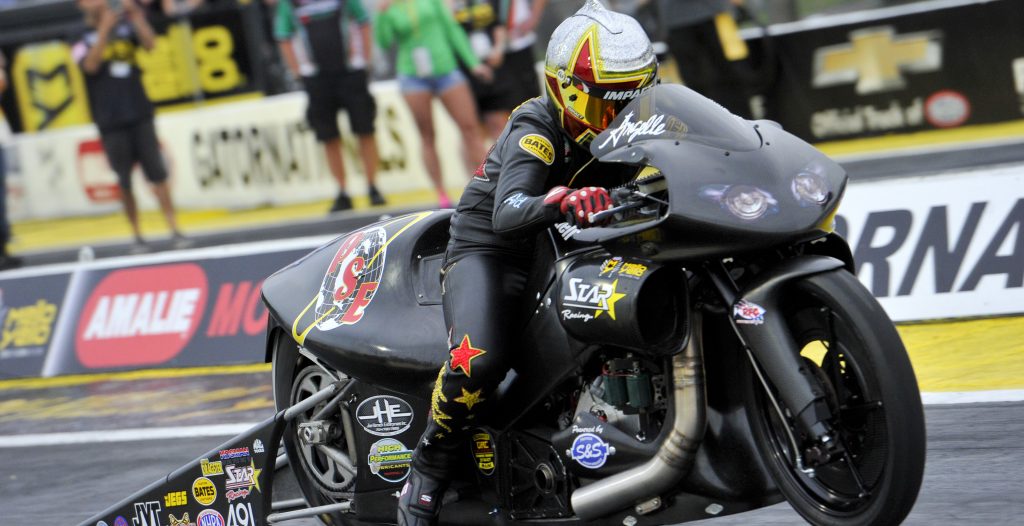 "Being 13 on the tree isn't something to complain about," Reed said. "Matt did his job and he beat me. I don't think I could've done much more that round; sometimes you just get beat."
Second round, Sampey had lane choice over Chip Ellis. Sampey once again turned on her win light when she crossed the finish line with a 6.923, 193.18 to advance over Ellis' 7.482, 148.30; Ellis also went .006-thousandths red at the hit and Angelle was .001 on the positive side.
In the semifinals, Sampey raced fellow Lousiana-native Jerry Savoie. This race was the sixth time the two lined up against each other in eliminations. Sampey and Savoie left together and Sampey slowed to a 6.946, 192.00 giving the win to Savoie with a 6.892, 195.48.
"I did all that I could and it just wasn't in the cards for me today but I am glad that I made it to the third round," Sampey said. "I'm not too mad about it because I know I did my job. We'll figure out why our Buells slowed up today and we'll come back swinging in Las Vegas."
ANGELLE SAMPEY, PSE/STAR RACING BUELL
Qualified: No. 4
ELIMINATIONS
First Round: SAMPEY (6.897-seconds, 193.93 mph) def. Shawn Gann (6.944, 193.10)
Second Round: SAMPEY (6.923, 193.18) def. Chip Ellis (7.482, 148.30)
Semifinals: Jerry Savoie (6.892, 195.48) def. SAMPEY (6.946, 192.00)
QUALIFYING
Friday: 6.858-seconds, 194.16 mph (Session 1); 6.866, 195.35 (Session 2)
Saturday: 6.853, 195.39 (Session 3); 6.868, 194.74 (Session 4)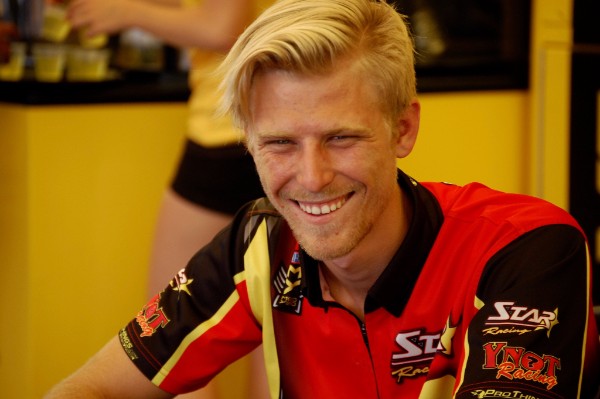 CORY REED, PSE/STAR RACING BUELL
Qualified: No. 8
ELIMINATIONS
First Round: Matt Smith (6.893-seconds, 194.35) def. REED (6.926, 190.43)
QUALIFYING
Friday:6.877-second, 192.38 mph (Session 1); 6.891, 191.46 (Session 2)
Saturday: 6.872, 192.96 (Session 3); 6.946, 190.08 (Session 4)