Lucas Oil Pro Stock Motorcycle racer Hector Arana Sr. takes no pride in improving to 5-1 against one of the best riders in the NHRA Mello Yello Drag Racing Series.
Arana Sr. beat son Hector Arana Jr. in the first round of the AAA Texas NHRA FallNationals Sunday at Texas Motorplex, winning for the fifth time in six first-round races this season against his talented son.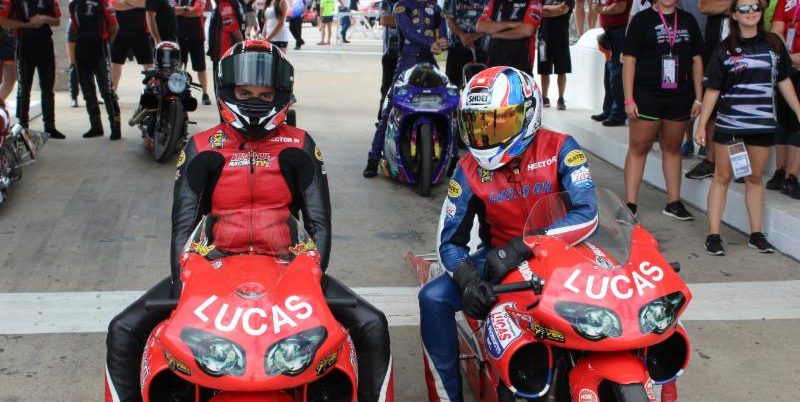 "Racing him again is not a good thing for me," Arana Sr. said. "But anyway, I have to put that to the side and I'm always going to give it my best shot. I'm here to win, just like he feels the same way. We don't cut slack to each other. We're going to run and the better bike is going to cross the finish line, or the better driver at that moment.
"For some reason this year we're just struggling, and we're just lining up against each other. That's not a good thing. It is what it is when the ladder happens. Nothing we can do but go for the best."
This time, it was father who mastered his son. Neither rider was sharp on the Christmas Tree, but Arana Jr.'s bike stumbled early, and Arana Sr. made a clean, winning pass of 6.879 seconds at 194.94 mph. Arana Jr. trailed with a run of 6.958 seconds at 193.85 mph.
"The same issue that got my dad in the second round got me in the first," Arana Jr. said. "We just don't understand why. We'll get it figured out, no doubt, but I wish we'd get it figured out sooner."
As Arana Jr. said, Arana Sr. struggled off the line against Eddie Krawiec in the second round, and his pass of 6.976 at 194.16 mph wasn't enough against Krawiec's 6.873-second run at 195.62 mph.
"We're puzzled because there's something happening here," Arana Sr. said. "I don't think it's just us. Some of the bikes with Buell are struggling same thing, with the 60-foot. It should not have gone to a bog at the start line. I have more rpm going in there and yet the bike bogged instead of taking off.
"That's the same thing that happened to Hector against me. We need to figure this thing out so we can start winning races again."